Rob Thomas. Barenaked Ladies. Nick Fradiani. Michael Franti. Andrew McMahon. In the Wilderness.
And, For King & Country.
This Fall's edition of the Live in the Vineyard is looking pretty darn gooood.
Organizers today announced the first round of artists (more will be announced soon) for the sixteenth installment of the increasing popular music festival which runs November 5-8, 2015.
Live in the Vineyard (LITV) is a private, bi-annual festival (April and November). By combining music, top winemakers from the region, and world-class chefs, co-founders Bobbii Jacobs and Claire Parr have struck up a winning combination.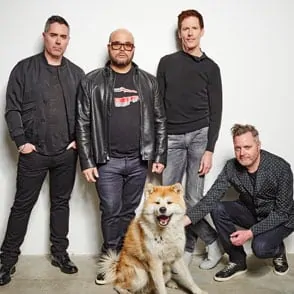 Tickets are only available through special promotions (none are available to purchase). Those interested in attending the four-day bash should look to Sirius/XM, On-Air with Ryan Seacrest, iHeart Radio, On with Mario Lopez, or one of many local participating radio stations for more information on how to score LITV tickets.
ALSO SEE: Top 3 Moments at Live in the Vineyard: Priory, MisterWives, Greg Holden
Once again LITV will be hosted at the Uptown Theatre in downtown Napa, and across local wineries in the region.
Other artists who have performed at Live in the Vineyard include Colbie Caillat, Matt Nathanson, Mat Kearney, Bea Miller, Lifehouse, Oh Honey, Priory, Melissa Etheridge, Jamie Scott, Echosmith, Train, Meghan Trainor, Marie Miller, Scars on 45, Blue October, Larkin Poe, among many others.
Look to Stark Insider for ongoing coverage, photos, and interviews from the Live in the Vineyard music fest. Below are some highlights from Live in the Vineyard.
Team Stark hopes to see you soon in Napa!
MORE LITV ON STARK INSIDER

Live in the Vineyard: Oh Honey
Live in the Vineyard: Matt Nathanson
Live in the Vineyard: Priory
Lead photo: Wikipedia.