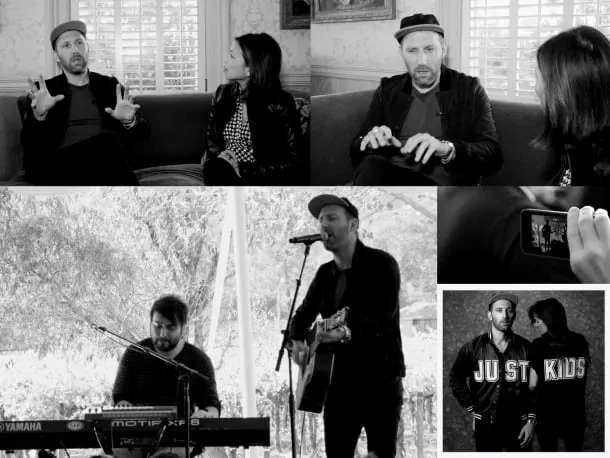 Just Kids, the new album by the sixth-generation Oregonian himself, Mat Kearney, has just landed.
Made over the last few years, the album features 13 new songs, including the electronica and hip-hop fused eponymous track. Recently, Kearney was in Napa where he unveiled an acoustic version of the track "Just Kids," which you can see in the above video, shot at Sutter winery in the Napa Valley.
The first single "Heartbeat" debuted last November, accompanied by a dance-centric, one-take drone video.
I had the opportunity to sit down with Mat before he performed a stripped down set at the Live in the Vineyard music festival. There I met a relaxed, introspective, and thoughtful musician. Over the course of the interview he talks about what it took to make his fifth studio album, the music business, and that all mysterious thing known as the creative process.
I love what I do, but it's like war. Making an album is very tough.
He's enjoyed successful collaborations with artists such as Sheryl Crow, Owl City and John Mayer. Many will recognize some of his hit songs which have received extensive radio airplay, including "Ships in the Night," "Nothing Left to Lose" and "Hey Mama." Kearney's last album, Young Love, debuted at #4 on the Billboard 200, a personal best.
"When I moved to Nashville, it got serious," he said, talking about taking his career to the next level.
"It was kind of the turning point for me. I was only supposed to be there for a month [to help friends move]." Then, he laughed, and added, "And I'm still there, years later."
Of course it wouldn't be a certified Stark Insider interview if we didn't really dig deep, and uncover the serious stuff: his favorite food, adult beverage, and gadget. I will give away one secret: he loves his iPhone 6 Plus phone. "I just walk around with it, like a shield to reflect the sun on my face."
And, as for the mysterious phone calls from the mysterious person he keeps receiving on his iPhone? Watch closely to learn one of his most curious secrets of all…
WATCH: Interview with Mat Kearney, featuring live performances of "Ships in the Night" and "Just Kids"