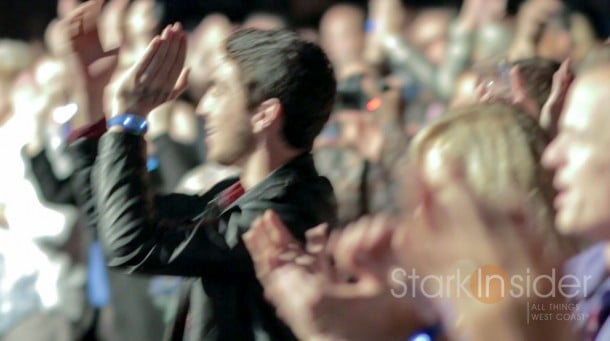 This is only my second Live in the Vineyard. But I think I've already caught the bug. This annual concert series, held in Napa, has a secret weapon: quality. Unlike some music fests that have a top notch headliner with significant fall-off thereafter, LITV appears to have some sort of trick up its sleeve. I'd be surprised if any of those who attended (three days, Thu-Sat) weren't still raving about the experience for weeks to come.
Headliners Train and Ingrid Michaelson each closed out the two evening concerts. As expected they delivered the goods (more below). And even when a saucy (and welcome) choice in the likes of Disney vehicle Bea Miller didn't quite get the audience off their feet (still, the set was wildly entertaining demographics be damned, even between songs, that dynamo Bea!), it did prove this is a festival concerned with not so much about just landing the biggest names (though they were here: Ingrid Michaelson, Mat Kearney, Matt Nathanson), but also providing a diversity of established names with up-and-comers. On that point, though, it's worth noting there were no hard rock, metal, R&B or rap acts – this is generally safe, catchy, fun stuff you hear everyday on Top 40 radio, which is consistent with the goals of the organizers.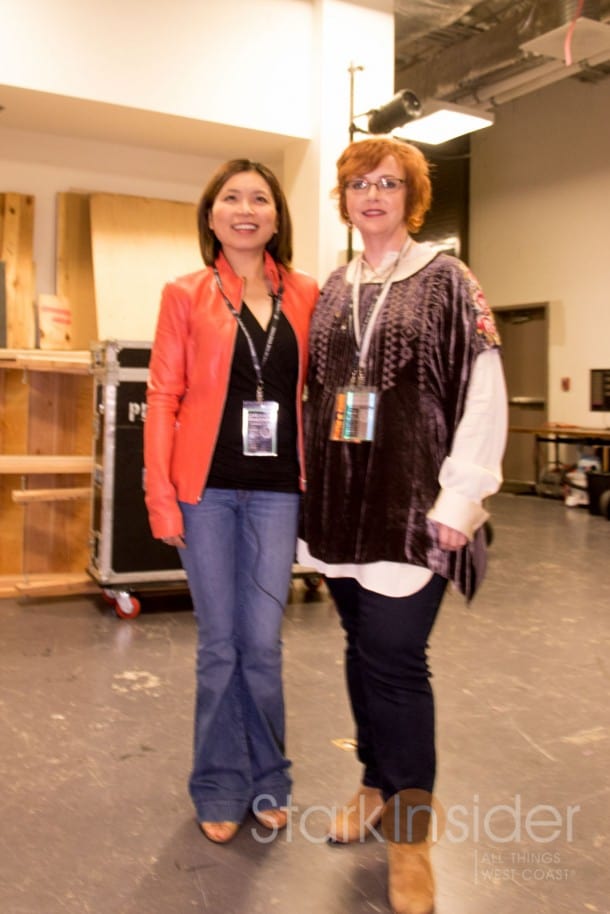 Co-founders Claire Parr and Bobbii Jacobs have a good thing going. Live in the Vineyard is now in its seventh year (there are two installments each year, one in spring and one in fall), and does well to take advantage of the surrounding vistas. Many daytime concerts take place outdoors, near vineyards, with gorgeous views of the surrounding Napa Valley. Unlike April when we saw (believe it or not) some drizzle and light rain, the November edition of the festival was just spectacular weather wise. By a show of hands during Matt Nathanson's set it appeared though many had come from out-of-state. On that account, I'm hoping LITV and Napa in general left a favorable, lasting impression – after this year's quake, and the ongoing drought, it would be nice to know people will still visit and help local winegrowers and the economy.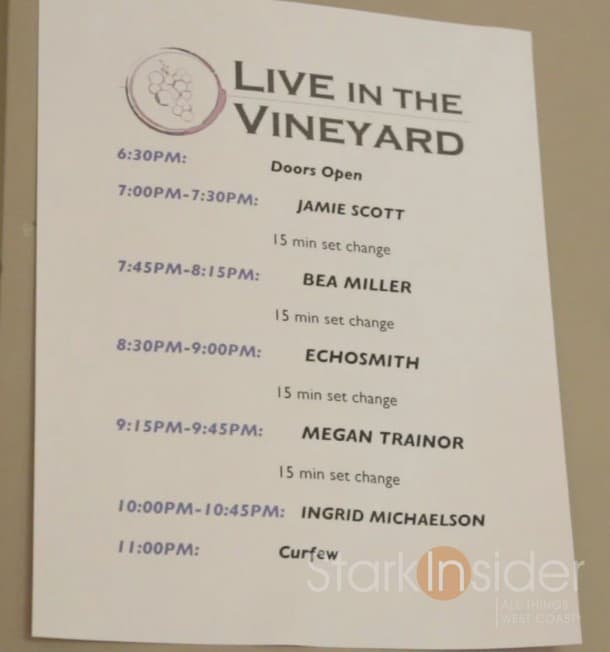 If you're new to LITV, there's a catch. Unlike a conventional festival, you can't buy tickets (though a small amount were made available this year). Instead you need to win them. Southwest Airlines is a big sponsor, and prizes include round transportation and accommodation. For one show we sat next to a nice couple from Minnesota. She was thrilled, and loved seeing Train. We joked about the apparently–let's call it–"giddy" woman who jumped on stage during the finale, and chased around lead singer Patrick Monahan – who, with apparent concern over lack of interest by security, darted around the stage while singing, and could be heard between verses saying, "I'm scared!"
I attended to cover the performances for Stark Insider, and while I couldn't enjoy each set as much as I would've liked because I was working the beat, I came away duly impressed (and Mat Kearney's electro-cool new single Just Kids forever looping in my head… just kids… ju-just kids, ju-ju-ju just kids…). So I wrote up some thoughts on the performances I was able to attend. These aren't so much reviews necessarily  as observations. I'm a huge 80s fan so, sorry in advance. Green Day is on regular rotation whenever I manage to get to the gym. Def Leppard. U2. Goldfrapp. Vangelis. Janelle Monae. Did I mention my taste is eclectic?
So, LITV November 2014, tid-bits, in no particular order.
JAMIE SCOTT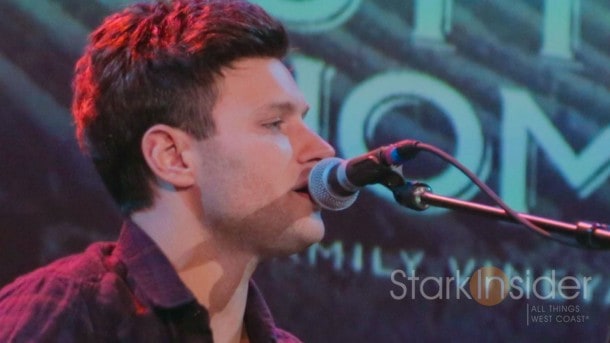 Nice voice. And I'm sure the women approve of the look. Bit of a brooder, with a bad boy streak evident, Jamie Scott was a one man show, deftly moving from guitar to piano and back again. His ultimate weapon is his song-writing. He's written most notably for One Direction ("Story of My Life"). My Hurricane his first solo album in quite some time (he spent years with Graffiti6) came out on Virgin this year, and "Unbreakable" in particular is accomplished lyrically. Definitely a strong opening act for day 2.
BEA MILLER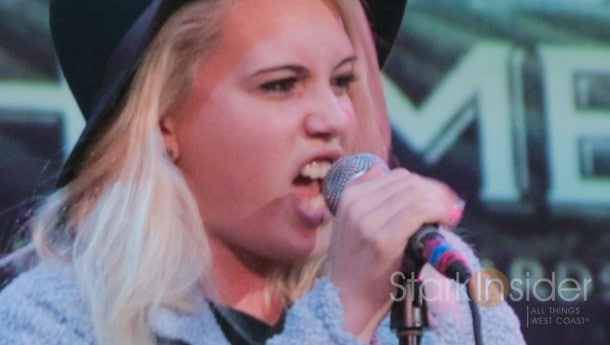 WATCH: Bea Miller at Live in the Vineyard feat. single YOUNG BLOOD
Southwest Airlines has this new marketing program called "Live at 35." What they should do is enlist Bea on the Palm Springs route, and unleash her mid-flight. I want Dracula! I wannnnnnt Dracuuuula! At only 15, I'll tell you this much: your noise cancelling phones don't stand a chance. This is one of Disney's latest artists. But like we're seeing with a lot of their projects (Frozen) Bea is the anti-Disney. So she doesn't like Prince Charming (see above: Dracula). She's not one of the "Rich Kids". She might just be another Pink, if all goes to plan. Her set didn't get many out of their seats. Let's chalk that up to demographics. These are moms and dads. So as Bobbii Jacobs suggested, it was an exercise in what the cool kids are listening to. We interviewed Bea, and she's headstrong, amazingly put together for a teenager, and, most importantly, has clear creative vision. The backing track was up to 11 on this evening as just her and a charismatic guitarist flooded the Lincoln at the Napa Valley Performing Arts Center with a wall of angst. Definitely one to watch – at the very least her appearance should've made many in attendance from the music industry take note. Admission: I enjoyed every second.
ECHOSMITH
They're all the craze this hip L.A. getup. They look good. Sound good. Dance well. In short, they might be a One Direction with a female lead. I think they sound better on their records (especially current chart-topper "Cool Kids"), but they easily won over the crowd. They're something funky cool about the entire package of Echosmith. The biggest risk I see is perhaps being a little bland on occasion. But then just as I'm thinking that they impress with some awesome guitar/electro grooves (like the incredibly catchy, 60s-ish one on "Cool Kids") and energetic moves by vocalist Sydney Sierota. A mega charismatic group. I think the future is very bright.
MAT KEARNEY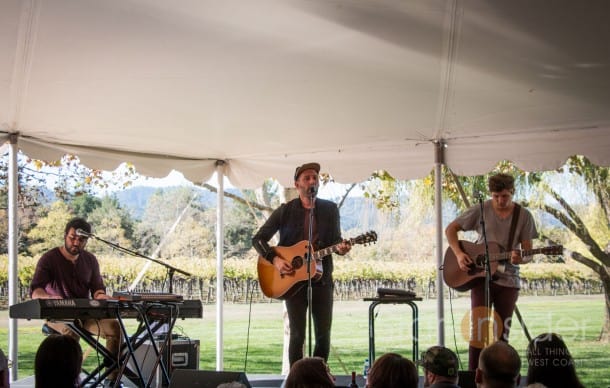 I saw May Kearney's set at Sutter Home Wines in St. Helena. There he played for a few hundred people outdoors in a tent under the absolutely scorching Napa sun. Earlier that day we shot an interview with him for Stark Insider, and I was won over by his humble, thoughtful manner. I wasn't familiar with his material or his name (as I also wasn't with Colbie Caillat earlier this year). Once his songs began rolling I realized how uninformed I was. Some say he's the male version of Colbie Caillat, and that would be apt. You're likely to hear from either of them on any given commute at least once. They are the current King and Queen of radio friendly America. Turns out Mat sings one of my favorite songs, "Nothing Left to Lose". A very special song; hopeful, melancholic, dreamy. And beautifully sung, "Push the pedal down watch the world around fly by us." But the real gem on this day was his new single "Just Kids." Like "Heartbeat" it wasn't designed for a sparse, stripped down performance. So Mat employed a little keyboard with some nifty electronica for the "just kids" repeating chorus, At first I thought it didn't work. Later, as the chorus ran through my mind in repeat as I headed down highway 29 back to Silicon Valley, I realized it was yet another catchy (and modern) track. My wife said it was brilliant. More importantly, the audience lapped it up. Case closed. Another hit in the making for the "sixth generation" Oregonian, now Nashville-based good guy. (here's the Stark Insider interview with Mat Kearney featuring a preview of the title track "Just Kids" from his upcoming album)
WATCH: Mat Kearney at Live in the Vineyard feat. single JUST KIDS
MATT NATHANSON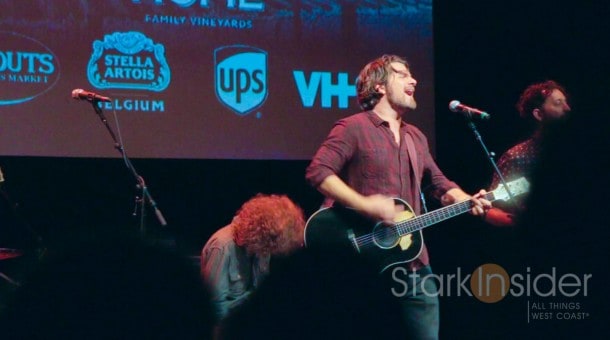 Have you ever been to a party where that big guy who drank from the keg moments earlier decides to takeover the karaoke machine? You know, "let's party!" That's Matt. Except there's one difference: Matt Nathanson can really sing. Also, he knows how to work a crowd. Irrelevant banter between songs? No, those are opportunities to try out his new stand-up material. On this night it was something to do with butt grabbing/groping on a Southwest flight. I can't recall or understand how it all went down, but I do recall laughing incessantly (along with the entire house). By the time he was running covers (he modestly claims to "have only one hit" – not true, but I like the underdog persona) the crowd was, as they say, eating out of his hands. Welcome to The Jungle. You're The One That I want (Grease). Shook Me All Night Long. Matt is the life of the party. And, man, it was a fun one.
WATCH: Matt Nathanson Thrill the Audience at Live in the Vineyard
MARIE MILLER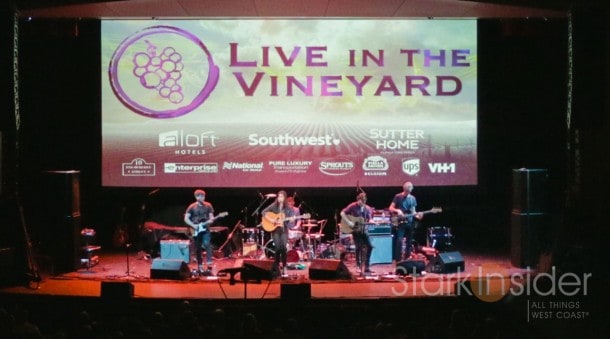 East-coast based Marie Miller employs something on one of her tracks that I very much appreciate: sarcasm. The single is called  6'2″ and it's about the idea that she doesn't care about what a man looks like (because it's the heart that counts right?!)… but–but— if you must really know she does like blonde hair, blue eyes… and if the truth must be known, she likes her man about 6'2″. But, then again, remember, looks aren't everything.  Right?!
TRAIN
What more can you say about this band that hasn't already been said? Train is huge. They're a pop-rock powerhouse. The headliners did not disappoint. They were ever slick, relaxed. Every line, every lick, seemed perfect – sounded great. If you came to see Train I think you would not be disappointed.
BLUE OCTOBER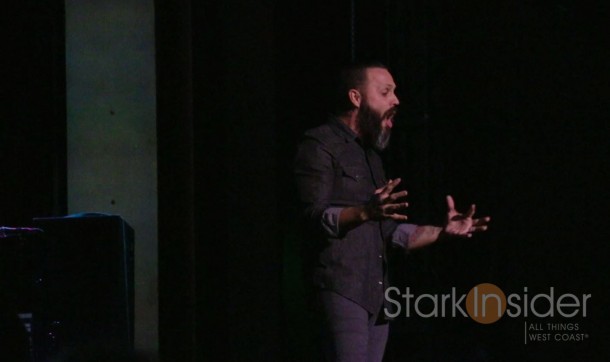 If all were right with the world, I suppose, on Friday night (day 2 of the Live in the Vineyard music festival) the crowd would be approaching near euphoria as the first night's headliner Train approached the stage at about 10:15pm. And indeed there was palpable energy, and by this time most had abandoned their seats and headed to the front of the stage. Yet, earlier a band called Blue October would positively rivet those fortunate enough to witness what was surely a performance for the ages. Justin Furstenfeld who looks like he either just got out of prison, or was moments earlier brawling at the local biker bar is not, thankfully, the prototypical frontman. But when he picks up the mic, you are plugged into the very essence of humanity. And with Blue October there is no room for bubble gum. Furtenfeld delivers each lyric as if he were the last man standing – that he needs to emphasize with astonishing conviction each word, each emotion with the veracity of someone seemingly connected directly to the core of the earth. I don't believe in God. After this show, maybe I would. For the finale, he dropped the mic and delivered an acapella performance that was alternatively frightening and amazing. This might be my new all-time favorite live performance, ranking right up there with Depeche Mode at Shoreline (Exciter 2001) and U2 at Skydome (PopMart 2007). My memory, officially scorched.
Acts I did't get to see: Megan Trainor, Ingrid Michaelson, Enation, Scars on 45.
If you were at any of the LITV performances I'd love to hear what you thought. Did I get it right or wrong? Favorites?