The Live in the Vineyard concert series continues on Stark Insider. Loni Stark has sat down so far with Cobie Caillat, Larkin Poe, and Mat Kearney. Be sure to subscribe to the SI arts & culture channel on YouTube to be alerted of new episodes.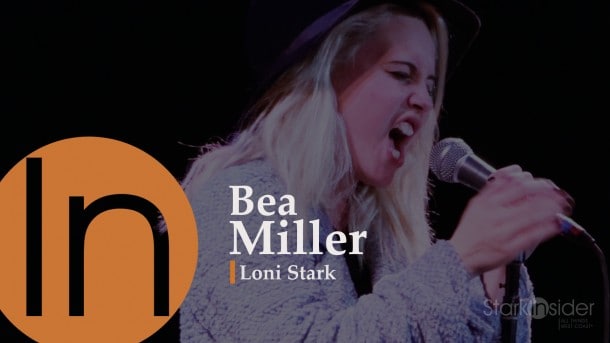 Bea Miller could be the next Pink. Or possibly a Miley Cryus. Though the latter she says is not necessarily a musical influence, the New Jersey native does respect that Miley pours her own money into her concerts and causes with the goal of helping others.
It was 2005 when Bea said she was inspired by a certain worldwide star while watching American Idol. Carrie Underwood would win season four and go on to become a music crossover sensation. In one episode recalls Bea, Underwood visited a third world country where her appearance inspired children and brought smiles and happiness. "I looked at the screen and said 'Mom I want to do that some day. I want to help people.'"
We make our own luck in this world / We've got young blood / No one chose us / We make our own love in this world
Just 15 years old, Bea, who signed last year to Disney, appears to be on the right track. But there's a twist.
Disney is reinventing Disney.
That means films like Frozen have blown up the stereotype of the princess in distress.
It also means that emerging stars like Bea Miller are into Dracula, and find Prince Charming types "boring."
ALSO SEE: Live in the Vineyard Wrap: Blue October seizes the day (Review)
On Twitter, where she is steadily amazing a loyal (even crazed) fan base, she refers to herself as a "shower singer," but as you'll in her appearance on Stark Insider her vocals can easily fill an entire auditorium. It was a the Live in the Vineyard music festival where I had the opportunity to sit down with Bea Miller – what I discovered quite surprised me. Here's someone with a head on her shoulders, who speaks articulately about her song-writing process, the music business, and well, okay, even a Twitter spat or two (#votefifthharmony). When I asked here where she gets the energy and inspiration to perform she gave possible the best answer ever:
"I'm a teenager!"
STARK INSIDER is Live in the Vineyard

Watch interviews, live concert footage from some of today's top 40 stars at the Live in the Vineyard music festival. Join host Loni Stark as she attempts to unearth the creative process, reveal influences and emotions, and–why not?–get some confessions about gadgets and food.

Plus don't miss: the Stark Insider review of this year's LITV concert series.
Watch the interview below, plus highlights of her live performance of her new (and ridiculously catchy) single "Young Blood". Could the lyrics be a reference to her snub at X Factor?
WATCH: Bea Miller YOUNG BLOOD at Live in the Vineyard Napa