Here's the Stark Insider roundup of show openings and happenings here this week and weekend across the Bay Area. But first a quick thank you on behalf of all of us for supporting independent media and in turn arts organizations and under-reported events. It means more coverage of theater, arts, food & wine, and other topics across the region that don't receive as much exposure because of the traditional media "malaise" as Clint likes to remind me.
"Theater is, of course, a reflection of life. Maybe we have to improve life before we can hope to improve theater."
So says W. R. Inge. Let us all aspire.
Meantime, we have an abundance of exciting openings as the 2010/2011 season gets into full swing. In case you didn't hear about it, ladies and gentleman, there is an itsy-bitsy, tiny-weeny little trilogy you might have hard about being staged in partnership with three Bay Area theaters.
Marin Theatre Company, Magic Theatre, and A.C.T. have joined forces to bring us the Brother/Sister plays. Each theater will host one part. Want to learn more? Then be sure to go inside theater TV with host Loni as she catches up with the actors, directors and creative folks who are bringing this exciting vision to life: Stark Insider On Location: The Brothers Size in San Francisco.
Now, as they say, on with the show. And remember no flash photography. Turn of your Droid (Clint) and iPhone (Loni).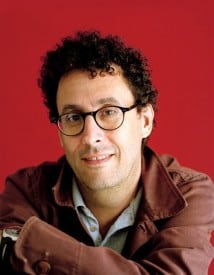 Angels In America, Part One: Millennium Approaches by Tony Kushner
Our Town (Part 2) by Thornton Wilder
Pear Avenue Theatre, Mountain View
Now Playing through Oct. 16
For the first time (ever), two American theatrical treasures will be teamed: Angels in America and Our Town will be performed at the Pear in repertory, These brilliantly contrasting works embody ideas about our nation at different times in its history. Wilder's beloved Our Town leads us gently back to a quieter, steadier America. Kushner's searing Angels in America propels us to a time of upheaval, but also tentative hope. Two iconic plays brought together in a bold and startling way.
First Friday Artwalk
Downtown San Jose
Friday, Oct. 1, 8 to late
The monthly artwalk happens this Friday as part of the South First Fridays. Celebrate art, music, good times in the SoFA district downtown San Jose.
Benefit for Arts Council Silicon Valley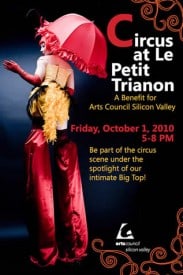 Le Petit Trianon Theatre, Downtown San Jose
Friday, October 1, 2010 5:00 – 8:00 pm
Tickets: $50 (in advance), $60 (at the door)
Come out for an evening of fun, delicious food, libations, music, and many more magical moments! Plus help raise money for Arts Council Silicon Valley.
Reasons to be Pretty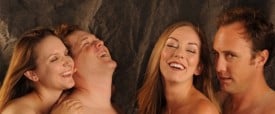 San Jose Stage
Opens Oct. 2
A 2009 Tony Award nominee for Best Play, Neil LaBute's bristling new comedy puts a ferocious cap on a trilogy of plays that began with The Shape of Things and Fat Pig. America's obsession with physical beauty is confronted headlong in this brutal and exhilarating work, in which a slip of the tongue has a tsunami effect on man's relationships, romantic and otherwise. Simultaneously sentimental and uncompromising, Reasons To Be Pretty is a gorgeous play.
The Sunset Limited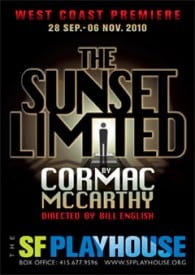 SF Playhouse, San Francisco
Opens Oct. 2
To kick off the season SF Playhouse bring one of the most insightful writers of our time, Cormac McCarthy (The Road, No Country for Old Men) together with two of the most powerful actors in the Bay Area, Carl Lumbly (Jesus Hopped the 'A' Train, Alias, Cagney & Lacey) and Charles Dean (White Christmas, Awake and Sing!). A startling encounter on a New York subway platform leads two strangers to a run-down tenement where they engage in a brilliant verbal duel on a subject no less compelling than the meaning of life.
Stark Insider – Theater Review Roundup
Theater Review: Titillating 'First Day of School' at City Lights by Clinton Stark
Review: Ives Quartet by Cy Ashley Webb
Review: New Century Chamber Orchestra with Edgar Meyer by Cy Ashley Webb
Cartes a Elena: A film about the transformative power of love and hope by Patricia Reardon
Review: 'Burn the Floor' sizzles by Clinton Stark
Theater Review: Bill Irwin the consummate clown in 'Scapin' by Clinton Stark
Review: New Century Chamber Orchestra with Edgar Meyer by Cy Ashley Webb
Theater Review: 'The Brothers Size' scorches San Francisco by Clinton Stark
Theater Review: Half Moon Bay goes down the 'Rabbit Hole' by Clinton Stark
Theater Review: Exquisite 'Compulsion' at Berkeley Rep by Clinton Stark
Theater Review: 'In the Red and Brown Water' by Clinton Stark
Premiere: A lavish 'Anna Karenina' at Opera San Jose by Loni Kao Stark
Theater Review: 'Dead Man's Cell Phone' by Cy Ashley Webb
Teatro ZinZanni: Hail Caesar! by Loni Kao Stark