Memo: you won't need to wake me up when September ends. Some of the best, absolutely astonishing, acting in San Francisco–maybe even across the country–is now on display in The Brothers Size, which had a scorching opening last night at Magic. When it comes to acting pedigree, the theater has an impressive account; Peter Coyote, Sean Penn, Ed Harris, Nick Nolte and Kathy Baker are just some of the marquee names that have graced its stage. They must've all been channeling from the rafters last night because this is one rip-roaring display of acting chops, and I loved every second of it.
Continuing the Brother/Sister trilogy, we once again return to the Louisiana bayou where the Size brothers are trying to keep order in the family — well, at least older brother Ogun (Joshua Elijah Reese). He runs a small auto repair shop during the day ("Your palace is made out of cars."), and spends the rest of his time looking out for younger Oshoosi (Tobie Windham) who recently put in time at the "pen."
Wouldn't you know it, trouble has a way of following the hyper and unpredictable Oshoosi in the form of Elegba (Alex Ubokudom) who has a way of "finding" cars. Soon enough, a boatload of trouble ensues. "You fucked up!" Ogun screams at his younger brother, maniacally, over and over again. "Tell me you did!"
Normally I try to take notes when reviewing a show, scribbling down an interesting line, or jotting something useful about the set, staging, direction that will help jog my memory later. With Brothers, man I was so transfixed by the acting that I just forgot about the notepad, and revelled in three astonishing, near perfect performances. They are that good.
Despite the haunting dreams and family tension, there is a surprising amount of humor early on. It serves to coat the play with a very human quality, and makes these guys likable. We don't always agree with what they do, but we can empathize.
The set is as stripped down as can be, with just a few tires piled at the perimeter. The thrust seating at Magic is a perfect match for this material, and reminds me of the also stellar Oedipus El Rey from last season. It takes incredible commitment for these actors to storm through eighty minutes of material that is so revealing, so intense.
"Prison makes grown men afraid of the dark again."
Whereas the story in part one (In the Red and Brown Water) is broad, covering many years and locations, Brothers is more intimate in its scope. It's all about the two brothers and their struggle to accept or adapt to each other's ways. They are who they are; but does that mean love is eternal?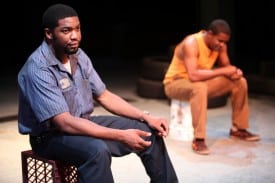 After the show, Loni agreed that it was a huge success, but said she preferred the rhythm in the first, that we had seen just last week at Marin Theatre Company. Indeed that production, while still relatively bare, integrates more music, movement and, certainly, poetic dialog.  I wonder if the fact that it's told from the sisters' perspective has any bearing on favorites? I preferred the toned down use of stage references ("Ogun slides out from under the car") in this one, and the boys-will-be-boys bravado. Either way, these are both top notch productions, and proves that McCraney has talent for both expansive poetry and crushing family narrative, without needing to dip into the melodrama jar.
When the brothers start dancing and singing karaoke to Otis Redding's Try a Little Tenderness, you get an uneasy feeling that the laughs will not last long.
The Brothers Size
By Tarell Alvin McCraney
Magic Theatre, San Francisco
4.5 out of 5 stars
Directed by Octavio Solis
Starring Joshua Elijah Reese, Alex Ubokudom, Tobie Windham
Through October 17, 2010

Noteworthy

This is Magic Theatre's 44th season.
Artistic director Loretta Greco was brimming with pride and ecstatic at the early response to the Brother/Sister plays project, "It has been an extraordinary honor."
When it comes to Calvin Klein exposure, I have to think that Magic is the all-time leader.
Crowd-spotting: Carey Perloff (artistic director, A.C.T.), Trevor Allen (playwright), Octavio Solis (director).