The large, white circular tent sits unassumingly at Pier 29 along San Francisco's waterfront. The only evidence which deceives Teatro ZinZanni's quiet exterior is the giant colorful poster outside, this time with the words "Hail Caesar!" and a larger than life Frank Ferrante-esque interpretation of the Roman general himself and the flamboyantly dressed men and women parading through its entrance.
Entering through the entrance, I am once reminded that you can't judge a book by its cover. Whereas the outside is stark, almost uninviting from the parking area, the inside lobby area is elaborately decorated and adorned with lush velvety fabrics. At its center a remedy for those that may still not be in the mood for an evening of sex and danger, a dispenser of gem-colored elixirs poured into tall and short shapes.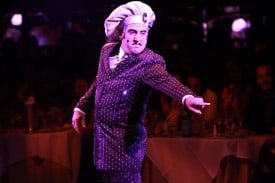 My Strawberry Mojito was divinely addictive. It was not too sweet, refreshing and a magical pink color. It was surprisingly one of the best Mojitos I've had. After a quick tour around the lobby area, watching people try on the crazy masks and boas that are available at the gift shop, I decided to relax with my Mojito in the main performance and dinner tent.
Seated at my dining table by a suspiciously talented waiter, I glanced around the interior of the spiegeltent, built in 1920 in Belgium and transported to this auspicious location along the waterfront. In front of me a couple is smooching, the woman has a pink boa draped around her; they seem oblivious to the zany activity happening around them. No doubt, people escape to Teatro ZinZanni for an evening of fantasy and entertainment.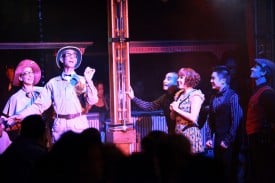 In a moment of social media compulsion, I start tapping away on my iPhone to check the latest news only to have an Annie look-a-like stop by and chide me. As I was being distracted by the clean police, a gentleman who looked dubiously like Sam Payne (Vertical Tango), scolding me for the various notes and paper I had started to spread across the table, "Annie" swiped my phone and started typing in a Facebook status. Anywhere else, and I would have been seriously concerned. Here at Teatro ZinZanni, you must give up all your inhibitions and just go with the flow.
Sans phone, my attentions turned to a familiar couple who sits down across from me. I met Elise, Junior Draper, during a behind-the-scenes tour of the costumes from Teatro ZinZanni's previous show, "Love, Chaos and Couture". She is here with her handsome date, Avara, who just happens to work at the Seattle Teatro ZinZanni. It's a small world.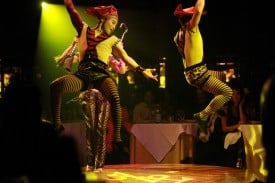 The abrupt sound of steam engines as a wrap-around train circles the perimeter of the performance area signals the opening of a risqué romp through a titillating depiction of the romance between Caesar and Cleo that would have any historian turning in their crypt.
Of the three shows I've seen at Teatro ZinZanni, this one stands out for its lounge-y music that is saucy and sexy, especially when sung by Cleopatra (Dreya Weber) herself while swaying on stage with one of numerous seductive outfits. It was hypnotic. My favorites are the barely-there glittery bikini that Cleo wore in a beautifully choreographed aerial ribbon act and the black leather cat suit draped with chains. It was visually stunning and hot.
The sultry Cleo is nicely juxtaposed with Caesar (Frank Ferrante) who is a master at getting the audience participating and laughing. Tonight though it is Clint Stark (my date) who gets pulled up on stage as one of Caesar's chosen men. The audience participation always throws an element of dangerous unpredictability into the evening.
Tonight the danger was very close to home. Clint is as stiff as a door as Frank Ferrante pokes him with a couple of boisterous remarks. When Clint answers that he "reviews theater shows", it didn't take Frank too long to recognize what an opportune moment this was to jab not only at theater critics, but StarkSilverCreek. I was in my seat laughing so hard my stomach seized up in pain. Clint, in the end, rises to the occasion and breaks out his version of Bono moves on stage. Alas, Clint was beaten out by a guy who teaches dancing to high school students…now wouldn't you call that an unfair advantage?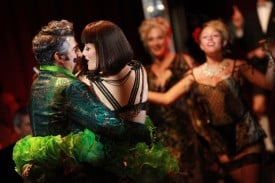 Sam Payne (US) and Sandra Feusi's (Switzerland) performing on the "Vertical Tango" is always a crowd favorite and their act in "Hail Caesar" is no exception. They make the almost impossible seem effortless and elegant. They walk the vertical pole so gracefully that next to them, I am sure I waddle like a duck on ground. Ling Rui and Fang Ming, who have performed in Cirque du Soleil's Dralion and Delirium stars in "Hail Caesar" with a heart-stopping acrobatic act.
Mr PP (Tim Tyler) and the diva Lady Moundsajoy (Christine Abraham) provide additional comedy relief. Mr PP's egg number was astounding, however, it did drag on a little long and let's just say I would have enjoyed it wholeheartedly more if I wasn't in the same evening trying to enjoy a delectable meal.
What is a unique treat about Teatro ZinZanni is being able to admire these performances in an intimate and interactive setting. With the bottle wine I brought, a 2004 Peju Cabernet Franc (ZinZanni allows wines and charges a reasonable corkage fee, check their website for more details), paired with the gourmet five course meal, the evening was the ultimate celebration with old and new friends. There is also a solid selection of wines by the glass, bottle and a preselected Wine Pairing option. The menu is so far both Clint and my favorite. The Corn Soup, Heirloom Tomato Salad, Grilled Pork Flat Iron and Herb Marinated Chicken Breast were all delicious.
What were we celebrating? Does it matter? Teatro ZinZanni reminds us that the celebration alone can be a quintessential reason to celebrate!
Clint says:

The calm before the storm.

When I came face-to-face with Frank Ferrante — who's most assuredly the greatest living interpreter of Groucho Marx's material (see YouTube. YouTube?! Yes, Frank, YouTube.) — all I could do was smile goofily, laugh and stare anywhere but into his huge, inky mole. All the while shuffling for some unknown reason, like I was waiting for a getaway car. I'm on stage with Caesar! At that point all brain cells seized to function.

This is my third time seeing Teatro this year. Each features tweaks to the cast and routines, although the ever-popular core elements of adult dinner theater remain the same; with the exception of one notable absence, this edition, Hail Caesar!, was my favorite. Sure, slight bias–I too "performed" as Loni notes.

Why me? Oh, yeah, this is San Francisco…

Even though we interviewed Frank (in full Caesar gear) earlier this year underneath the European Spiegeltent, I'm sure he still didn't recognize me… in fact, he even used the same "Richie Cunningham" references from the video segment again on stage.

Being such a sport, I'd continue to tee-up nice softballs for him during my brief appearance.

Or maybe I'm recalling this quite incorrectly.

Frank Who?

Frank Ferrante, for anyone that has seen him perform will know, is a master of quick wit. Mix together an endless stream of opportunity for improv, outlandish sets and costumes together with audience interaction and steady servings of booze under a wild tent and he's positively in the zone. In case all the life size cut-outs and posters fail to remind you, this is rightfully Frank Ferrante's show.

Earlier in the evening I had told Loni that my stage days were over. Previously in San Francisco I was unable to win a free beer, and instead endured a slap to the face by Frau Bachfeifengesight at Circus Finelli. Besides, there's probably some unwritten rule about press not being allowed to appear in the show that they're supposed to be covering. So I was particularly pleased that my seat was wedged behind Loni with an adjacent guard rail that would block any impromptu yank to the stage. But, alas, Loni once again waved like a maniac, and before I knew it, I was there, again, on stage, trying to picture myself anywhere but there. Blame it on Peju.

Pre-show libations and socializing.

And that sorely missed element in this version of Teatro Zinzanni? That would be the ultimate sultry Ukranian sex vixen: Vita Radionova. Where was she? Her gyrating hula routine was missed, as was her rope work.

However, Dreya Weber as Cleopatra is a perfect match for Ferrrante. Her physicality is impressive, and, unlike past partners, she can match his energy level. This, in addition to natural chemistry, helps drive the show.

The only downside on this evening, aside from my most unfortunate of appearances, was Mr. PP. Played by the very talented Tim Tyler, the character unfortunately does not fit the sexy, nightclub atmosphere of ZinZanni. I'm sure I'm not the only one who didn't need twenty minutes of ping-pong regurgitation. Hey, I'm just sipping Peju and trying to enjoy a gourmet dinner. While I admire his talent, his character seems out of place.

There's a reason why Teatro ZinZanni has played Pier 29 here in San Francisco for 10 years: It's a lot of fun. Dinner theater doesn't get much better. And although a lot of the experience has to do with audience quality (or lack thereof), in the hands of someone like Frank Ferrante it's an experience you won't soon forget.
First five photos: by Eye of Passion Photography