Dead Man's Cell Phone is a light comedy that speaks to communication, death, family, fashion and organ trafficking. Jean (Mary Waterfield), a quirky, waif-like character who is only slightly oriented to time and space, absconds with the cell phone of Gordon (Paul Jennings), who she finds dead in a café. Connecting with Gordon's wife, mistress, brother and business associates, Jean offers up snippets of a Gordon that she imagines, snippets that are targeted to resolve whatever unresolved issues are between Gordon and his survivors.
While the central conceit of friends and family coming together after a death can be incredibly powerful (perhaps most notably in Burn This), this time it fails to engage. This is unfortunate because the cast and crew spared no effort to bring this script to life.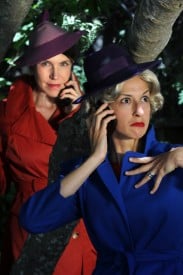 Characters often continue some kind of separate life in our minds. With a powerful play, one returns to new productions to reconnect with these people and revisit whatever resonated in the first place. Here, characters fell flat, leveled, as it were by the weight of their own quirkiness. It is as if playwright Sarah Ruhl was trying too hard. This is unfortunate because Mary Waterfield's Jean was on the mark and finely drawn – and Monica Cappucini's Mrs. Gottlieb was hilarious as she delivered some of the most funny lines in the play, such as her remark to Jean "You're very comforting. I don't know why. You're like a very small casserole – has anyone ever told you that?" Daniel Trecroci's rendition of Dwight brought some much-needed ballast to balance the zany mix.
On other levels, Cell Phone was a stunning success.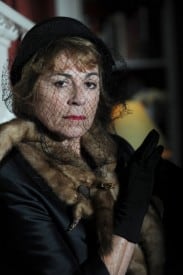 Something about the set design and seamless transitions brought me straight back to being a child that marveled over set changes and the creation whole new worlds. That type of magic is particularly strong in Dead Man's Cell Phone. Scenic designer Patrick Klein created small, highly versatile set, almost-modular-but-not-quite pieces that unfolded from a café to a church to a living room to a bar to an airport. This is not easy stuff to do. The costume designs of Mary Cravens were equally memorable, from the fabulous coat of Mrs. Gottlieb to the zany look of Jean.
My hat remains off to the Palo Alto Players for taking the risk of staging relatively new works. I look forward to the balance of their season, which contains some real gems.
Dead Man's Cell Phone
By Sarah Ruhl
Palo Alto Players, Lucie Stern Theatre
2.5 out of 5 stars
Directed by Lennon Smith
Starring Mary Waterfield, Paul Jennings, Monica Cappuccini, Jean Naughton, Daniel Trecroci, Larissa Garcia