(Clint writes) – If the coastal hills north of San Francisco feel somewhat different this week, chances are it has something to do with that Louisiana bayou sitting smack dab in the middle of Mill Valley. Thanks to white-hot playwright Tarell Alvin McCraney, whose The Brother/Sister Plays trilogy will play across the Bay Area in a clever, three theater pact, we are drawn into a world that is familiar, yet completely unique.
In Part 1, In the Red and Brown Water, now playing at Marin Theatre Company, West African gods, a young woman's struggle to conceive, and passion in the projects, combine to create an entirely original theater experience. McCraney's characters are so convincing, sharply drawn that each immediately connects without so much as uttering a few lines of poetic dialog, "Lying on her back like a lake of brown."
Against the backdrop of fictional town San Pere in Louisiana, young Oya (Lakisha May), named after the goddess of wind and fertility, is a track star whose mother is dying. As her friends grow up and start families, she too wishes for a little "Mark" of her own. And even though several suitors pass by her small home in the projects, she finds herself unable–despite her longings–to conceive; first there's macho, rough-and-tumble Shango (Isaiah Johnson) who later heads to war, and then stuttering mechanic Ogun (Ryan Vincent Anderson).
(Clint sighs, perhaps this review would be better with contemporary pop culture references) – Meanwhile, rapscallion Egungun, played by Daveed Diggs in one of my favorite performances (a charismatic cross between D.L. Hughley and Damon Wayans), steals chocolate, "I want it!" angering a local shop owner (Josh Schell).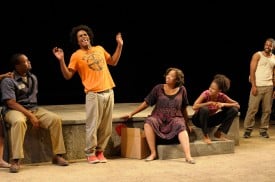 Performances are superb. This cast is extremely talented and the chemistry sublime. That they can bring this strikingly vivid world to life with a bare set (simple riser and lighting rigs) is testament to McCraney's prose, and the commitment of the actors. In other shows this could look like actors walking on boxes playing make-pretend, but here our imagination soars alongside.
Well known to those familiar with the material, stage direction and inner thoughts are read aloud at times by the actors — "he exits," "she smiles," "he adjusts his dick." I recently saw this style last week at the Fringe Festival, and it's also common in black box presentations. It's not my favorite. I find it distracting, artsy, and self-aware. Again, I found myself asking why the aberration was necessary. By the end of the first act, however, my concerns faded as the technique began to reveal layers, and provide a window into these people's dreams, and motivations.
Another remarkable element is the music. Aside from a steamy night club scene in the second act, there are no effects or pre-recorded material. Instead, performers hum, whistle, and sing, sometimes on the stage, other times as spectators seated along its stark edges. Authenticity never felt so natural. It reminds us that we are witnessing something fresh and innovative.
(Clint needs a memorable line) – If this is a glimpse into the future of theater, then let the celebration begin because it doesn't look anything like a Buick.
"She wasn't crazy, just sad."
Is Oya a tragic heroine, or just a girl who can't escape the projects? I thought her Van Gogh-like solution was somewhat over the top, but nevertheless dramatic. Loni reminded me it was figurative. Either way, the water is most certainly red and brown, imagery that soon won't be forgotten.
Those that like the show with a generous helping of sugar might find this pared production an acquired taste. Me? I like my espresso straight.
There was a lot of hype surrounding this West Coast Premiere (it has received raves on the other coast), and In the Red and Brown Water delivers. The standing ovation and multiple curtain calls were just the beginning of what I think will be a wildly successful three theater run for this trilogy. Part 2, The Brothers Size, opens next week at Magic Theatre, and the final, Marcus; or the Secret of Sweet plays at the American Conservatory Theater (A.C.T.) late October.
Epic? Yes.
(Clint publishes, grabs another Diet Coke) –
In the Red and Brown Water
Part 1 of The Brother/Sister Plays
By Tarell Alvin McCraney
Marin Theatre Company, Mill Valley
4.5 out of 5 stars
Directed by Ryan Rilette
Starring Ryan Vincent Anderson, Daveed Diggs, Nicol Foster, Jalene Goodwin, Isaiah Johnson, Lakisha May, Jared McNeill, Josh Schell, Dawn L. Troupe
Through October 3, 2010
Noteworthy

Tarell Alvin McCraney. Photo by Deana Lawson.

"It's incredible that three theaters have taken on doing all three plays, really allowing each play to live distinctively and have a conversation with each other across the Bay Area." — Tarell Alvin McCraney.
Tarrell Alvin McCraney's plays include Wig Out! produced in New York by Vineyard Theatre and in London by the Royal Court Theatre, Without/Sin and Run, Mourner, Run both of which premiered at Yale Cabaret, and The Breach with Catherine Filloux and Joe Sutton, commissioned by Southern Repertory Theatre, where it premiered in August 2007 to mark the two-year anniversary of Hurricane Katrina. He is currently the Royal Shakespeare Company's international writer in residence, and is under commission at Manhattan Theater Club and Berkeley Repertory Theatre.
Crowd-spotting: actor James Carpenter, playwright Trevor Allen (new play Lolita Roadtrip coming to San Jose Stage, April 2011).
In the Red and Brown Water premiered at Alliance Theatre in Atlanta, and won a 2007 Kendeda Award.
Next up at MTC: 9 Circles (Winner of MTC's 2010 Sky Cooper New American Play Prize), World Premiere, Oct 14 – Nov 7, 2010.