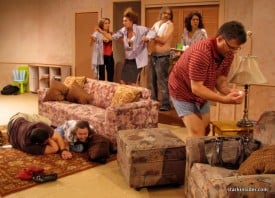 If only the first day of school was always this much fun. Then again, sex (afternoon delight anyone?) with multiple partners has a way of edging out PTA meetings in the above-average-entertainment category. Just be sure to bring plenty of band-aids and ice. And if you need to talk in circles for a few minutes, rationalizing your actions, then please go right ahead as this is the kind of writing (Bill Aronson/RENT) that brings characters to resplendent life.
I've seen many shows at City Lights, and with the First Day of School, the little theatre that could (and does, as Pat Reardon rightfully pointed out to me via email) has nailed it. Opening to a wildly enthusiastic audience this past weekend in San Jose, this is their best production since Judas Iscariot.
The show kicks of the 2010/2011 season billed as "We're Bringin' Sexy Back!" Indeed so far CLTC is delivering the goods.
Platitudes aside, the material is strong.
"My husband is an amazing multi-tasker"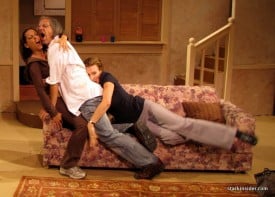 At first blush it may seem trite and very much in the vein of a beloved Married with Children episode.
But this is why the live stage is so enigmatic and enduring; with extended internal monologues in the first act (the likes of which, due to length, would never be agreeable to television producers and most filmmakers) not only milk superficial laughs, but also reveal meaningful, layered narrative and social commentary. In separate, ten-minute scenes, each of the leads sells themselves on the idea of sex with others. At first the idea is bandied about: like, I need to pickup some milk–will you have sex with me? Then logistics come in to play. You know, the kind involving one-on-one discussions regarding important PTA matters.
That the scheming and seemingly innocent foreplay happens mostly on a school ground while moms and dads discuss teacher assignments and the minutia of suburban living only adds to the delectable appetizer.
Later in the second act, the story heads into slapstick territory as the players consider acting out their fantasies. The payoff comes in spades, thanks to the depth of our connection with these very human characters.
But what really sends this particular production over the edge is its stellar casting.
Tom Gough and Diahanna Davidson make for a convincing couple looking to spice up suburbia. Their performances anchor the piece in an uproarious and intelligent exhibition that exceeds expectation. The supporting roles are equally delicious: Rich Miller as the likably neurotic, braniac; Courtney Walsh as a quirky lawyer climbing the corporate ladder; and Mandy Manousos as the hyperactive fitness bunny.
The two kids, played by Rachel Wilde and Shane Rhoades, are decent in minor roles, and serve double-duty in a charming set-change. Once again, ingenuity and creativity overcome budget.
Some of the momentum is lost after intermission. Timing was less than perfect, and dialog limp. But not for long, thankfully — chalk it up to opening night excitement.
In the end, there might be self-discovery. But not before a bucket-load of laughs and a pink poodle of sexiness washes over downtown San Jose. Yes, I like it… and maybe it really would last longer than a reading group.
First Day of School
City Lights Theatre Company, San Jose
4.5 out of 5 stars
Written by Billy Aronson
Directed by Virginia Drake
Starring Tom Gough, Diahanna Davidson, Rich Miller, Courtney Walsh, Mandy Manousos, Rachel Wilde, Shane Rhoades
2 hours 15 minutes with one intermission
Through October 24, 2010
Noteworthy

"We're Bringin' Sexy Back!" – theme for the 2010/2011 City Lights season.

According to executive artistic director Lisa Mallettte, CLTC will partner with a non-profit for each production. This time it's SFSI (San Francisco Sex Information) who provide free, confidential, accurate, non-judgmental information about sex and reproductive health. Or as I see it, kind of like being in a hockey locker room, but with less crotch grabbing.

Also the theater will partner with a different local visual artist; this time featuring Dan Staples (man with the pearls) whose whimsical artwork reflects along the back halls.

Eulipia once again hosted a fine after-party with Champagne as cast, friends and fans mingled.

Next up: Abraham Lincoln's Big Gay Dance Party (Nov. 24 – Dec. 19)