Bill Irwin is indeed the consumate clown. Part Charlie Chaplin, part Robin Williams, part Martin Short, he's about as brilliant a comedic stage performer as you'll find. In Scapin, which opened this week at A.C.T., he had the San Francisco audience in hysterics for most of the evening. The show, an adaptation of Molière's chaotic classic, is the perfect showcase for his chameleon-like talents (a triple threat: adapting, directing and acting), and marks a celebratory return to the Bay Area stage.
When Irwin is on stage, you know it. His presence is surprisingly commanding given at times he resembles a slinky, Rubber Man, and, yes, even a subscriber, hollering down from the balcony. What I thoroughly enjoyed about his performance, aside from its general zaniness, is his skill in making everyone around him better. It's like watching Wayne Gretzky or Michael Jordan. He's a superstar talent, but doesn't merely dwarf those around him. Everything ascends.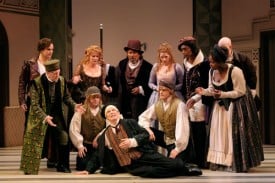 The story, a 17th century farce concerning mistaken identity, revenge, and wide-eyed lovers, is secondary in Scapin, although it's a perfectly inspired choice (and appropriate for all ages). Instead we're here for the laugh. Although, in traditional A.C.T. form, it doesn't mean skimping on set (Erik Flatmo) or costumes (Beaver Bauer, who's sumptuous work can also be seen at Teatro ZinZanni). It's quite something to be sitting in the A.C.T., where the greats have performed, including Seana McKenna last season in Phèdre, and enjoy a light-hearted romp.
Did I mention this show is unpredictable?
And that's a large part of its charm. Audience interaction, dance-offs, and plenty of improvisation are all part of the play.
Fortunately, the cast surrounding Irwin is very impressive, including Jud Williford who shines as Sylvestre, his scheming sidekick. His would-be menacing makeover is a hoot and a half.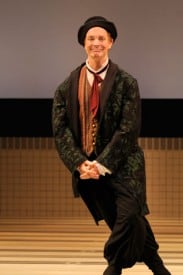 Steve Anothing Jones as Argante and Geoff Hoyle as Geronte take their fair share of abuse, and spend most of the production responding in bewilderment or surprise to the manic events unfolding before their eyes. When Hoyle ends up in a bag, he takes a continual beating from the French, the Spanish, the German, and… even the audience.
Those that tire, though, of in-jokes, self-aware material and repetitive Laurel and Hardy-like bits, may not feel as thrilled by Scapin, but I'd suggest they are very much in the minority. And may require a trip to the school of not-so-seriousness.
Randall Craig and Keith Terry make for a nice musical unit that keeps the energy amped with often whimsical touches. Terry (who's appeared at the Lincold Center) even gets a chance to shimmy in a fun little number with Irwin.
My father, a former High School principal, used to get up on stage at assemblies, and to warm up the kids he'd perform "wiggle worm." It involved shaking, wiggling, jumping — ill-timed and all rubbery. It would bring the house down. A principal! While it didn't teach me to dance, it did teach me the importance of laughter, and the ability to never let pretension get the better of us. With Bill Irwin and Scapin, I had those same feelings. It just makes you smile and laugh — you have to, there is simply no choice.
Scapin
By Molière
A.C.T. San Francisco
4 out of 5 stars
Adapted by Bill Irwin and Mark O'Donnell
Starring Gregory Wallace, Jud Williford/Richardson Jones, Bill Irwin, Keith Pinto, Ben Johnson, Ashley Wickett, Steven Anthony Jones, Geoff Hoyle/Rod Gnapp, Patrick Lane, Omozé Idehenre, René Augesen
Through October 17

Noteworthy

"I want you to know that this is by far the rightest company of actors and team of designers and stage and production geniuses to have at this play. And there is point number one in my exegesis: this is a play." — Bill Irwin, from Words on Plays, excerpts from remarks made to A.C.T. cast and creative team, August 16, 2010.
Crowd-spotting: Magic Theatre cast from Brothers Size (Part 2 of the Tarell Alvin McCraney's trilogy), Frank Ferrante (Teatro ZinZanni).
So that's what Frank looks like without a giant mole! Pre-show I bumped in to Caesar, the amazing Frank Ferrante himself (accompanied by actress, and sinuous Cleopatra, Deya Weber). It had been weeks since we last "performed" together at Teatro ZinZanni out at Pier 29. I tried to call Loni over to meet them, but she was interviewing… clowns. Well, not just any clowns. Clowns with money. Not from Batman. But the ones called "producers" that are generous with their donations to A.C.T. Then I realized that Loni had met Frank already — interviewed him in fact. Ferrante is so convincing as Caesar I had thought him momentarily as two different people.
Next at A.C.T.: Marcus, or the Secret of Sweet (The Brother/Sister Plays: Part III) Oct 29 – Nov 21.