Opera San Jose launched its 27th Anniversary Season with an ambitious West Coast premiere production of Anna Karenina, an American opera by composer David Carlson.
The work is based on the novel by the Russian writer Leo Tolstoy. Set in 19th century Russia, the story is a hauntingly vivid depiction of Anna Karenina's life, a woman who is in a loveless marriage, succumbs to her desires for another man and faces the tragic repercussions of her actions.
The opening stage set is stunning, writhe with foreboding dramatic lines, brooding lighting and rich textures. The artistry of the panels that shift in and out is likewise breathtaking, each adding another brush stroke to Anna's life.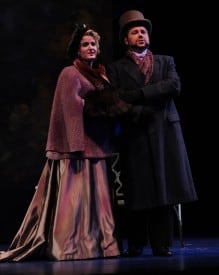 Some sets are delicately realistic such as a salon room in Stiva and Dolly's home. Others are simple yet grand canvases with Impressionist-like depictions of gardens and forests. The most dramatic scenes are at the train station where the blaring sounds of the train charging forward and the crowds synchronized in slow and fast motion create a mesmerizing effect.
The visual feast of this Opera San Jose production is paired with spectacular vocal performances. The score is melodic and pleasing. Occasionally it is bold and dramatic, foreshadowing the tragic ending. However, at times, I craved for a change of pace, perhaps a lighter, energetic piece to break up the long, flowing lines of the overall score.
Each element of the production was masterfully executed at Saturday's opening night. However, as Anna's life comes to its destructive conclusion, I didn't feel my heart pulsate in pity or burst with anguish.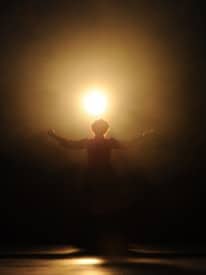 Instead, I felt bothered with the trivialities of Anna's life reenacted in such a first-class production. In the opera, unlike the novel, there isn't a redeeming quality about Anna. There is mention she is beautiful, but she exhibits none of the virtues I could identify with in contemporary times.
One could say she was willing to sacrifice her comfortable lifestyle for love. Yet Anna's love seems to be more of the fleeting, fiery passion of a foolish wife than that of a long-lasting noble love that grows stronger in adversity. In fact, Karenin, her husband, comes across as the mature one in this entire ordeal.
Why such contempt for the opera version of Anna Karenina?
Perhaps it is because I so yearn for her character to be as grand, complex and engaging as such an achievement by Opera San Jose deserves.
Anna Karenina
By David Carlson
Libretto by Colin Graham
Based on the novel by Leo Tolstoy
Opera San Jose, California Theatre
3 out of 5 stars
Through September 26, 2010

Clint says:

I think the last time I saw an Opera was in the late 1970s when my mother took me to see The Nutcracker at the NAC in Ottawa. Actually, come to think of it, I'm not even sure that's an opera, is it? So take what follows as the ill-informed side commentary that it is. My problem with Anna Karenina is Anna Karenina. In this production she's wholly unlikable. If Facebook and Twitter had existed in Russia at the time she'd be posting updates every ten minutes about her self-pity, "Woe, is me!" "I love my son, but not my husband – what to do?" "OMG day at the track. Man on horse. Man under horse!" Because of this, it's hard to care at all. And the husband makes matters worse by being a bored wallflower; then he uses his son by declaring his mother dead. Nice. Fortunately, everything else about this production is top notch: costumes, sets, singing, lighting, and the score… ah, yes the score! I loved it–even better, paired with the majestic soaring ceiling at the historic California Theatre; brooding with lots of Kettledrums. Boiling! I agree with Loni that it doesn't let up much, but that's largely why we feel uneasy throughout. The opening train station scene is some of the most beautiful staging and direction I've seen in a while (think Tosca Project by A.C.T.). The race track scene: again, brilliant. The epilogue: horrible. It reminded me of Blade Runner (1984) when the studio stuck a hastily conceived happy ending on to an otherwise classic noire film. Must please the masses, they surely thought. To me, it felt a bit like grade-school. Now let's all get along – learn to love, and learn to be loved. Okay? The $1M Anna Karenina experience is all it's hyped to be, but too bad it's wrapped around a petty, domestic dust-up.
Anna Karenina

West Coast premiere of new David Carlson opera

In English with English Supertitles

Cast: September 11, 14, 19, 25 September 12, 17, 23, 26
Anna Karenina Jasmina Halimic• Jouvanca Jean-Baptiste•*
Kitty Scherbatsky Khori Dastoor Khori Dastoor
Dolly Oblonsky Betany Coffland• Tori Grayum
Princess Betsy Megan Stetson* Megan Stetson*
Countess Lydia Ivanova Kindra Scharich* Kindra Scharich*
Agafia Mihailovna Heather McFadden Heather McFadden
Konstantin Levin Michael Dailey• Alexander Boyer•
Stiva Oblonsky Christopher Bengochea Michael Mendelsohn
Alexei Vronsky Krassen Karagiozov• Torlef Borsting•*
Prince Yashvin Paul Murray Paul Murray
Alexei Karenin Kirk Eichelberger Isaiah Musik-Ayala•

• Resident Company * Company debut

What: Opera San José proudly launches its 27th Anniversary Season with the West Coast premiere of Anna Karenina, an American opera by David Carlson.

Who: Composer – David Carlson; Librettist – Colin Graham
Conductors – Stewart Robertson, Bryan Nies (2 performances – September 25, 26)
Stage director – Brad Dalton
Choreographer – Lise La Cour
Designers – Steven C. Kemp (sets); Elizabeth Poindexter (costumes); Kent Dorsey (lighting); Jeanna Parham (wig/makeup)

Dates: September 11, 12m, 14, 17, 19m, 23, 25, 26m; 2010

Time: "m" indicates matinee at 3pm; all other performances are at 8pm

Location: California Theatre, 345 South First Street between San Carlos and San Salvador streets, downtown San José

Tickets: $51–$101 (includes city facility usage fee) from Opera San José Box Office, 2149 Paragon Dr., San José, CA 95131
Available 90 minutes prior to curtain at the California Theatre box office only: Seniors (65 and older) 10% discount; Students (25 and under, with student ID) $11