Guest post by Pat Reardon.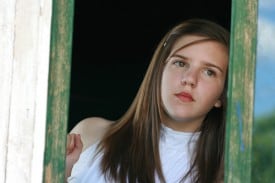 The San Jose Mariachi and Mexican Heritage Festival delighted its film audience last night with the world premiere of Cartes a Elena. This beautiful production by first-time filmmaker Lorent Barajas is set in the Copper Canyon in Chihuahua Mexico and tells the story of a young man who brings hope to his impoverished village.
Orphaned Emilio's (Jose Eduardo) life changes when he is adopted by Teofilo (Jorge Galvan) the elderly village mailman. Emilio soon learns that delivering the mail to the illiterate villagers includes reading letters from family members that have moved north in search of a better life and writing responses from those left behind. When Teofilo dies Emilio assumes the responsibility of keeping the elderly villagers connected with their distant loved ones. Emilio soon becomes saddened by the regular onslaught of bad news the letters bring and decides to replace the true stories with happy messages. Simple stories like a promotion at work, grandchildren doing well at school, or the purchase of a new truck transform the village and all the people in it. This wonderful film is enhanced by the stellar cast of veteran Mexican actors who bring the villagers to life amidst the stunning landscape of the highlands of Chihuahua.
The Film Festival continues on Friday at 7:00pm with the premier of a documentary from Bay Area filmmaker Raymond Telles about the Mexican Revolution. Ten years in the making, The Storm That Swept Mexico is a two hour documentary that tells the gripping story of the Mexican revolution of 1910; its causes and its legacy. Shot in HD, this film uses contemporary footage and interviews with participants, historians and others as well as period photographs and motion pictures from the earliest days of cinema. Tickets can be purchased at the door at the Hackworth IMAX Dome Theater at The Tech Museum, 201 South Market Street, San José, CA 95113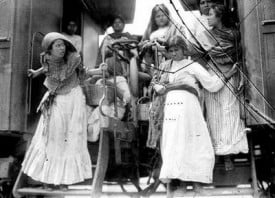 The San Jose Mariachi and Mexican Heritage Festival continues this weekend with the world premiere of ¡Adelita! The Women of the Mexican Revolution, on September 25th at the San Jose State Event Center.  This new theatrical piece conceived by Grammy winner Linda Ronstadt and created and directed by Dan Guerrero tells the story of the women who fought in the Mexican Revolution. Guerrero uses traditional music and dance with historic visual projections to create a magical fable. This celebration of the 200th anniversary of Mexican independence features the acclaimed Eugenia Leon and the world class Mariachi Cobre and Mariachi Los Camperos de Nati Cano. Click here to purchase tickets.
On Sunday September 26 at 10:00am the festival wraps up with "Concerts for the American Dream at the Outdoor Feria" at the Plaza de Cesar Chavez. This incredible all day event features music, food and cultural celebrations. Presenters include, Los Lobos, Intocable, Los Tex Maniacs, Ozomatli and Mariachi Azteca. Tickets for this event are $15 and can be purchased online here.