Nicole Kidman is enjoying early Oscar buzz thanks to a strong performance as a grieving mother in the film version of David Lindsay-Abaire's Rabbit Hole (2007 Pulitzer Prize). The story–complex, moving, funny–takes us to places we'd sometimes prefer not to think about. How we grieve and move on with life after tragedy is profoundly personal, and, like it or not, the process is never a choice.
Fortunately the play is now running at Coastal Rep Theater in beautiful Half Moon Bay. If you live in the San Francisco Bay Area, here's the perfect chance see what all the fuss is about before the film is released by Lionsgate later this year.
The Corbett family, Howie (Michael Lederman) and Becca (Elizabeth Coy), are dealing with loss beyond imagination. Everyday routines, like doing the laundry or grocery shopping, take on new meaning in a world that feels utterly changed forever. Against their wishes, a young boy (Patrick Leo Bradley / Bobby Conte Thornton) enters their lives. His short story about space and parallel universes provides an Alice in Wonderland-like metaphor for grieving. Becca connects with the story and its scientific qualities while shunning religion ("If God needs another angel, then why doesn't he make one?!") and therapy sessions.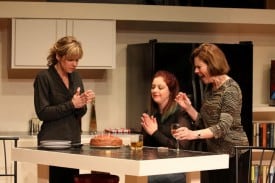 Ivy A. Henry, in a role that requires a championship sweet tooth, plays Becca's sister Izzy. Prone to a bar scrap here and there even while pregnant, and not afraid to speak her mind, she says the things that we dare not.
Some of the best lines are given to the sisters' Mom Nat who is played with likable zest by Gail Erwin. On the Kennedy curse she laments, "all of those good looking people falling out of the sky!"
Laughs in the first act, however, mask the pain and, ultimately, the tension that is quietly suffocating the family unit. Should the Corbetts sell their home? Is forgiveness possible? And is there a respectful way to honor the memory of a boy? Of course, there are no right answers. These are matters of the heart, and playwright Lindsay-Abaire crafts moving dialog that simmers at first, before boiling over in gut-wrenching fashion.
The acting is solid and generally convincing. This is challenging material. Lines are spoken, but body language, the eyes and heart do all the talking. Veteran Lederman stands out, and the overall production benefits whenever he's in a scene, "You're trying to erase him!"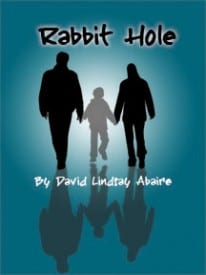 A modern set by Roxane Ash featuring the interior of an upper-middle class home is stark and even haunting. Splashes of red–a mixer, linens in the kitchen, artwork, books in the living room–are symbolic reminders. A boy's bedroom upstairs, adorned in robots, provides for drama, and even laughs between Becca and her mother. With the stage so close to the comfortable, intimate seating at the Coastal Rep, we feel involved (sometimes almost voyeuristically) in this family's crisis.
This is the second time I've seen Rabbit Hole performed on stage (the first was by Palo Alto Players). Both times, the first act felt very measured; pacing is slow and methodical. It's not a bad thing, it gives us time to think. Before long our compassion is almost unbearable, and, in the latter half, we too start to wonder if there is ever a way out – an end.
For those that have suffered a loss, I can't imagine what it would be like to sit through this play. According to artistic director Michael Lederman some have done just that. It must be comforting to know, however small, that others too have faced similar tragic experiences.
With Rabbit Hole, and Urinetown just before it, Coastal Rep has strung together two hits that showcase the best in community theater. A short drive from San Francisco and only about 20-30 minutes away from most of the Bay Area, this is a riveting experience well worth seeking out.
"You're not in a better place, you're just in a different place."
Rabbit Hole
by David Lindsay-Abaire
Coastal Rep Theatre, Half Moon Bay
3 out of 5 stars
Starring Elizabeth Coy, Ivy A. Henry, Michael Lederman, Gail Erwin, Patrick Leo Bradley / Bobby Conte Thornton
Directed by Paul Anable
Through Oct. 9, 2010
Tickets start at $15
Noteworthy

A local firehouse occasionally provides extra challenges for the actors at Coastal; sure enough, the sirens were blaring in the second act. Rehearsed for such an event, the actors respond in character — so well, in fact, that I thought that the effect was part of the play, but later learned it was improvised.
Rabbit Hole premiered on Broadway in 2006; it received five Tony nominations and a Pulitzer Prize for best new play in 2007.
The film adaptation, starring Nicole Kidman, premiered this month at the Toronto International Film Festival to strong reviews.
Is Michael Lederman a distant relative of Mandy Patinkin? At Compulsion, which opened last week at Berkeley Rep, it was hard not to draw the comparison.