Going to a show like Burn the Floor, the steamy and rockin' touring Broadway production now playing downtown San Jose, can make one self-conscious. I don't think I've seen so many toned bodies on one stage at one time. They said "San Jose is going to ignite" and they might be right about that. This is a fast-paced, action-packed extravaganza filled with dancing, singing… and lots of gyrating and stupefying body movement.
"Is that humanly possible?!" I repeatedly asked Loni, my doey-eyed date for the night.
What's best about Burn the Floor is its non-stop carousel of dance styles and costumes.
You'll have nary a moment to breathe as the performers Cha Cha, segue into a Viennese Waltz and then bring on 50s rockabilly with some Jive, Lindy and Swing. The precision and polish is impressive. Earlier this week Bill Irwin strutted and wiggled in an entertaining Schemer's Boogie (at Scapin now playing A.C.T. San Francisco), and on this evening we had The Dirty Boogie–a slight contrast in choreography, but both lots of fun.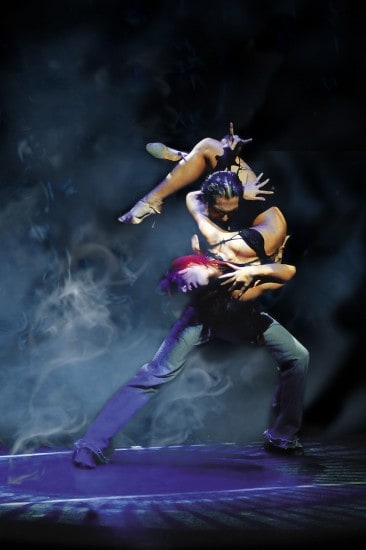 Once again I was reminded of the vastness of the San Jose Center for the Performing Arts. It's large. And yet, the production crew were able to squeeze every ounce out of the sound system. It's loud, but it's also clean; those horns and brass really pop in some of the numbers.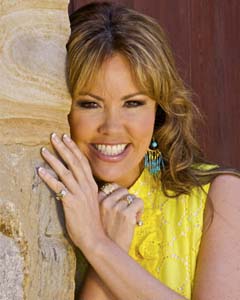 Two percussionists (Joseph Malone and Henry Soriano) flank the rear stage and pound away relentlessly. The pre-recorded music is very good, but of course nothing will top the real thing. Regardless, this is about dancing, and the dancing is just what you'd expect: top notch, dynamic, exciting and … endless.
At about two hours, make sure dancing is your thing. If it is, this may well make for a perfect evening. Those not into the television dancing fad, and not familiar with Mary Murphy (pretty amazing at 52!) might not care about those components, but still it's an undeniable blast to watch all those different styles of dancing. And yes, I went to the gym today.
Burn the Floor
Broadway San Jose (San Jose Center for the Performing Arts)
3.5 out of 5 stars
Special Guest Star Mary Murphy