"A lot of times I'm thinking about what I'm doing. So some times I'll space out. I'll be thinking of a scene we're editing or something like that. My wife will say, 'Hey! Hello?! Hello?! I'm here.'"
That was actor and director Ben Stiller last night describing his own Walter Mitty moment at the Mill Valley Film Festival. Stark Insider was on location for the premiere of his new film The Secret life of Walter Mitty and caught up with the actor (see video of interview below).
In the film that opens Christmas Day, Stiller plays the eponymous role, a mild-mannered loner who often zones out and envisions a fantasy world — one where he becomes a  a wartime pilot, an emergency-room surgeon, and a devil-may-care killer. In a race to finish Life magazine's last cover the lovable protagonist soon finds himself voyaging across the world on an epic, soul-searching adventure takes him to stormy seas, erupting volcanoes, and, yes, even the frosty Himalayas.
First published as a short story in The New Yorker in 1939 (James Thurber), Mitty originally dies "bravely in front of a firing squad." Suffice to say, as a family feel-good release, the ending has been tweaked in Steve Conrad's (screenwriter) adaptation.
"It's [the story] lasted because I think everyone can relate to someone who lives in their head," says Stiller who stars, directs and produces the film. "It was a very emotional story. The idea of trying to become who you are or who you could be, that's what resonated with me."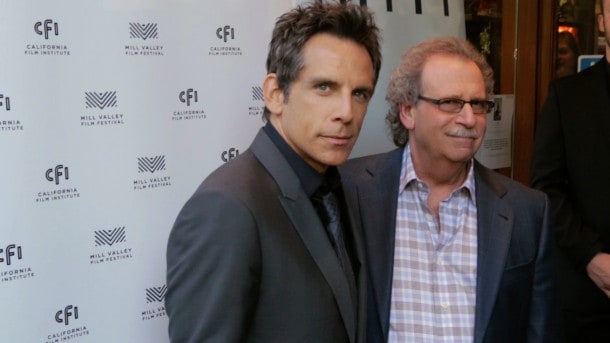 So iconic is the character that the name "Walter Mitty" (often shortened to simply "Mitt") has become a common pop culture term coined for someone who is a hapless dreamer. It wouldn't be far-fetched, for example, to hear someone say this about me: "Loni is a bit of a Mitt when it comes to her dream of becoming a world famous oil painter."
MORE MVFF: Dallas Buyers Club: Jared Leto, Kayne West, and Fame (Video)
As for the film itself, after interviewing Ben I headed to the MVFF premiere. Anyone sitting within twenty feet or so of me, should be fairly acquainted with my reaction–laughing, smiling, gushing were the order of the day. Mission accomplished. This is a feel-good film with whimsical sweetness that should do well over the holidays. In my 30-second review in the video below, Clinton Stark notes that perhaps it bears more than passing resemblance to the Tom Hanks classic, Forrest Gump (1994).
"It's about realizing that life is happening now."
After the screening, I committed to take at least one "Walter Mitty" trip per year. I usually travel at least once to Loreto Bay in the Baja. But my other annual getaway will be something less familiar. For 2014, I'm thinking Tuscany.
Dreamers, dream!
STARK INSIDER TV: Ben Stiller, The Secret Life of Walter Mitty at MVFF
Ben Stiller Interview THE SECRET LIFE OF WALTER MITTY at MVFF from Stark Insider on Vimeo.
STARK INSIDER MVFF COVERAGE: