If ever we needed a reminder of the power of the written word, it was on display last night in majestic, cinematic form.
The Book Thief, a period piece, starring Geoffrey Rush, Emily Watson and young, Canadian new-comer Sophie Nélisse, co-opened the 36th annual Mill Valley Film Festival, one of my favorite events of the year. Road tripper Nebraska, starring Bruce Dern and Will Forte, shared opening night honors, and played across town.
Fortunately, on opening night Stark Insider was able to spend some time with the cast of The Book Thief, as well as with Brian Percival, who makes his directorial feature debut with this film (many will know him for his television work with Downton Abbey). Below, you can watch the video segment Stark Insider filmed last night, at the MVFF opening reception followed by the U.S. premiere.
The epic film, which left the packed house at Century Cinema standing and hooting and hollering, is based on Markus Susak's best-selling novel of the same name. We follow the plight of a German orphan (played by Nélisse) who is taken in my working class family. The Nazis are cracking down, burning books, and searching basements for Jews. What follows is at times heart-wrenching, and inspiring–that stories can boost the human spirit, helping us accomplish the seemingly impossible.
During the press conference, Geoffrey Rush noted that, though he'll still use a Kindle or iPad as needed, he prefers the physical feel of real books.
"I like the feel of a book more than an iPad or Kindle," he says."It's one of the few places where I think you can get  lost in your own imagination with a very simple tool. It doesn't prescribe what the exchange is going to be. Those things that are on a phosphorous screens, you've got to look at sidebars, and advertising, an d other stuff, and that's not a creative or imaginative experience."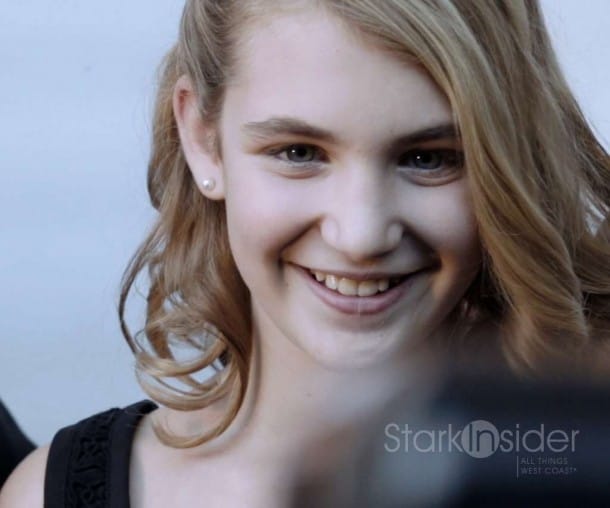 Nélisse, who was picked out of thousands of young "intense" actresses. She managed to catch Percival's eye thanks to her exuberance, and ability to convey a range of emotions.
"Straight away I felt there was a spirit and energy about her," said Brian Percival. "It allows us to feel for this character who can be vulnerable at times, but at the same time can be really feisty and can kick out, lash out. Sophie was ideal."
She didn't manage to read the novel itself until after shooting was complete. By then, when she was 21 pages in, she says, she could only see the movie version running through her mind. She says she didn't even want the part, instead preferring to focus on her dream to make the Canadian gymnast team. "I auditioned just for fun," she said. For the record, she acquits herself with grace, confidence and charm in front of the press.
The film features lush cinematography (reminiscent, in fact, of the Oscar-winning The King's Speech). The costumes are wonderful too. And the acting? When you have a veteran like Geoffrey Rush anchoring a production, you're pretty much guaranteed quality. Such is the case here once again. Watch Rush carefully. Each line on his face tells a story. A subtle twitch of the eye, or arm motion, conveys more than can ever be fitted on the printed page.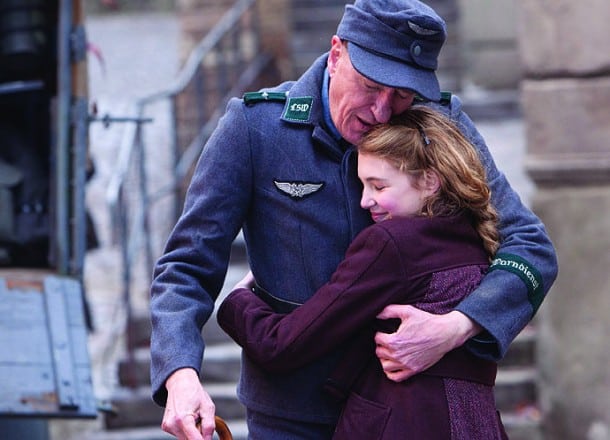 NOTE: PLEASE STOP READING if you don't want to know more about the film-but make sure to watch the video below!
A few things sparked my imagination as I watched the film. The first is the interesting and unique idea of having "Death" as a narrator. It's not often that you have the Angel of Death introducing us to the story. Told during the holocaust, this technique proves a shattering reminder of the atrocity; but it also reminds us of the human condition.
Though there's no shortage of WWII narratives, this one gives us a distinctly German viewpoint (though, with actors mostly speaking in English…). As far as I can recall, there's only one scene that involves American presence.
MVFF runs for 10 more days. Tonight famed director Costa-Gavras will be honored with a special tribute followed by a screening of his investment banking thriller, Capital. Other special guests scheduled to appear at the festival include Jared Leto, Steve McQueen, Andy Garcia, Sean Penn and Dakota Fanning.
Stay tuned as Stark Insider brings you more on location updates, and videos.
WATCH: MVFF Opening Night – The Book Thief with Geoffrey Rush