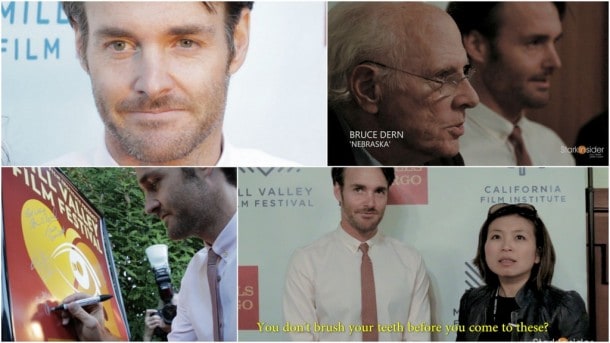 Bruce Dern may have won the best actor prize at Cannes for his role as a potentially delusional and certainly cantankerous father in Nebraska, but he has nothing but the utmost respect and praise for his co-star, Will Forte (of SNL and MacGrubber fame).
"It's Will's performance that makes Nebraska work because he was willing not to go for the quick, easy joke ," said Dern."I give him a tie for first with Jack Nicholson in The King of Marvin Gardens."
Alexander Payne's (Sideways) road tripper swung into town to kick-off the Mill Valley Film Festival. Shot in black and white, the visually striking movie  features Dern as an aging alcoholic who believes he's won the lottery. Along with his son, played by Forte, the duo proceed to make their way from Montana to Nebraska.
We caught up with the actors at MVFF. Forte was emphatically apologetic about his alleged bad breath. "Someone gave me a mushroom right before I came in here," he told Loni Stark as the press conference came to a close. And he quickly clarified: "A portobello mushroom! Not a psychedelic mushroom."
The casting appears to have resulted in on-screen magic. Pairing the veteran Dern with the comedian-turned-serious actor Forte results in a dynamic that perhaps elevates the film beyond just another road movie. As we saw most famously in Sideways, director Alexander Payne has a keen eye for capturing the complexity of relationships; and the sub-text of suffering that pains so many in private.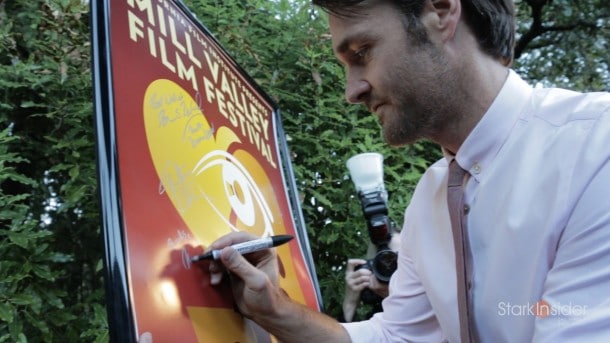 One of the challenges of being known as a funny guy is the pressure it can create on set.
"He [Will Forte] was scared. Not of me," said Dern. "He's also surrounded by 80 people and a crew waiting for him to be funny because that's how they know him."
You can watch the video below for clips from Nebraska, plus Will Forte, who never took formal dramatic training until the Groundlings, continues to explain the mystery behind his bad breath.
We've been covering the Mill Valley Film Festival for several years, and this year may be the best yet in terms of quality films. The Book Thief, a WWII epic set in Nazi Germany, with Geoffrey Rush and the remarkably composed young Canadian Sophie Nélisse co-opened the festival to a standing ovation. There's plenty of hidden gems too. Spanish filmmaker Jonathan Cenzual Burley's sophomore effort The Year and the Vineyard is a charming fable, and a wine-themed movie like none that I've seen before. Last night we learned about the dangers of toxic chemicals contained in everyday household goods with the world premiere of The Human Experiment. Executive produced and narrated by Sean Penn, the documentary was another well-received effort from Bay Area filmmakers Don Hardy and Dana Nachman. A talk-back with legendary director Costa-Gavras after the screening of his banking thriller Capital was among the best, most interesting I've ever attended. Peter Coyote gets top marks for moderation supreme on that evening. And, I will admit, I got syrupy goosebumps in the guilty pleasure that is One Chance, the Britain's Got Talent tie-in based on a true story.