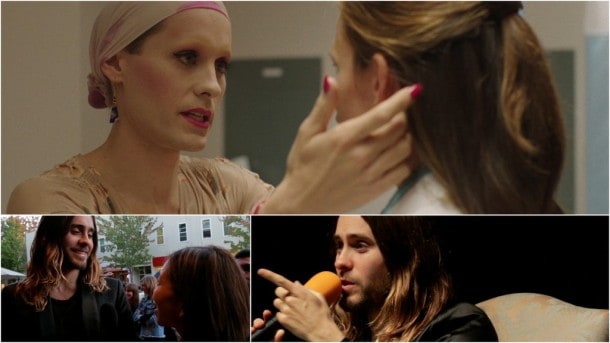 Jared Leto has something to say about fame. Channeling Kayne West, whom he "interviewed for a project," the 42-year old actor-director very well embodied the concept last night when he attended the premiere of his new film, Dallas Buyers Club. Fans lined up at the Mill Valley Film Festival to get autographs, pose for iPhone photos, and get close to the man who also channeled the likes of another quite famous individual: Jesus.
Stark Insider was on location at MVFF (rolling into closing weekend) and shot Jared Leto's appearance, which included a red carpet arrival, and Q&A after the screening of Dallas Buyers Club. See video below.
And about fame? In the words of Kayne: "Fame. That's my thing. Because fame is awesome." … and "Don't let anyone tell you otherwise."
The reason? It provides a platform. One that can be used to do good things or bring attention to causes. Such as the concert that Jared's band Thirty Seconds to Mars will play tomorrow night at the Hollywood Bowl (and tonight in San Jose). Part of the proceeds will benefit – an idea that came about thanks to his participation in Jean-Marc Vallée's film.
Rumor that Jared allegedly spent time on and off set in character is apparently true.
The process informed him about  the character, and allowed him to fully immerse himself into the mindset of "Rayon," a transsexual afflicted with aids. This character was not the kind that you could "switch on and off."
Being Rayon did draw interesting reactions. Jared told the MVFF audience last night that while in character at a Whole Foods during a short break in filming he encountered three types of reactions.
"One was, 'What is that?" says the actor. "The other was, "is that that guy, no!' and the third was 'I don't what that is and I don't like it.'"
Dallas Buyers Club marks Jared's first big screen work in five years. Set in 1985 and co-starring Matthew McConaughey, the film is based on the true story of Ron Woodroof, who after testing positive for HIV, goes on a personal mission to source non-FDA approved meds to cure his sickness.
When asked what other actors he'd like to work with, he was quick to respond, "Daniel Day-Lewis. Sean Penn."
WATCH: Jared Leto, DALLAS BUYERS CLUB at Mill Valley Film Festival