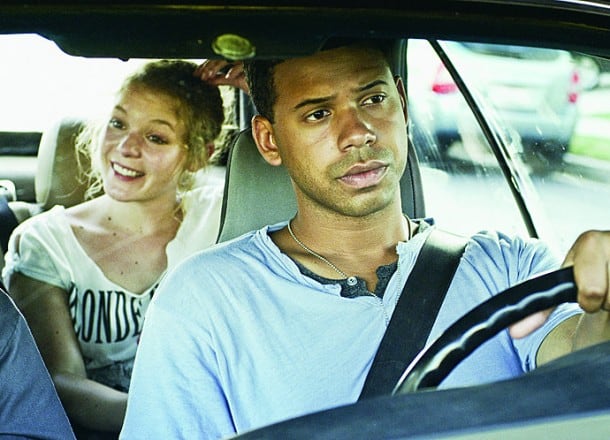 Here's a compelling road-trip flick.
She's an optimist from Austria, he's a cynical venture capitalist from San Francisco. The unlikely duo set out in a convertible for a music festival. Over the course of their trip there's random stops along the way involving requisite street crazies and drifters. Soon, against the odds it would seem, a bond begins to develop between the two.
The independent feature, Along the Roadside, out of Serbia, but shot largely in the San Francisco area, will play Mill Valley Film Festival early next month.
I had a chance to screen a cut of the film and came away largely impressed. No doubt this is a quirky, character-driven study. It's not the destination that matters, as they say, but the journey. And here that means fabulous open air shots (cinematographer John Honoré) of a white BMW traversing various highways. How director (and writer) Zoran Lsinac was able to capture such poetic beauty–and perfectly clear dialog–in so many of these shots is a mystery that a tech-cinema fan such as myself would love to know.
A scene involving a trucker who helps out when their car inevitably breaks down tows the line between creepy and funny with Tarantino aplomb. Noon.
The film could benefit, though, from about 15 minutes of cuts. A few of the early scenes that introduce back-story are sluggish and involve far too much back-and-forth dialog. Still, it makes the air that much fresher later when the top is dropped and the road trip begins.
Acting by the two leads (Angelina Häntsch, Iman Crosson) is above average for this category of budget. Along the Roadside is well cast, and because these aren't your stereotypical blockbuster characters we're more readily drawn into their divergent worlds.
ALSO: Dakota Fanning, Ben Stiller, Sean Penn, Jared Leto among stars to attend Mill Valley Film Festival
The film's initial unevenness fades by the third act when we've come somewhat attached to these two lonely hearts. The ending is particularly strong, even poignant. Look for an oh-there's-that-guy cameo from Michael Madsen. Wearing some kind of Zoot suit and plastic red shades, he looks just as you'd expect a high profile actor to look like in a small indie comeback role (think Mickey Rourke in Spun).
[Catch a screening of Along the Roadside at Mill Valley Film Festival]