Despite the economy, it was a great year for wine. Loni and I enjoyed several highlights that we wrote about on SSC.
Looking back, I thought I would pick out some of our favorite blog highlights in case you missed them. Also below, is a roundup of our 2008 wine reviews.
We already have a nice assortment of wine inventory in our cellar ready to take the stage in 2009 one sip, one swirl, one taste at a time.
MEMORABLE WINE COUNTRY MOMENTS
Artesa wine pick-up party
Wine pick-up parties are becoming more common, and are an enjoyable way to get know the winery staff better, and to socialize with fellow wine club members. Earlier this year Loni and I attended the Artesa wine pick-up party at The Left Bank in Santana Row. Artesa's Pick-up Party at Left Bank in Santana Row, San Jose
Ehlers Estate harvest party
Ehlers has a new winemaker and fortunately Loni and I were able to meet him and witness the biggest barrel drum of Paella I've ever seen. Again, we met some wonderful people, this time folks from North Carolina who were enjoying a multi-day trip to Napa while staying at the Ehlers guest house. Ehlers Estate Winery Harvest Party: Celebrating a Great 2008 in Wine Country
Loreto Bay homeowner's get together at Kaz Winery in Kenwood, Sonoma
Kaz threw a potluck dinner party at his winery, and it was another memorable trip to wine country. Loni and headed up through Napa first, visiting a few wineries, before looping around down south past Ledson and St. Francis to Kaz's winery. Loreto Bay homeowners always have interesting things to talk about, and this time was no different. Good times! Our Napa-Sonoma Pilgrimage to a Loreto Bay Event
Lorenzo Petroni: A winemaker's lunch with an outgoing Napa character and San Francisco restaurateur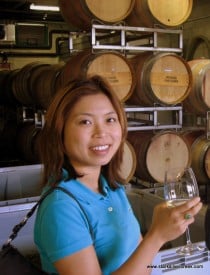 For the Sonoma winemaker's weekend, Loni chose Petroni which turned out to be a perfect choice. Perched above Napa, his boutique winery offered a nice getaway for one of the most hearty and delicious lunches of the year. Sonoma Winemaker's Lunch at Petroni Vineyards with Lorenzo Petroni
2008 WINE REVIEW ROUNDUP
SAUVIGNON BLANC
REISLING
WHITE BLENDS
MERLOT
CABERNET SAUVIGNON
PINOT NOIR
SHIRAZ
PETITE SYRAH
MALBEC