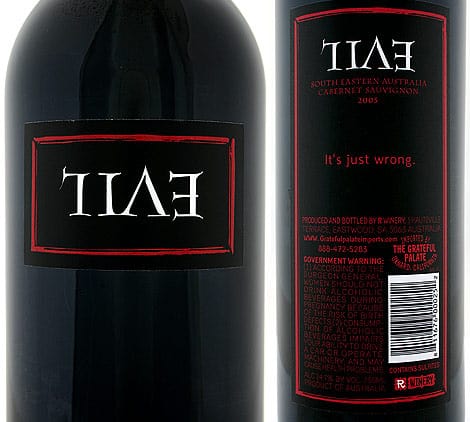 Those Aussies! You have to love it, first it was Mad Max, then Crocodile Dundee, and now crazy, sarcastic wine labels. In fact, it seems to be part of a larger wine marketing trend to grab consumer attention by using fanciful and cheeky wine labels. What are the French and Italian traditionalists to think of their new world jokers?
Well, again, we have another Costco value wine for fruit lovers. This time it's a gothic-labeled Cabernet Sauvignon from the South Eastern region of Australia which continues to take the world by storm with flavorful, bold wines at great prices.
Produced by R Wines, this brand is called "Evil" (or "Live", depending on how you are holding the bottle trying to figure out the upside down and reversed labels). A 100% cab blend, it sources grapes from 3 well-known regions: McLaren Vale, Barossa and Pyrenees.
In reviewing tasting notes, I thought I'd just share some of the descriptors our tasters jotted down:
"strong berries"
"beautiful legs" (the wine)
"nose has a wonderful aroma"
"smooth finish, but not at all bland or dull"
and my favorite: "if you distilled a bunch of dark cherry twizzlers, and mix with some fermented grapes, you would have the essence of this wine."
That last comment is not mine, but it gives you a sense of the fun you can have with this wine!
It's available now at your local Costco. Just look for the EVIL label,
and black and red colored bottle. The price, at $8.99, as usual is $1 less than
anything else I can find online.
STARK INSIDER WINE REVIEW

2006 Evil Cabernet Sauvignon by R Wines Australia
R Wines, 100% Cabernet, grapes from: McLaren Vale, Barossa and Pyrenees
Cabernet Sauvignon, Alc. 15%
750ml
$8.99 (Costco)

Clint says: Enjoyable only if you're a fan of berry-oriented Cabernets. I prefer my Cabs with toasty and oak notes. Easier to drink I would guess than a typical Australian Shiraz, but fruity.

Rating: 85 out of 100