Artesa Winery, located on a steep hill in the famed Carneros Pinot-producing region, is known for its stunning panoramic views of the Napa valley. It's also know for producing great reds such as their Pinots, which are some of my favorites — and they won't break the bank either.
So here we have a white from a great red producer. And I wonder to myself if this is the winemaker, like so many in the region, attempting to appease the non-red drinkers (hard to imagine, but I've heard they exist!) by providing a ho-hum varietal to keep the tourists happy.
The answer is emphatically no. This is a stand-on-its-own superb Sauvignon Blanc.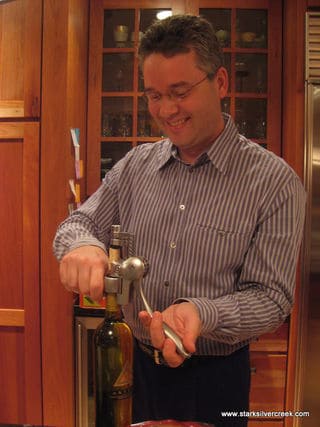 We were fortunate to enjoy this wine on Thanksgiving in the company of friends and family.
It was an appropriate setting, and the wine eased nicely into the evening's agenda, batting second to a refreshing lead-off strawberry champagne spritzer.
When we arrived, the host placed the wine in a cooler, where it chilled for about 45 minutes. The temperature was ideal, with slight condensation adorning the glasses. Perhaps a little cooler then most would like, but for me it's spot on.
Unlike most Sauvignon Blancs, it is aged in barrels for 14 months. I suspect that is one of the reasons why there are wonderful flavors here, and certainly above average complexity. A pleasant surprise!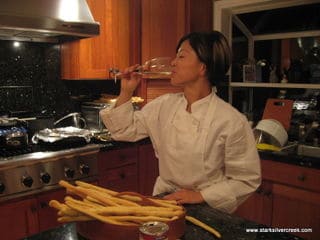 Here are some of the notes I took from the evening's tasters:
The nose: strong and charismatic with green apple notes and citrus
Very smooth
Butter creamy finish; together with vanilla creates a slight butterscotch sensation
Plum
Slight mineral taste left me wanting more
Pineapple
Legs good
The overall verdict is excellent.
On my first taste I was reminded of a Napa trip Loni and I took several years back. We were staying in Calistoga, and on our last day of tasting, stopped by Bennett Lane just outside Calistoga, on the northern end of Napa. They were pouring a very butterscotchy Sauvignon Blanc. A novelty to be sure. quirky and interesting, but I wouldn't want to have more than a glass. This one from Artesa is far more elegant and rounded in flavors, offsetting the vanilla, cream and butterscotch with citrus and melons.
Highly recommended. Drink now. A great wine for the holidays.
STARK INSIDER WINE REVIEW


2005 Artesa Sauvignon Blanc Reserve
Artesa Vineyards & Winery
Sauvignon Blanc, Alc. 14.5%
750ml
3,400 cases
$23.99

Clint says: A creamy Sauvignon Blanc with hints of butterscotch, vanilla and some light melons. A great wine.

Rating: 90 out of 100