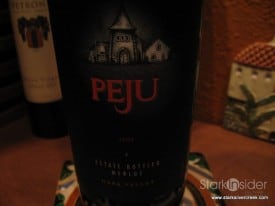 I always look forward to a Peju wine. It not only means you're likely in for an enjoyable experience, but it also brings back memories of their beautiful — and amusingly quirky — grounds in Napa. Fortunately, because Merlots have less aging potential then a Cab, I am able to often enjoy them, along with Syrahs, without having to wait 10 more years.
Traditionally the Cabernets and Cabernet Francs take all the awards at Peju. So I temper my enthusiasm slightly. But still it's Peju, and if their crowded, and sometimes raucous tasting rooms are any indication, there is a lot of excitement (across all age groups if our last visit is any indication) for this colorful winery.
This merlot comes in the usual, striking black Peju bottle with red accents. It's "estate bottled" meaning the grapes and wine are grown, produced and bottled at their Rutherford, Napa location.
Ok enough preamble, how did it fare?
Well enough. I knew from the moment I opened and decanted the wine, I was in for a positive experience. I do enjoy the Trader Joe's and Costco daily wines, but opening a Peju is special. The aroma is soft and understated, there is nothing bold here. Subtlety is the word I'd suggest, along with refined.
It's an easy drinking wine, sure to appeal to almost all your guests. I could immediately identify that trademark Napa Merlot flavor: berries, some cocoa hints, and then slight vanilla on finish. I could detect little tannins which would make it a nice solo drinker.
This Peju is a good wine. And the price is right, especially compared to Napa cabs which in recent years have been skyrocketing in price (especially 2004s).  For $35 you get a classy, elegant wine that will not disappoint.
It whets my appetite for the real stars of the show to follow, the big, superb Peju Cabs. Hopefully tasting reviews on those coming soon (if only they didn't age so well…).
STARK INSIDER WINE REVIEW

2005 Peju Estate Bottled Merlot (Napa Valley)
Peju Province Winery, Rutherford, Napa
Alc. 14.0%
750ml
$35

Tasting notes

Clint says: Smooth, enjoyable Merlot. Price is right, and pedigree strong.

Rating: 88 out of 100