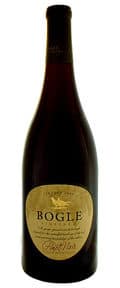 This one's a keeper. When perusing the shelves at the local wine shops, I'm looking for a mix: daily, weekly and monthly wines. It's easy to find the great, special wine that carries a $50+ price tag to match. 
But finding that reliable wine that has plenty of character and interest without breaking the bank can be a challenge. It means experimenting and taking chances on wines that often end up with a quick visit to the kitchen drain.
This 2005 Bogle Petite Sirah is not one of them. At $9.99 it's an everyday wine: reliable, well priced, and with decent flavor.
I've learned decanting is a must with this one. Or at the very least, let it stand in the bottle or your glass for at least 30-45 minutes. The tannins will relax. I've read reviews of this wine that complain about the aggressive tannins. I agree it's likely if you don't give it time to breathe. Note that last week when I reviewed the Virgin Wines Shiraz I (like always with our tastings) I tried decanting also, but with no better result.
On to the tasting notes:
"fruit-forward, but agreeable on finish"
"I like the slight vanilla notes, it complemented the cherry nicely"
"Bogle: an easy going friend" 
"The aroma from the nose is wonderful… I might have hoped for more to follow, but it was decent enough." 
STARK INSIDER WINE REVIEW

2005 Bogle Petite Syrah 
Bogle Vineyards, Graton, California
Petite Syrah, Alc. 13.5%
750ml
$9.99 (Trader Joe's)

Clint says: A dependable daily wine. Enough character to keep it interesting. Let is breathe first though.

Rating: 87 out of 100