Here is a young Pinot worth checking out. Available at your local Trader Joe's for $9.99 it represents a fair deal.
Parducci Wine Cellars are located in Ukiah, California, perhaps more recognizable as Mendocino County, a popular wine region located along the Pacific coast north of the San Francisco Bay Area.
According to Wikipedia, in 1996, Ukiah was ranked the #1 best small town to live in Califonia. I wonder if banners still fly promoting this accomplishment?
The Mendocino Wine Company, which owns the Parducci brand, proudly proclaims themselves on their Web site as the "1st US Carbon Neutral Winery". On the back label, the story continues further: "Grapes from family farms", "Sustainable faming practices", "100% green power", "Earth-friendly packaging", and "Carbon neutral". Phew, drinking a glass of this stuff may even slow the melting of the polar ice caps!
2007 Parducci Pinot Noir
Rating
84
Clint says:
"Decent wine, pair with buttery fish and chicken dishes. On its own not much character."
The Wine
Pinot Noir
13.5% alc.
$9.99
Trader Joe's
The Winery
Parducci Wine Cellars, Ukiah, California (Mendocino County)
Category
Wine reviews
In addition to Parducci, the winery also produces 5 other brands (none of which I've tried yet): Big Yellow, Roselle, Tusk'n Red, Sketchbook and Zingaro. Someone there must have a degree in marketing and branding. The business is led by Paul Dolan, along with his son and partners from the Thornhill family.
So with that backdrop, how was this 2007 Pinot?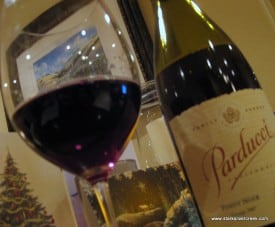 In a word, decent.
It comes across young, needing ample breathing and decanting, after which it tends to reveal more of itself, and less tannins (although there is not much there to start). On the nose, we uniformly detected subtle blackberry and plum.
It does lack complexity, meaning we found that it had a simple, consistent flavor throughout tasting. Not a bad thing necessarily, but it's definitely not a full-bodied steak kind of wine.
It may not be the best on its own, lacking a lot of character (one taster called it "flat"). But it would pair well with buttery sea food (sea bass, for example, with a butter sauce) or chicken dishes.