We are big Peju fans, belong to their wine club and always look forward to enjoying a bottle with a nice meal. Mostly we drink cabs from Peju,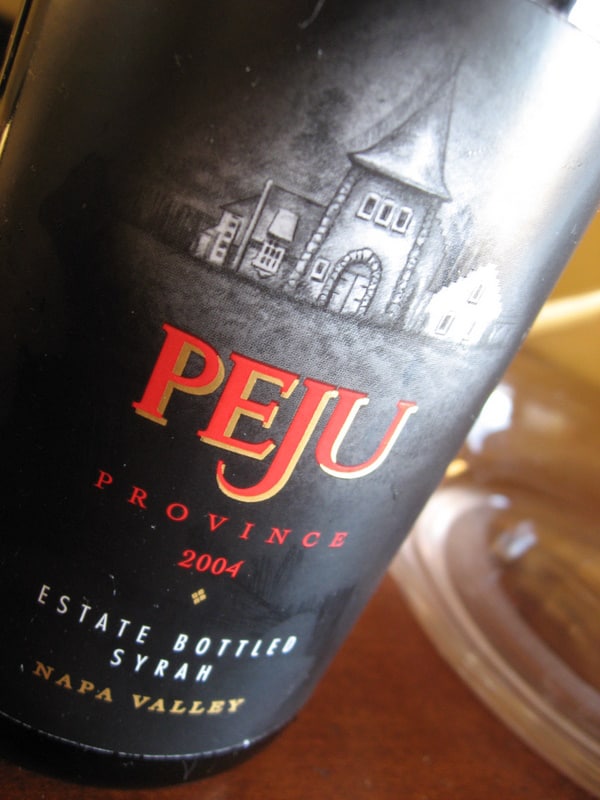 however our last few shipments have included Syrahs so last night we decided to decant a bottle and see how it fared against their excallent cabs.
Given that we've never been disappointed with a Cabernet from Peju, we had high expectations for this 2004 Peju Syrah. I decanted the bottle for about an hour while Loni prepared some pasta and a salad.
The nose has a nice, traditional aroma of raspberry and blueberry. Definitely bold and raised my expectations it would pair well with the spicy pasta.
After enjoying the nose, and swirling a little to take in the color and body, we tried two small tasting pours.
Our first reaction: disappointment. Loni called it "fruit forward", but felt the nose was better than the actual taste.
My notes: "slightly boring & dull", "lacks complexity", "structure not good", "flabby".
In the end, Loni and I both agreed that it was lackluster and certainly not up to the expectations we typically have for Peju wines.
We should note that we had better luck last year with a 2003 Peju Syrah so perhaps '04 was a bad year for their syrahs (although it is an excellent vintage for Napa cabs).
2004 Peju Syrah Estate Napa Valley
Peju Province Winery, Napa
Syrah, Alc. 15.1%
750ml
$34.99
Clint says: Pass on this dull, flabby Syrah. Stick with Cabs from Peju. A disappointment and clearly not a vineyard strength.

Rating: 79 out of 100 (not recommended)