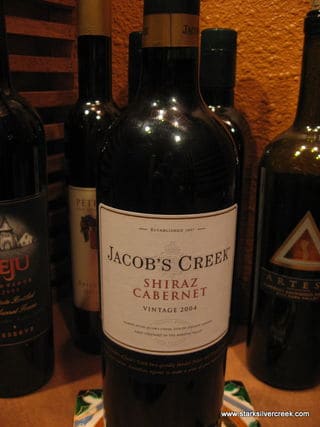 There are hundreds of Shiraz, and also Shiraz Cabernet blends coming out of Australia. This one, a 2004 from Jacob's Creek, is a budget priced wine that is somewhat decent, though nothing above ordinary.
Located in the now famous Barossa region of South Eastern Australia. TripAdvisor recently included the region as one of the world's top 10 wine destinations.
The winery was founded in 1847, when "Johann Gramp (ed-yes I guess you could call him Gramps), planted his first vineyard on the banks of Jacob's Creek."
The label: "this medium bodied blend of Shiraz and Cabernet Sauvignon boasts ripe plum and berry fruit flavors, soft tannins and subtle oak."
Cabernet is my all time favorite grape. And I enjoy Shiraz too for a bold change-up, especially with strong BBQ like ribs and some cuts of meat. A blend would seem to be a pefect marriage. The bold Shiraz grape with the in-your-face flavors and interest combined with the sophistication, smoothness and softer tannins of the Cabernet.
Given the price of this wine, I wasn't expecting miracles. I let it breathe for about 30 minutes. The nose is promising, with subtle hints of blackberry. It's not jammy and subtle. No overpowering tannins either. So not bad, but obviously nothing special either.
When we tasted the wine, we had a surprisingly neutral opinion all round. No one seemed to think it was bad, or great. Just somewhere in the middle. Some felt this particular blend did not really in effect blend well – the grapes and flavors challenged each other awkwardly.
"Slightly bold, but with an oddly unsatisfying and wimpy finish, what happened?"
"The wine is ok. Won't be a conversation point, good or bad. Might be what you want sometimes."
"Not jammy. That's good. More blackberry and pepper."
"They say 'subtle oak'. I don't detect any!"
STARK INSIDER WINE REVIEW

2004 Jacob's Creek Shiraz Cabernet
Jacob's Creek, Barossa Valley, Rowland Flat, Australia
Shiraz (53%), Cabernet (47%), Alc. 13.5%
750ml
$7.99 (Try Trader Joe's, Costco, or Bevmo)

Clint says: An average wine, with no special qualities despite it's apparently strong heritage and Barossa roots.

Rating: 83 out of 100