The whole San Francisco Bay Area is a stage. And we, my friends, are merely the spoiled patrons. So it goes, again this weekend stages across our wonderful region are lighting up with all sorts of first class entertainment.
Theater is one of our passions here on Stark Insider, and we've rounded up another quick guide of what's happening when and where. Take your pick, there's something here for everyone (will we ever get tired of saying that?).
After we polled the office, and collected all the latest information on shows, and announcements, we were a little bit surprised…
What summer slow down?!
Normally there is a bit of a lull during the summer months. Some theaters are dark and reboot with new seasons come fall, but meanwhile there is a steady diet here of fantastic live theater.
In this week's listings you'll find at least one outdoor show, a world premiere, a one-man show, a children's show, some 70s singing and dancing, and two musicals. Ah, yes, variety is the spice!
Don't forget to bookmark us, app us, Tweet us, Facebook us… whatever pleases you.
Thanks for continuing to read Stark Insider – we couldn't be more thrilled to be one of the top destinations in the SF Bay area for reviews, news, stories, listings. Okay- and even a quirky little video here and there.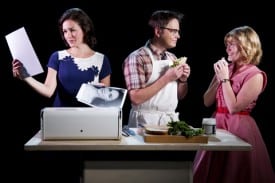 Fly by Night (World Premiere)
TheatreWorks
Lucie Stern Theatre, Palo Alto
Opens: Saturday, July 16
Guided by a star-crossed prophecy, two entrancing sisters and a hapless sandwich maker discover a well of courage and a wealth of romance during New York¹s knockout blackout of 1965. In a charming, darkly comic rock musical the promise of change begets anxiety and hope, delight and devastation. But as this runaway hit of our New Works Festival proves, it sometimes takes a blackout to see the light.
One-Man Star Wars Trilogy
San Jose Repertory Theatre
July 14 – 17
JEDI UPDATE 7/15/11 1:36PM – The review by Greg Alonzo is in. Stage Review: 'One-Man Star Wars Trilogy' – May the farce be with you!
Three movies, one man and a galaxy far, far away. Charles Ross takes us on a hilarious re-creation of the original Star Wars trilogy.  Ross plays all the characters, recreates the effects, sings from John Williams' score, flies the ships and fights both sides of the lightsaber battles, complete with captivating facts and editorial asides. This one-of-a-kind theatrical tribute to this sci-fi classic is sure to make for a side-splitting evening.
Memory Play Festival: Old Times, Oedipus, Out of the Past
Stanford Summer Theater
July 7 – August 14
The Memory Play Festival continues with Harold Pinter's incomparable Old Times. In this darkly comic masterpiece, a man and two women battle over the past and the parts they may have played in it. As the visitor Anna says, "There are things I remember which may never have happened, but as I recall them so they take place."
Twelfth Night (outdoors)
AtmosTheatre
Theatre in the Woods, Woodside
July 16 – September 4
Come and take a journey with the lovers of Twelfth Night: a story about twins, shipwrecks, terrible heartbreak, serendipitous coincidences, and the all-healing force of true love.  Audiences hike through the natural dramatic beauty of the California Redwoods while watching Shakespeare's sexiest, funniest, and most bittersweet comedy. Ticket holders are encouraged to bring a picnic lunch to enjoy from 12-1pm before the show.
The Music Man
Broadway by the Bay
Fox Theatre, Redwood City
July 14 – 31
The summer heats up with everyone's favorite con man Harold Hill and the Tony-winning The Music Man! River City, Iowa, was an unassuming place, peopled with unassuming townsfolk, and looked after by a sharp but especially unassuming librarian – named Marian. When Harold Hill comes to town with his most unexpected bag of tricks, will the townsfolk embrace his unfaltering charm, or will they find him out for who he truly is?
ARRIVAL: The Music of Abba (One night only)
ARRIVAL: The Music of ABBA (www.themusicofabba.com) perform with the San Francisco Symphony
Davies Symphony Hall, San Francisco
Saturday, July 16
For one night only, fans can experience the beloved Swedish pop group's chart-topping hits and colorful costumes ABBA made classic in the 1970s. Selling out packed arenas around the world performing the band's hook-laden original hits such as "Dancing Queen," "Mamma Mia," "Take a Chance on Me" and "Waterloo," Sweden's ARRIVAL has won consistent praise for delivering the most authentic live ABBA show around. Founded in Sweden in 1995 by Vicky Zetterberg, ARRIVAL is celebrated as the world's greatest ABBA tribute band, having toured in over 35 countries and appearing in several TV and radio shows around the globe.
Seussical, The Musical
Berkeley Playhouse
Julia Morgan Center for the Arts
Through August 14
Macbeth
Marin Shakespeare Company
July 8 – August 14
"By the pricking of my thumbs,
Something wicked this way comes."
Murder, remorse, and madness stalk this bloody story of ambition and fate.
Billy Elliott The Musical
SHN
Orpheum Theatre, San Francisco
Through August 21
A joyous celebration of one young boy's journey to make his dreams come true. Billy Elliott is set in a small town, where the story follows Billy as he stumbles out of the boxing ring and into a ballet class, discovering a surprising passion that inspires his family and his whole community. A big musical with an even bigger heart, BILLY ELLIOT will enchant the dreamer in all of us.
Stark Insider San Francisco: Review Round-Up

Review: 'Seussical the Musical' opens at Berkeley Playhouse

The Ring by San Francisco Opera – Special Feature by Cy Ashley Webb:

Review: 'Billy Elliot' – All that glitters is not gold

Review: 'Tigers Be Still' at SF Playhouse

Review: Indulgences in the Louisville Harem
With Clinton Stark contributing, San Francisco.