SF Playhouse is one of those storied spaces in San Francisco. When you step into the intimate 99-seat theater on Sutter Street, just a block or so from Union Square, you might imagine yourself in some kind of space-time continuum – how on earth do they fit an entire theater (with those incredible sets), green room, office, wine bar, lobby, and control room into such a small space?
But first, the really big questions:
Imagine that tomorrow anyone with the money could get a brain implant that would automatically makethem a genius. How far would you go to get it?  How far would you go to stop it?
And: my apologies in advance for the boob and butt shots.
In another behind-the-scenes Stark Insider episode, Loni Kao gets the scoop with a rare inside tour with producing director Susi Damilano. As usual, it's a hectic ride. As we arrive, fight call for their latest production, Wirehead (review), is only minutes away, and someone will shortly be choked on stage. So we quickly shoot some footage on stage, and then head into the green room where we discover incredible secrets of live theater:
1. Turns out actors like to warm up their vocal chords while snacking on vodka noodles.
2. Crystal Geyser makes for perfectly acceptable blood transportation vessels.
3. The biggest secret in SF Playhouse history is now out – find out how in the world actors get from green room to stage right…
4. Scripts can be heavy. Bill English must be carrying 20 pounds of paper as he arrives with copies of the scripts for their next production, the world premiere of Alcestis (June).
5. We just can't get enough Oprah. Susi Damilano tells Loni her favorite drink in another round of Stark 3s – plus her secret tip for preventing a hang-over – see, this is the kind of stuff you get from live theater, folks!
6. Clint's production clues: The Wrestler/Black Swan (yes I was first, I swear!), Weeds.
"Are these the cheap seats?"
Also, Susi shows the "fantasy theater" scale model now on display in the lobby. Although they don't yet have the space, the idea is to generate interest, support and donations, so that the theater can expand. As usual, we're shooting spontaneously so we get one of the best lines from a curious patron who has just arrived for the Wirehead matinee.
In March 2009, with the opening of San Jose Rep's exceptional The Kite Runner, we inaugurated the theater section here on Stark Insider. Since that time, SF Playhouse has consistently garnered some of our highest praise. Bill English, Susi Damilano and the team are consistently able to put their own imaginative spin on modern classics (The Fantasicks, One Flew Over the Cuckoo's Nest), and showcase new playwrights and works (Animals Out of Paper, Slasher).
Indeed, "luck is when preparation meets opportunity."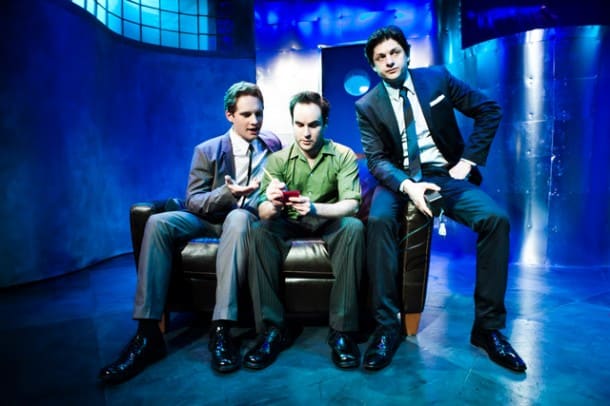 SF Playhouse

Profile

SF Playhouse
"The Power of Live Theatre"
533 Sutter St., SF 94102

Seats: 99
Founded: 2003

Artistic Director: Bill English
Producing Director: Susi Damilano

Stark Insider Coverage: SF Playhouse – Reviews and News

Wirehead: Viagra for the Mind
SF Playhouse – post-show talks for 'Wirehead' to explore artificial intelligence
Theater Review: 'Harper Regan' at SF Playhouse
San Francisco This Month: West Coast Premiere of 'Harper Regan'
Theater Review: 'The Sunset Limited' at SF Playhouse
SF Playhouse opens Sandbox Series with 'Seven Days'
SF Playhouse announces West Coast premiere of 'The Sunset Limited'
SF Playhouse to stage West Coast premiere of 'Coraline'

More coverage of SF Playhouse… (also: subscribe to SF Playhouse coverage via RSS)
Thanks to the cast and crew of Wirehead including: Madeline H.D. Brown, Scott Coopwood*, Lauren Grace*, Craig Marker*, Gabriel Marin*, and Cole Alexander Smith. *Courtesy of Actors' Equity