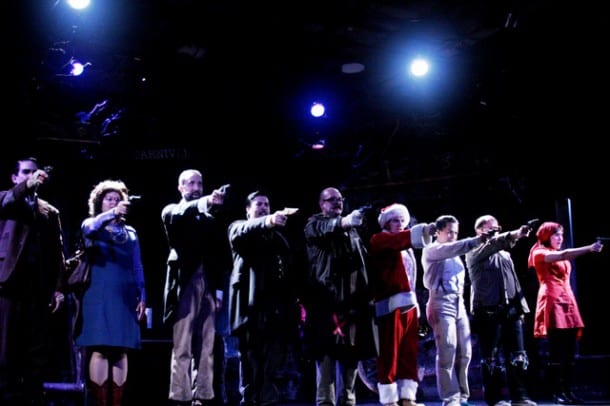 Assassins, Stephen Sondheim's sardonically brilliant ode to the American dream gone  wrong, was a mixed success when it originally opened Off-Broadway in 1990. Perhaps some of the events depicted were too close in time to the real thing to allow for any humor, no matter how dark. A Broadway revival in 2004, however, was more warmly received, winning no less than five Tony Awards.
It's staged as a musical revue with a unifying theme that examines the warped minds of nine notorious presidential killers (or would-be), from John Wilkes Booth to John Hinckley.  The backdrop is a fairground shooting gallery (nicely rendered by scenic designer Maya Linke  and lighting designer Cathie Anderson), run by the gun-toting "Proprietor" (played with vile charm by Steven Hess) who introduces us to a not-so-merry band of players whom he encourages to solve their personal agony by shooting the president ("Everybody's Got the Right").
The entire cast is outstanding, with the principals inhabiting their characters with a genuinely scary abandon, often bearing an uncanny resemblance to the actual persons!
As Booth, Derrick Silva is totally convincing as the malignantly self-righteous granddaddy of all political assassins, providing both inspiration and advice to the misguided brethren that follow in his wake.
Commenting, and at times interacting, with the action of stage is "The Balladeer" (Michael Scott Wells), whose white-bread countenance and dulcet-toned delivery provide a realistic, if not idealistic, counterpoint to the delusional ramblings of the hapless misfits.  His dueling, folksy "duet" with Silva in "The Ballad of Booth" is particularly well conceived and performed.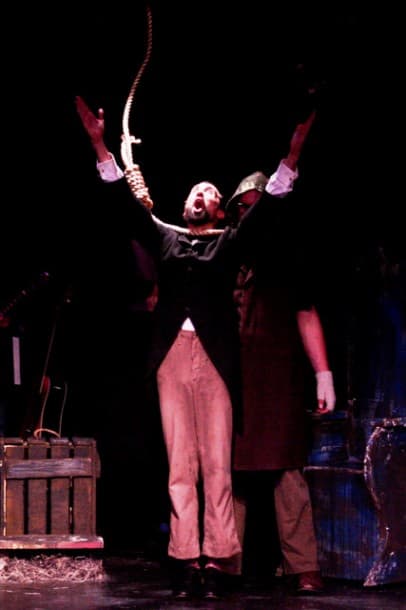 Unfortunately, the sterling vocalizations are undermined by a less than stellar sound design, with the audio amplification and balance leaving some of the densely paced lyrics unintelligible. The eight-piece orchestra, however, under the musical direction of David Moescher, provides superior accompaniment.
Charles Woodson-Parker makes for a brooding, lovelorn Hinckley as he skillfully strums his guitar serenading photos of Jodie Foster. His duet with the doe-eyed "Squeaky" Fromme (the wonderful mezzo Eliza Leoni), who's hopelessly devoted to Charles Manson, give him a chance to showcase a remarkable singing voice in what has to be one of the most perversely touching love songs ever written ("Unworthy of your Love")!
Gregory Sottolano is delightfully insane as Charles Guiteau, who simply wants President Garfield to make him Ambassador to France. And he does a nice little song and dance number neatly choreographed by Bobby Bryce ("The Ballad of Guiteau").  Alex Rodriguez, as Giuseppe Zangara, and Joel Roster, as Leon Czolgosz, are both frighteningly intense and equally deranged. And Lisa-Marie Newton is utterly hilarious as Sara Jane Moore, the suburbanite mom with a slightly eccentric homicidal streak!
And special recognition must go to the always reliable Danny Cozart as Samuel Byck, whose hysterical rants to "Lenny" Bernstein and Richard M. Nixon (sporting a gruff, spot-on Philly accent) are jaw-droppingly inspired examples of over-the-top intensity. Bravo!
With this production, Ray of Light Theatre has once again proven itself to be a force to be reckoned with in Bay Area musical theatre. A definite must-see!
Assassins

4 out of 5 stars

Ray of Light Theatre
The Eureka Theatre, San Francisco
Book by John Weidman
Music and Lyrics by Stephen Sondheim
Directed by Jason Hoover

June 2 – 25, 2011
www.roltheatre.com
Photo credit: Maggie Whitaker