The third cycle of the Der Ring des Nibelungen began Tuesday night. As anyone who hasn't been hiding under a rock knows, this is the biggest cultural event in SF since the 1990 Ring. The rollout alone has been nothing less than stunning, from the Stalinist art deco black-on-orange poster to the symposia at the Conservatory of Music, Stanford, CA Academy of Sciences, the JCC, Mills, UC Berkeley, etc. We take our Wagner seriously in this town. Despite the 135 years since this was first performed as a cycle in Bayreuth Germany in 1876, the Ring is always new, always worth plumbing – and accordingly, we treat it with a combination of gravitas and hype not seen elsewhere. Just as we all become instant experts glibly rating athletes at Olympic events, we all become experts on opera singers, giving high marks to baritone Mark Delavan and soprano Nina Stemme. Nietzche may have characterized this as "a music without a future" (Human, All Too Human), but as with many things, he was wrong. The fact that this continues to resonate so deeply with us is almost as significant at the artwork itself.
Last night's production lived up to all the hype.
By way of quick synopsis, the lowly toad of a man Alberich (Gordon Hawkins) makes off with the Rhine maidens' gold. Wotan (Mark Delavan) breaches a construction contract with the giants Fagner (Daniel Sumegi) and Froh (Brandon Jovanovich) who built him Valhalla. Consequently, Fagner and Froh hold Freia (Melissa Citro) hostage until Wotan pays up. Loge and Wotan make a katabasis-like descent to trick Alberich out of his gold to ransom Freia. However, unlike every other katabasis in western lit, which usually signals the beginning of the end, moving toward some kind of redemption, here it's used to begin the story. Wotan pays the ransom and honors his contract, but a retaliatory spell cast by Alberich and the cautionary words of Erda are ringing in our ears. Wotan and his family ascend a rainbow bridge for Vahalla, tricked out as 1920's world travelers on a transatlantic cruise, but we know that all is far from well… and eagerly wait for the next installment.
As I write these words, I cannot help but wonder whether the ambitious sequence of four operas was intended to parallel the serial nature of novels popular at the time. Remember, this is exactly when Dickens wrote his David Copperfield, Great Expectations and other massive tomes, releasing them an short installments that kept readers on both sides of the Atlantic hanging on every word until the next installment. I wonder if this was intended as an operatic equivalent.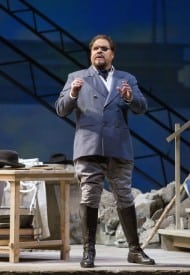 The character of Loge (Stefan Margita) continues to resonate in my mind – as I know it will for months to come. In Das Rheingold, Loge is almost always on stage – offering suggestions on how to recover the gold and negotiating with Alberich. When not actively engaged, he's the omnipresent, but deferential observer, standing back, exercising model restraint and masking his impatience. We look to him far more than any other character to make sense of this.
Nothing was spared in the lush pull-out-the-stops staging of Das Rheingold. While an excess of visual tricks, such as the 920 canisters of liquid nitrogen per performance, could highlight the defects of an inadequate performance, putting the lie to the effort, such was not the case here. The audience was treated to one visual feast after another that was equally matched by the virtuosity of orchestra and the singers. Startling musical effects, such as the banging of 16 anvils offstage rising over the orchestra during the descent to the Neibelung, added to the richness. Writing in 1874, Nietzsche noted that "if Goethe is a transposed painter and Schiler is a transposed orator, then Wagner is a transposed actor."
One suspects that actor-Wagner might even find the rich stagecraft of the SF Ring cycle gratifying.
Summer 2011 Ring – The Ring of the Nibelung

Part 1 – Das Rheingold
By Richard Wagner

5 out of 5 stars – Outstanding

San Francisco Opera

Conductor – Donald Runnicles
Director – Francesca Zambello

Brunhilde – Nina Stemme
Wotan – Mark Delavan
Siegelinde – Heidi Melton
Siegmund – Brandon Jonovich
Photo credit: Cory Weaver