Apple Watch.
Question: What is the best alternative for a former Pebble smartwatch owner?
It's not the answer I was expecting. But, indeed, after finally relenting, and trying out an Apple Watch for a few weeks, this former Pebbler believes it to be the best available option on the market today. Yes, there are a few caveats (minor). Overall, however, it's pretty clear to me now why Apple had a gangbuster Q4 last holiday season selling these things. TL;DR: the Apple Watch is astonishingly well designed, easy to use, and does everything I need in a smartwatch in 2017.
When Pebble inevitably ran out of money (Kickstarter is not a good long-term way to finance a business) as it tried as it might to muscle in to a market with giants like Samsung, Google and Apple, my smartwatch world began to unravel. After all, this was the OG. Pebble defined the modern smartwatch as we know it. In 2014, it shook up the (geek) world with a nifty little, if not plasticky, device that could serve up notifications, give us weather forecasts, and tell time in the most techy of ways. I loved it. As I wrote in 2014, after Pebble there was no going back. Many of us early adopter types in Silicon Valley jumped on board, and were seen at coffee shops everywhere showcasing to the world our non-stylish wrists.
Fitbit as we know bought some of Pebble's assets — for around $23 million, far less than originally reported. At first there hope. Could Fitbit take some of that core Pebble DNA such as the e-ink always-on display, easy-to-use interface, and endless battery life, and combine it with its class-leading health tracking capabilities into a smartwatch that would win over not only former Pebblers, but also new budget-conscious smartwatch owners? Apparently not. That probably won't be happening based on this offer emailed to existing Pebble owners: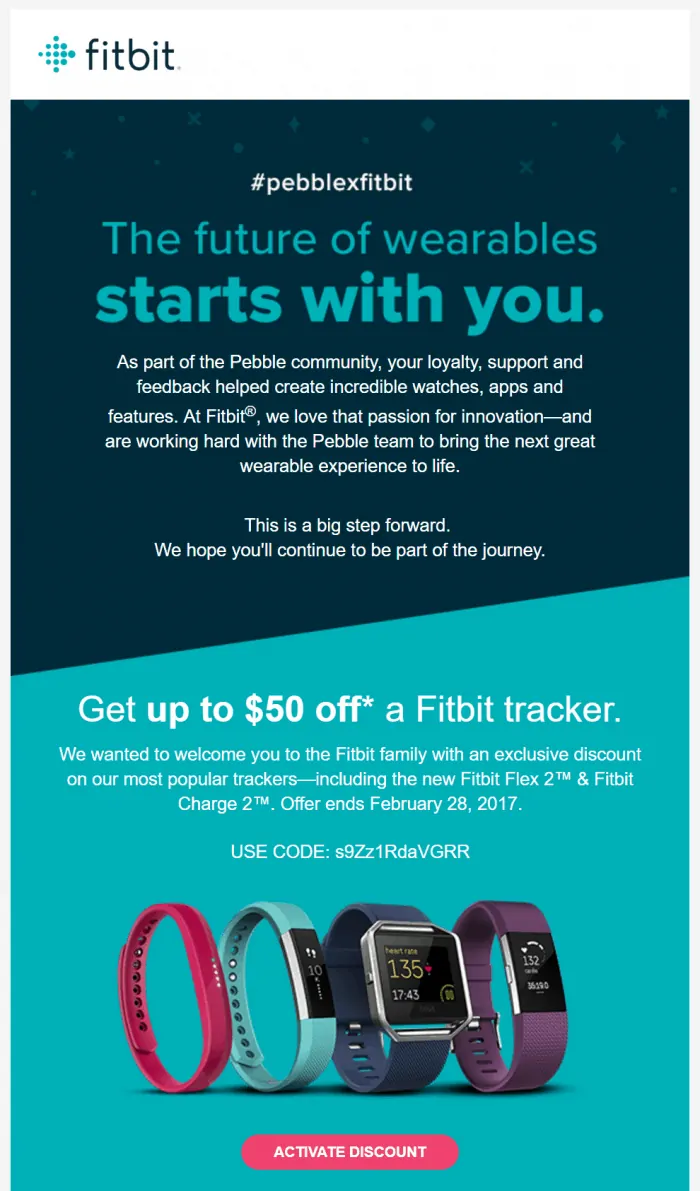 So we know at the end of 2017, existing Pebble smartwatches will most likely stop working (or at least most of the key functionality). Pitty that. Don't blame Fitbit though. Blame Pebble — maybe only partially. With Samsung, Google and Apple in the game it was always going to be a severe uphill battle.
Which brings me to Google.
Android Wear should be a possibility for those looking to replace their soon-to-be dead Pebble smartwatch, right?
Well, maybe.
Wear 2.0 has been receiving a lot of press this month. Unfortunately, it's like that miniature yappy dog that keeps jumping up and down. It gets tiresome quickly. So much noise, so little ado. As Google is prone to do from time to time, it sort of launched Wear 2.0, but sort of didn't. It's confusing. Wear 2.0 was announced (launched) in this blog post by Google. If you want it you can get it by buying one of two (underwhelming) smartwatches made by LG from the Google Store. Fair enough. But a lot of us already have Wear devices. For example, I have the pretty Huawei Watch (nice design, terrible vibration motor that is more noisy than feely, good screen so long as you're indoors) and have been running the Developer Previews of Wear 2.0 for a few months yet I have no idea when the watch will receive the final shipping version which was revealed weeks earlier. Apple, by contrast, releases new software and has it rolling out to all users quickly, often the same day of its announcement.
As for Wear 2.0, I still believe Google is listening to the wrong people.
I'm not convinced the broad market wants a miniature computer or smartphone on their wrists. Rather, my suspicion is that most of us see them as accessories that complement our existing smartphone which is pretty much always with us. That scenario where a guy leaves his smartphone at home to go out for a run that Google keeps offering up as a major selling point is a very niche market and one dominated by others like Garmin, so I'm not sure why the Wear team keeps thinking this is why something like the LG Watch Sport is a great flagship device for Wear 2.0. It isn't.  Yet, we get a watch ($349) with sub-par battery, with a ridiculously bulky that would appeal to a handful of people. I don't expect it to sway Apple Watch buyers anytime soon.
As for Wear 2.0 the standalone thinking is very much prevalent in Google's second generation software too. In addition to the ridiculous, microscopic keyboards that are unusable (and why, why would you bother when you have a phone that can do it much faster and easier?!) we not get a standalone Google Play Store. This is good news for iOS users as Wear watches will now not need app synchronicity between watch and phone to get stuff done, hence making them more useful when paired with an iPhone. But, it does mean yet another set of apps to manage and update. Now you have to manage them on your phone and your watch. By contrast, Apple does it all from the phone — users don't need to hopelessly hunt and peck on a small watch screen to update apps, and search for new ones.
Wearables: The Latest on Stark Insider

OnePlus One, Pebble, Asus Zenwatch (top), Sony Smartwatch 3, Moto 360.
The user interface on Wear 2.0 is much improved. There's a nice aesthetic to the design including a darker theme and notification colors that neatly correspond to their apps (green for Hangouts, red for Gmail, blue for Facebook, etc.). So, yes it does look better. But, unfortunately it still feels too techy, too engineering forward, to needless complicated — at least, for the masses. I suspect XDA types, Redditors will not have an issue with many of these things.
Which, brings me to the Apple Watch.
Simply, this is the smartwatch for the masses. And that's not because it has an Apple logo, or because it was revealed with over-the-top Jony Ive videos waxing poetic about the "digital crown". Rather, it's because Apple nailed it, and delivered something useful, something that gets the job done without giving us unnecessary toppings of geek (LTE?).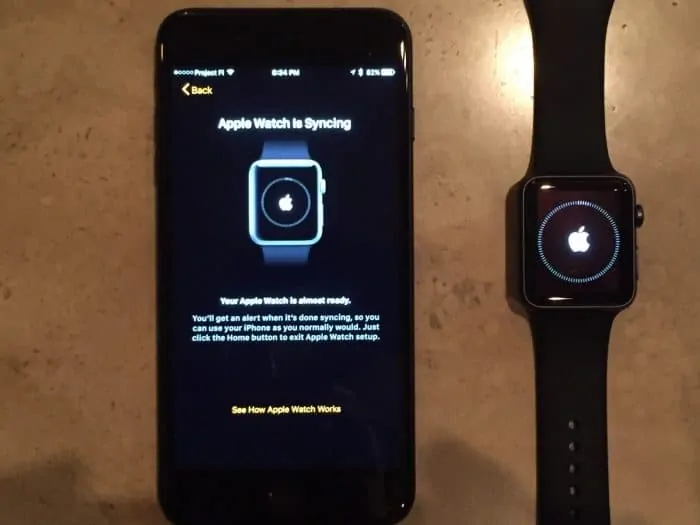 After testing out a 42mm Apple Series 1 (Space Grey, Aluminum) I came away impressed. Very impressed.
The screen is beautiful and sharp. The square design — not necessarily my favorite — did mean a lot of information could be presented. Colors popped, as they do on almost all Apple products. Battery life surprised me. I can easily get 1.5 to 2 days out of the thing. The vibration engine? Superb. Unlike, say, the Wear-based Huawei Watch, you feel it more than you hear it, which is largely the point. Notifications come through reliably, and they look good, almost always better than on Wear. Take app "The Score" for example. I use it to track NHL scores. Great app. The best. Notifications look decent enough on Wear, but on the Apple Watch you not only get scoring updates, but the developers had the gusto to even give us the team's logos. Pretty! If you're like me an appreciate things like album art, kerning and Helvetica, well, then, you know this stuff is important.
Yes, but the Apple Watch doesn't have an always-on screen like Wear devices (and Pebbles)?!
True.
But… the sensor is so fast, so accurate in responding to a turn of the wrist I've found it to not be a problem at all. Plus, have you ever seen glowing smartwatches at night? At dinner parties? Or theaters or other dark places? Very distracting. Sad!
There was a major challenge, however.
How to pair my new Apple Watch with my Google Nexus 6p phone?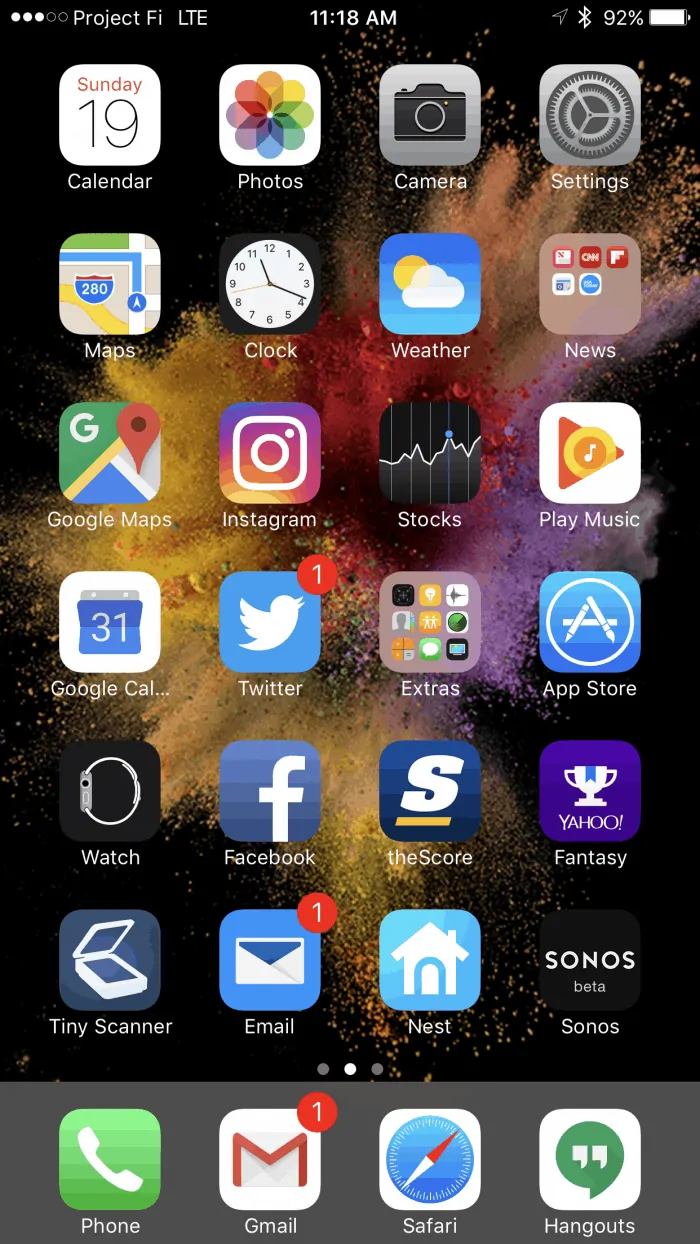 A stop to the Apple Store in Palo Alto rectified that… though with a not insignificant hit to my wallet.
A new Apple iPhone 7 Plus (running on Project Fi no less!).
And an Apple Watch.
A perfect combo. Many have already known this — about 6 out of 10 smartwatches are sold by Apple. I'm a little late to the Apple wearable party. But now I know. This stuff just works.
So long little Pebble. I will miss you. And a part of me feels guilty for giving up on the underdog. Then again, the underdog doesn't even exist anymore, so life goes on.