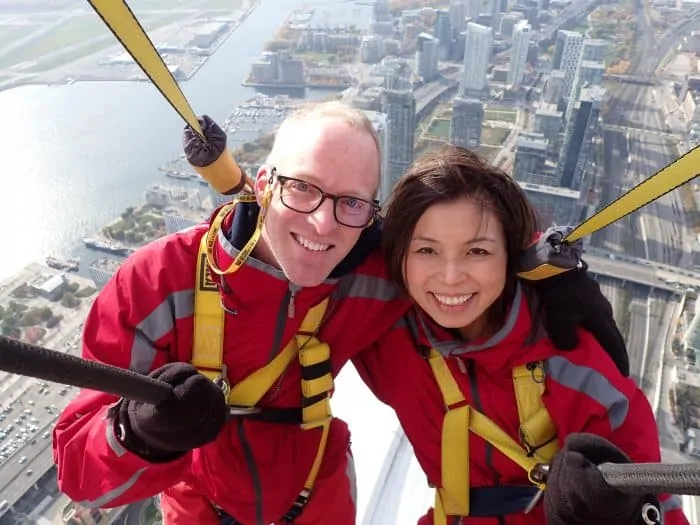 BY CLINTON STARK
For those that have asked about the camera gear that I use to make videos for Stark Insider, or are looking for some ideas about camera models and accessories to buy for video production projects, here's my list of gear (see below). I hope it helps.
I've been shooting for about 12 years now. Mostly on a Canon DSLR camera. But also on RED (Dragon), Blackmagic (Micro Cinema Camera), Sony (a6000, a6500), Panasonic (GH4, GH5) and often whatever iPhone or Android smartphone was at hand.
There really is a lot of amazing camera tech out there.
But, but, but…
Ultimately I believe it comes down to our imaginations. How can we dare to creatively push the envelope? Be different? Yes, failure is an option. But not giving it our best shot (literally) is not. If someone asked me how to get started I'd recall what I did: get out there, hit record and see what happens. And, most importantly, enjoy the journey. Practice, practice, practice. Make mistakes. Learn. And never look back.
Happy shooting! From a guy still on that journey,
Clinton
CAMERAS
Panasonic Lumix GH5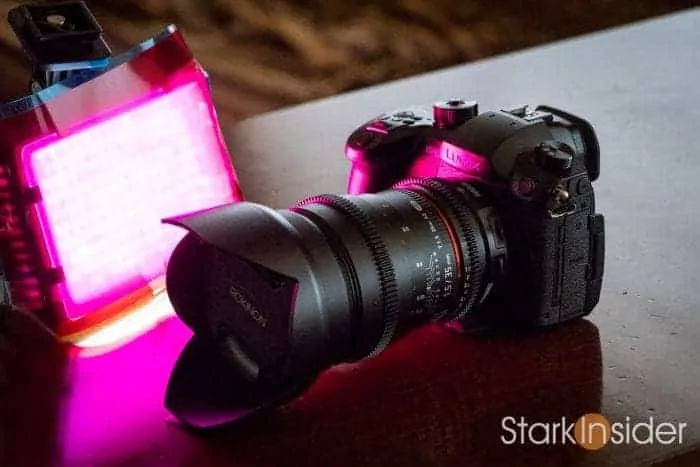 This is the one. When the Panasonic GH5 landed in 2017 the game changed. Panasonic threw just about everything at this one: 4K 10-bit, high frame rates, dual SD slots, available V-log, customizable buttons, outstanding build and ergonomics and UI, all the filmmaking tools you'd need (peaking, waveform, zebras, horizon level, etc.) and some kind of voodoo magic in that IBIS that blows everything else away. You could spend more. But why? (well, okay, I did and explain below). If you've followed Stark Insider in recent years you know I praise the GH5 ad nauseam. Turns out others do too. Google a bit. The GH5 is the real deal. A downside? I sometimes find the footage too sharp. So I switch off the in-camera sharpness (I never like any sort of sharpening or noise reduction in camera). Then, shoot V-log and dirty up the image to look like film in post. If I could only own one camera, one that needed to be compact for travel, yet able to capture good quality footage in the studio it would be the Panasonic GH5.
RED Dragon Scarlet-W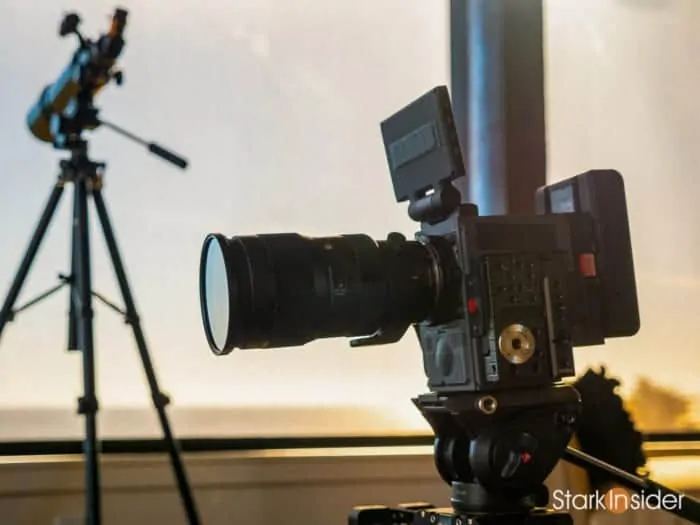 I shoot on the RED as much as possible. There's no in-camera sharpening or noise reduction. Perfect! I like the look. RED feels like a digital approximation of film. Thank the magic that is Redcode. I don't know how it works — and don't really want to know. But however it does work, Redcode is magic. You can almost completely blow your exposure and white balance and color on set and magically fix it all back in post (I use Premiere Pro). I get now why people in the industry rave about Redcode. I also like the compression rates so if I want I can shoot 5K and not eat up tonnes of hard drive space. I shoot my Scarlet-W all manual. By the way, given this camera is a few years old you can find used models for a veritable steal. I plan on keeping this one for a long, long time. By the way, another reason we shoot on this RED as much as possible: we had to spend $1,800 for a 480GB memory card. That took some kind of fortitude to click the buy button on that one.
Loni and I shot AND IT HURTS (music by Moby) on Dragon:
Canon Cinema EOS C100 Mark II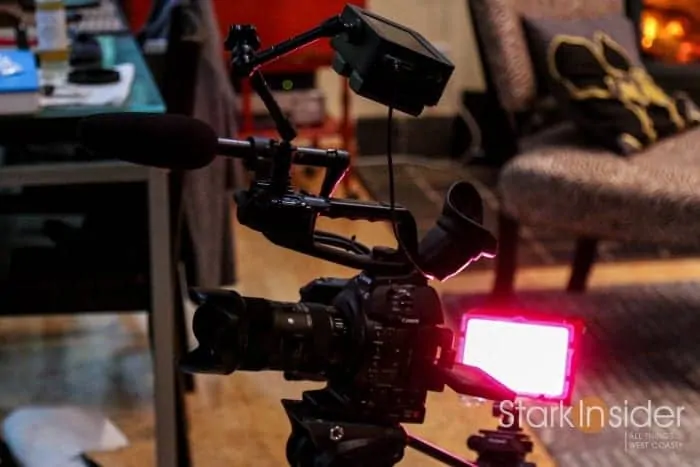 Ah, Canon C100. My workhorse. Fantastic image. Files don't take up too much space. Battery goes for hours. This is a great camera for live events, documentary style shoots, backstage interviews (where it can be dark), and music videos too. Rock solid. A fantastic camera. If Canon ever releases a Mark III or C200 I would buy it in a heartbeat.
Canon EOS 80D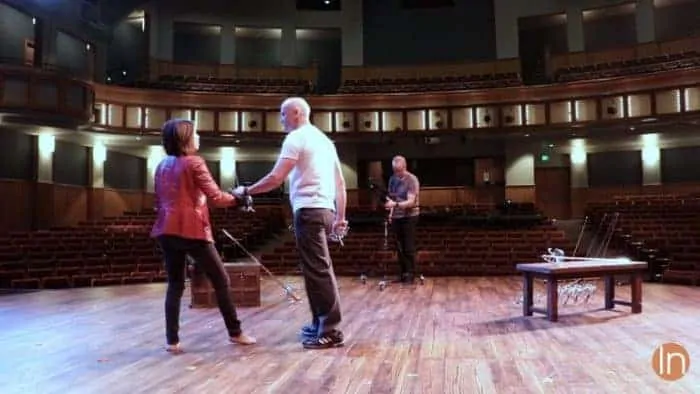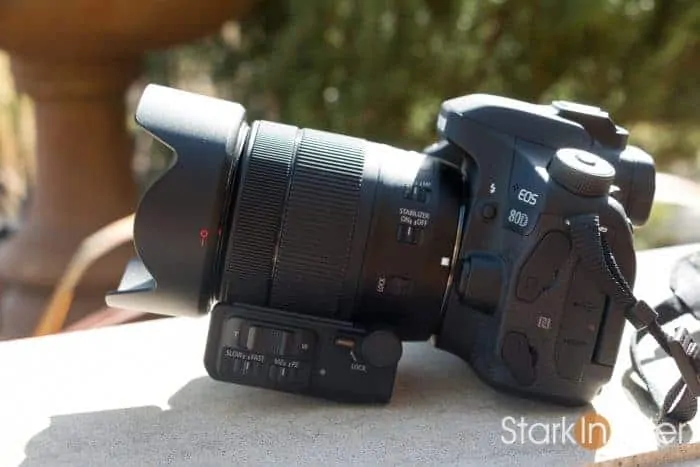 When I want to be discrete I'm usually shooting on a Canon EOS 80D DSLR. I can look like a tourist if I want, and get shots that wouldn't be possible with a rigged out C100 (or Sony FS5/FS7). Also, I've discovered over the years people are often more relaxed in front of a small, friendly DSLR.
Blackmagic Micro Cinema Camera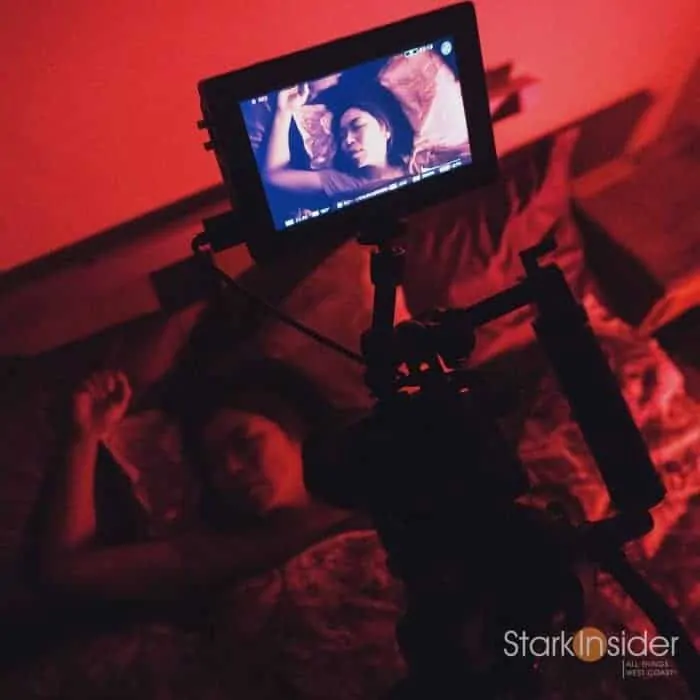 Blackmagic is an interesting company. Based out of Australia, they're often seen as a poor man's RED. I love the Super 16 look something like this Blackmagic Micro Cinema Camera (four thirds mount) offers up. It's small and I've rigged it up ever so simply. It doesn't cost a fortune, and since it uses SD cards, storage is dirt cheap. With the Blackmagic Pocket 4K and 6K cameras and BRAW (Blackmagic RAW) I really think Blackmagic is an outstanding, inexpensive option that will suit many projects.
Sony Alpha a6000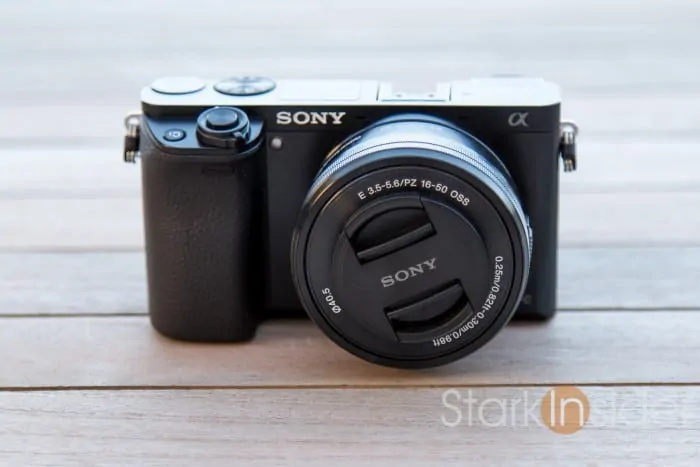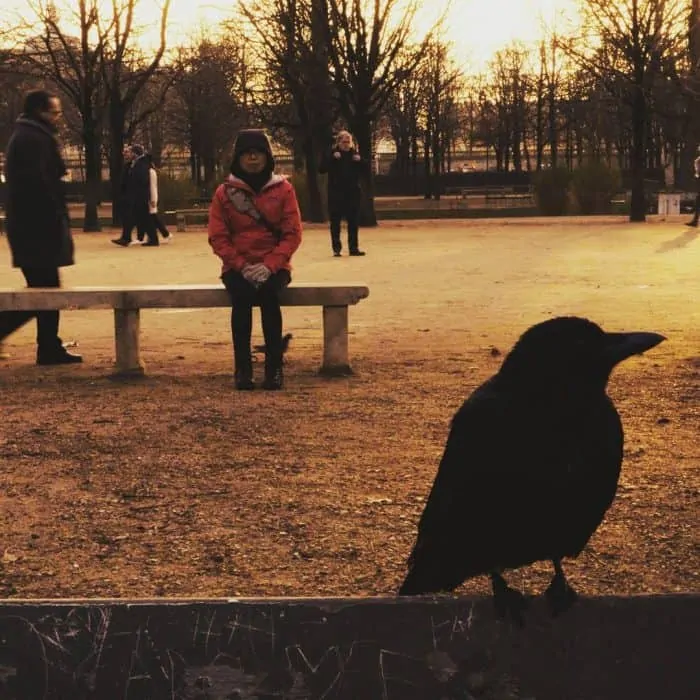 A tiny APS-C camera, the Sony Alpha a6000 is ideal for throwing into a bag, or jacket pocket. Perfect for capturing stills and some basic 1080p video, it's really an impressive mirrorless camera.
MONITORS
LENSES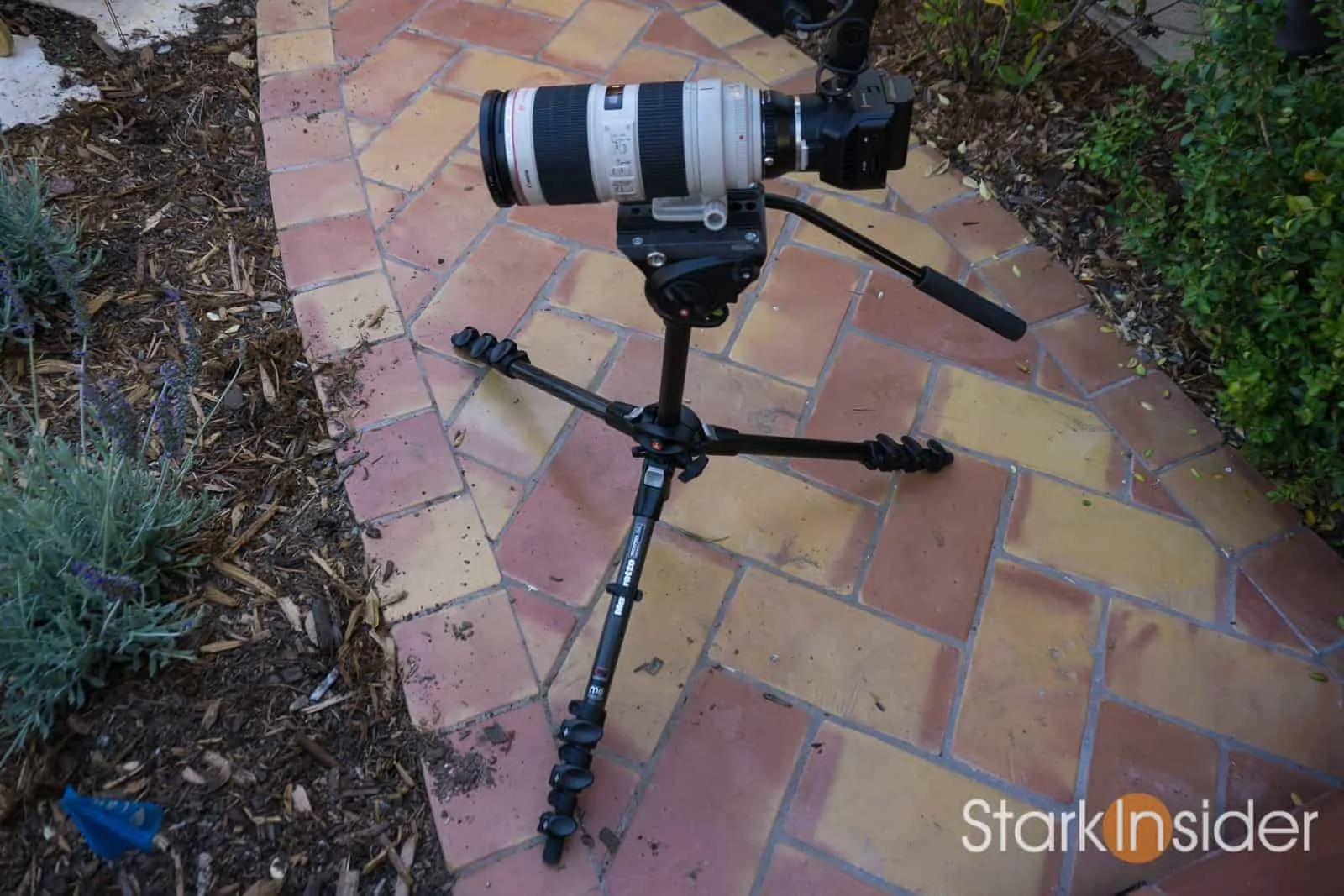 I own about a dozen or so lenses. Mostly Canon. Mostly EF mount. I like EF because it's virtually universal. You can use them on REDs (like the superb Raven and Scarlet-W) and on Sonys and others with adapters (I like the ones from a company called Metabones).
I highly recommend trying to buy the best glass you can. Unlike camera bodies, lenses tend to hold their value well over time — at least for the good ones.

AUDIO
LIGHT
STABILIZATION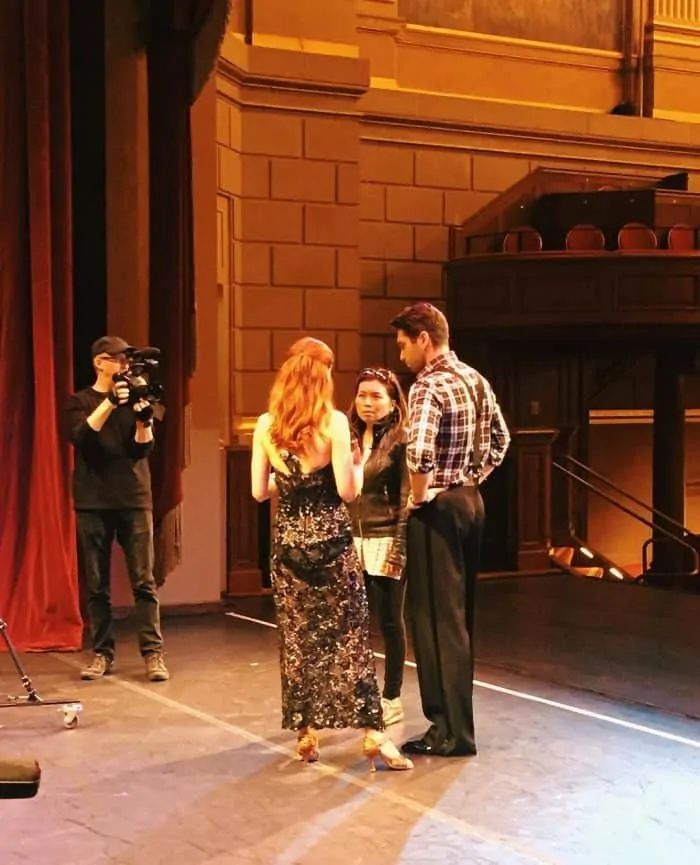 I'm not a drone or gimbal kind of shooter. I like handheld, tripod or dolly. Drone shots can be great, but is it worth the hassle of all the extra gear, batteries, cost, time and effort? For me, no. Instead of spending $1,500-2,000 to buy a decent entry drone, and then learning it all, I instead allocate some budget each year and license what I need. So easy. I just review all the footage and b-roll options out there, pick my favorite, and license it for $60-80. Done!
SOFTWARE
I live on the cloud — or is that in the cloud? The Creative Cloud. I spend most of my time in Adobe Premiere Pro. It's all I've ever edited in. If I had started in Final Cut I'd probably be using that today. I've dabbled in Blackmagic's DaVinci Resolve and think that's a great option too.
Editing: Adobe Premiere Pro
Sound: Adobe Audition (though I tend to mostly use the built-in sound tools in Premiere and only need Audition when something needs serious fixing or a special sound effect)
Images: Adobe Illustrator / Adobe Lightroom
Special Effects: Adobe After Effects (rarely, and I'm terrible at it)
Plugins: Neat (for noise reduction), Twixtor (for processed slow motion after the fact) and FilmConvert (for that pretty grain effect and filmic look)
Recommended Filmmaking and Videography Resources
3 Things Aspiring Filmmakers and Videographers Should Know
Cinematography – composition, camera movement, lenses.
Editing – timing, structure, types of edits and when to use them.
What makes people tick – motivation, interest, human element.
Videos by Clinton Stark
LUZIA BY CIRQUE DU SOLEIL
Shot on Canon EOS Cinema C100 II with Canon 18-135mm
WRONG'S WHAT I DO BEST (San Francisco Art Institute)
Shot on Canon 70D with Canon 18-135mm and Sigma 18-35mm
MOVIE STAR
Shot on Blackmagic Micro Cinema Camera with Panasonic Lumix 12-35mm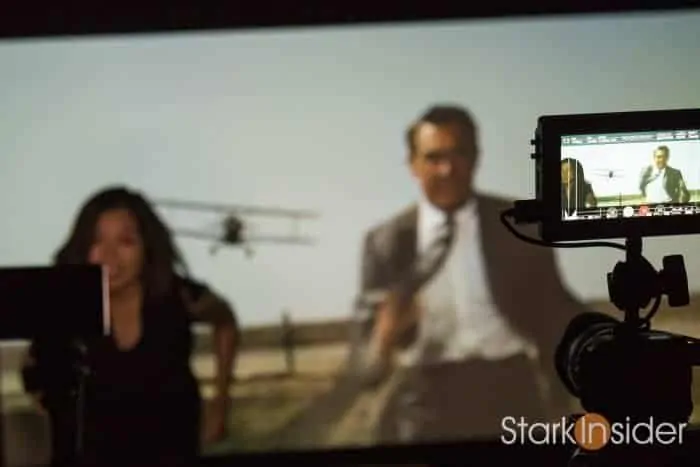 All American Apple Pie
Shot on RED Raven with Sigma 18-35mm, a wig, a willing wife, and fake blood.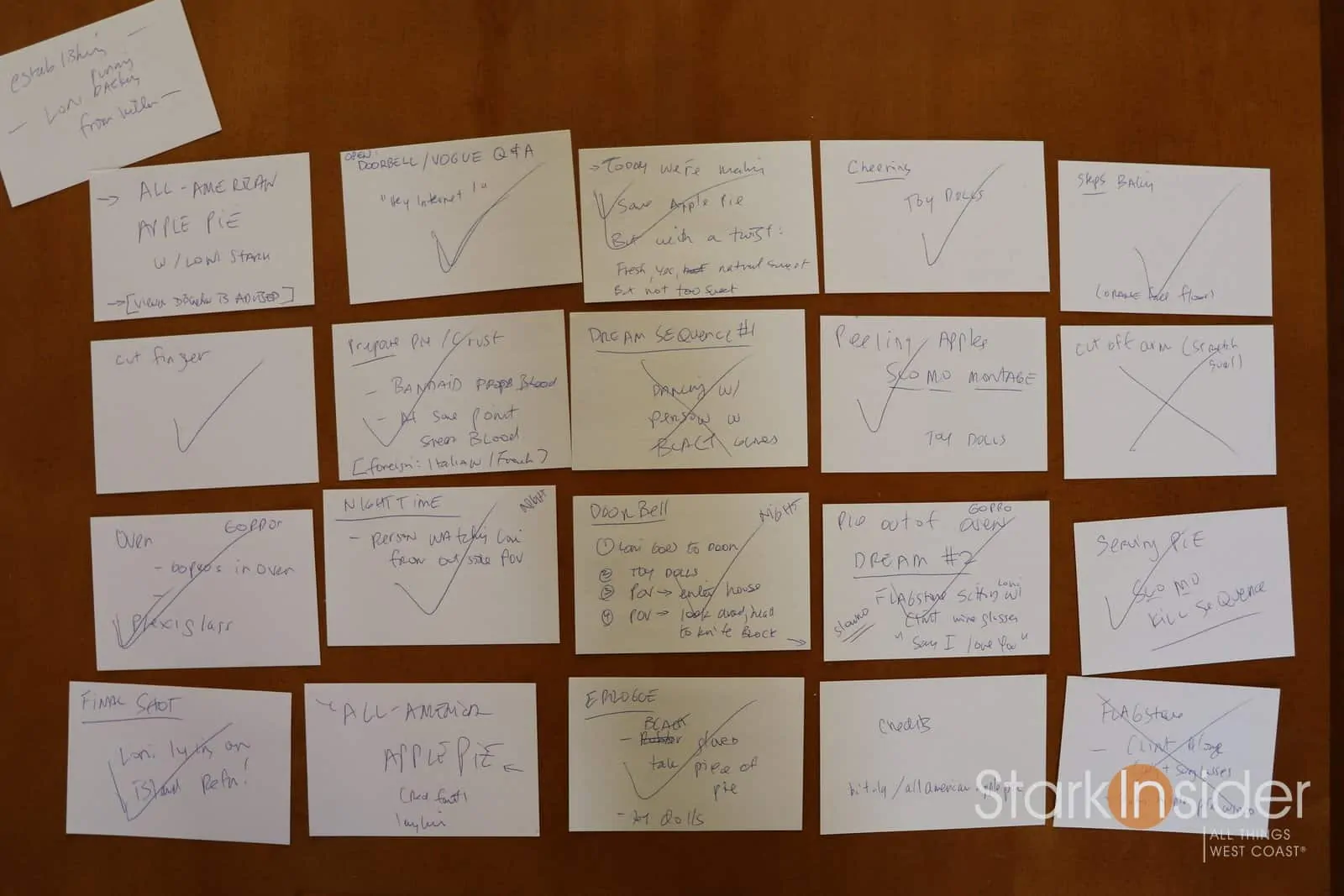 Poco a Poco: Don't Be "That One"!
Final parting thought.
You know when you go to the gym (or maybe to play basketball, football, or to dance, or to golf … or whichever analogy works for you…!) and there's always that person? The one with shiny new gear. All of it. It's as if they headed to the store moments earlier, and just bought everything off the rack. I'm sure, at one time or another, we've all done it. When it comes to camera gear I'd say less is more. Yes, the above gear is quite extensive. Many pros out there have more, and many have less. It depends on where you are in your career and what types of projects you're shooting. I started with a Canon EOS Rebel T2i. I couldn't afford anything else 12 years ago. I used it everyday. Tossed it around. Shot like mad. Loved it. Slowly, very slowly I added new kit. I budgeted year over year … to buy a lens here, a new microphone there. Over time I'd upgrade when I had enough money (never financing). Going slow meant I had time to learn my gear, and get incrementally better at not only operating cameras and accessories, but also at the art of videography and filmmaking.
As someone in the Baja once said to me, "poco a poco" or little by little. Baby steps. So, yes, let's not try to be that super shiny star on the Yoga mat at the local gym. Go slow, learn as you go. Enjoy the process!
Happy shooting!
Clinton