Pebble is dead! Long live Pebble!
Everybody's favorite underdog wearable startup is no longer.
Pebble has officially been acquired by San Francisco-based fitness tracker Fitbit. Say it ain't so. Oh, it be so.
We know the deal is worth about $40 million. Those that backed Pebble on Kickstarter for its new models (Pebble Time 2, Pebble Core) that will never see the light of day will receive refunds automatically by March 2017 (why so long I have no idea). We also know that about 40% of Pebble's staff — mostly engineers — will be offered full-time positions at Fitbit.
And one final thing: Pebblers seem to not really have much love for Fitbit.
Sure, maybe you (we) don't like their products so much. But it wasn't Fitbit that caused the demise of Pebble. It was… Pebble.
Perhaps their latest Kickstarter gave a clue. Too many products, too many choices, too many price points. In a year when wearable sales were plummeting, it would make sense to scale back. Batten down the hatches. I believe the executive team misread and mistimed the market. The result was a dire cash situation. Debt mounted. 25% of the staff were let go. But it was too little, too late. Without Fitbit, the alternative would be bankruptcy. So, on the bright side, at least there's a small chance some of Pebble's UI and design magic will surface in future Fitibit products. Maybe.
Meantime, what does the market look like for us fans of Pebble who know the end is near? (it's only a matter of time before Android and iOS updates break various features).
I scanned the market to look for smartwatch alternatives to Pebble. It's not easy. Here's what I was looking for:
Be Like Pebble

Always-on display (readable outdoors)
Week-long battery life
Notifications from all apps
Decent step counter and some fitness tracking capabilities
Music control
Under $199 (USD)
As for a voice assistant, I'm not a fan. I use my phone for that. Still, I can see many appreciating that feature, especially for firing back a quick voice text to someone.
So, here's the short list. And, as I discovered, I couldn't find one smartwatch that did everything that Pebble did (hence, the lovefest).
5 Alternatives to a Pebble Smartwatch
1. Moto 360 Sport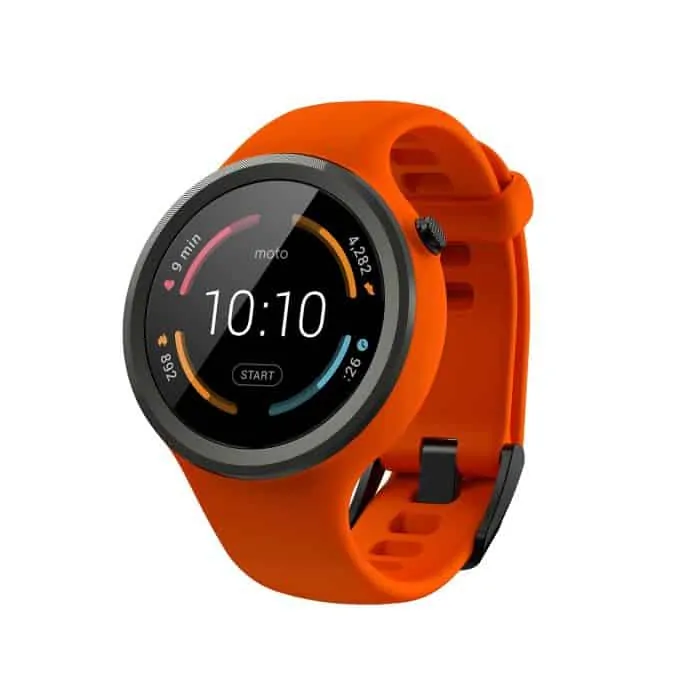 Phones Supported: Android, iOS
Upside: Easy to read outside, option for always-on display doesn't kill battery, long-term support likely thanks to Google Android Wear, music control and basic fitness, bargains can be found.
Not-so-good: Band is not replaceable, Wear notification system needlessly complicated and unreliable.
Buy: Amazon
Yes, the Moto 360 Sport is based on Android Wear. And, yes again, it seems Motorola's parent Lenovo has no interest in releasing another smartwatch anytime soon. Still, this 360 ticks a lot of boxes. Unlike most Wear watches it features a hybrid display that makes it very easy to read outdoors, just like Pebble. Prices have dropped dramatically. You can find the Moto 360 Sport on Amazon for around $130 (USD). Not bad. It comes with a nice charging cradle (like the standard Moto 360), notifications work pretty well (though not as reliable and easy as Pebble), and you get basic fitness tracking and step counting. What's missing? Forget about week-long or even multi-day battery. You'll need to charge almost every night. Also, there's no automatic sleep tracking — a feature that is (was) perfected on Pebbles.
2. Apple Watch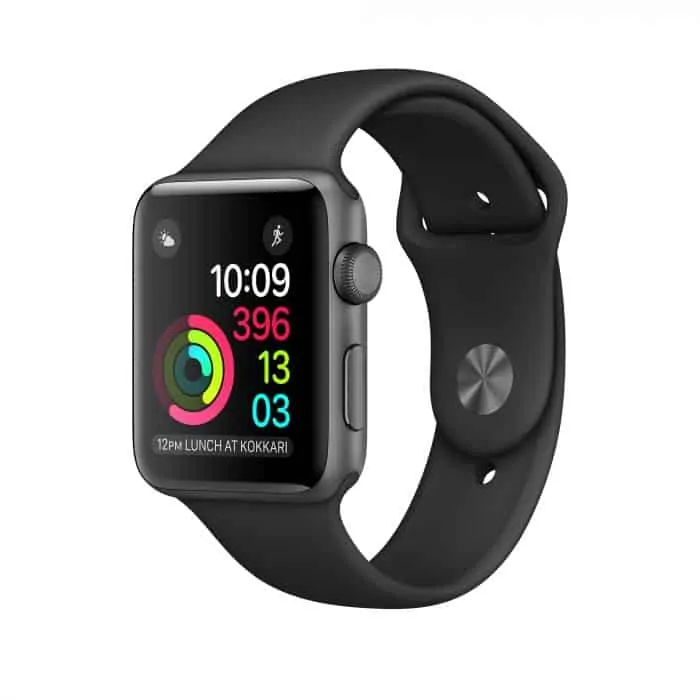 Phones Supported: iOS
Upside: Bright and vibrant color display, lots of apps and developer support, touch display and innovative crown control.
Not-so-good: Needs a nightly charge, lacks always-on display instead requiring wrist rotation, expensive.
Price: Apple Watch Series 1 from $269, Series 2 from $369
If you're an iPhone user, this is, for the most part, a decent alternative. No question, the Apple Watch is not a Pebble. The philosophy is fundamentally different. That's immediately evident when you look at the display on a Pebble vs. the one found on any Apple Watch. Pebble is e-ink. So everything is washed out a bit, and colors are muted. The upside, of course: long battery life, and superb legibility outdoors. Meanwhile, the Apple Watch features a beautiful bright, colorful display. It's not bad outdoors, but you can't have the watchface always on. Instead you twist your wrist. For some that's fine, others will not buy in to the idea. Either way, unlike Pebble, the Apple Watch is likely here to stay and will see updates and support for a long time to come. That means lots of third-party support in the form of apps, and accessories. One big downside is price. But it's Apple. That's their tune.
3. Fitbit Blaze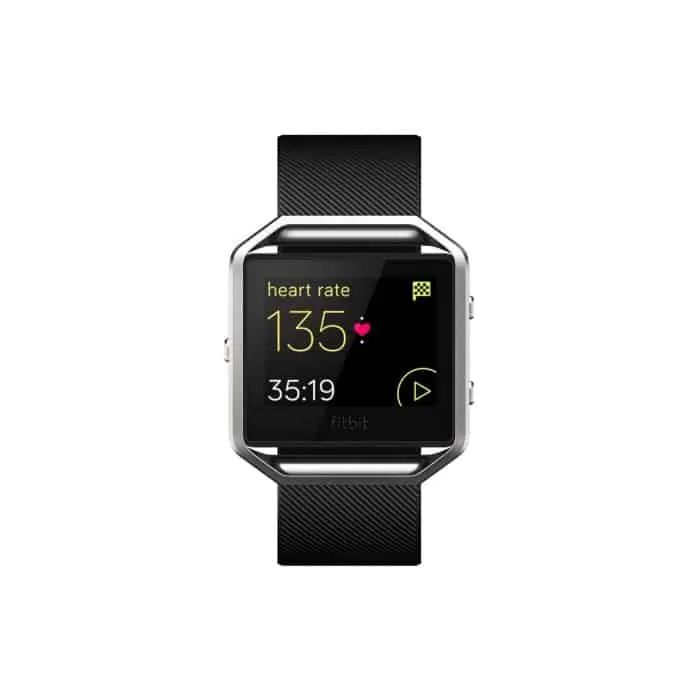 Phones Supported: Android, iOS
Upside: Strong fitness tracking features, solid watch face offerings, combination of touch and physical buttons for control.
Not-so-good: Like the Apple Watch you need to twist your wrist for the display to wake up, limited apps, bulky design.
Buy: Amazon
Pebble fanatics aren't going to like this. One. Bit. Still, if we're talking about viable alternatives to a Pebble, the Fitbit Blaze is one of them. It also ticks off many of the boxes — but not all. It has a color touchscreen and buttons, so you potentially get the best of both worlds. A recent firmware updated added third party notifications so now like Pebble, Wear, and Apple Watch you can get Facebook, Instagram, Twitter, Whatsapp, Snapchat updates among others. Blaze features GPS, a heart rate monitor, step counting, sleep tracking and the ability track various workouts. Decent stuff. Battery life is up to 5 days. The display is decent too, though you can't set it always-on. Sure, hardcore Pebblers will scoff at the "Fitbit" name. Regardless, it is an alternative even if hell hasn't frozen over yet.
4. Xiaomi Amazfit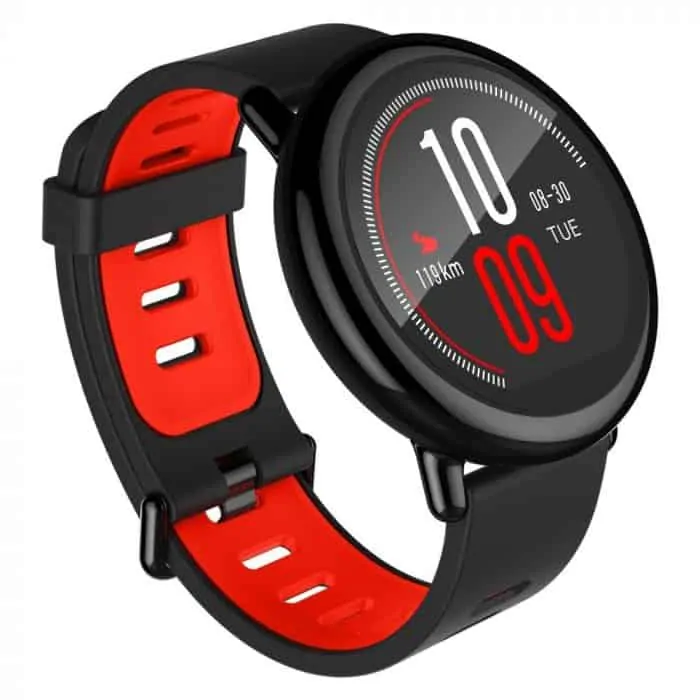 Phones Supported: Android, iOS
Upside: Always-on watchface, clean design, loaded with features including GPS, Wi-Fi and heart-rate monitoring.
Not-so-good: Not yet shipping so we can't verify manufacturer claims.
Buy: Amazon
Here's an interesting one. I haven't used the Amazfit. That's because there's none yet available here Stateside, though they should be here any day now. That the big Chinese smartphone makers are attacking the wearable space is no surprise (Huawei has one too). I suspect it's yet another reason why long-term prospects for pure-play wearable makers like Pebble were so dire. The big guys — Google, Apple, Xiaomi, Huawei — can fund these initiatives without needing immediate revenue. About the Amazfit. It does look Amaz. On paper. For only $160 you get a sporty smartwatch with always-on color display that can be ready in bright sunlight, heart rate monitoring, sleep tracking, GPS, Wi-Fi, a ceramic bezel (nifty!), and notifications. Xiaomi rates battery life at 10 days. We'll see when these finally ship, but that sounds like Pebble territory. It looks as if the Amazfit is being positioned as a watch for runners. But it looks to me also like a sporty would-be Pebble competitor. One to watch.
5. Ticwatch 2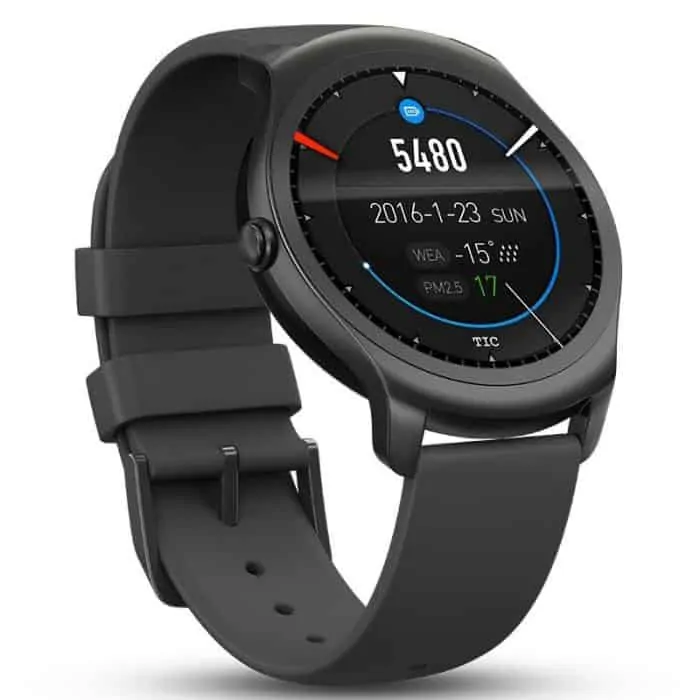 Phones Supported: Android, iOS
Upside: Very Pebble-like feature set, haven't you always wanted to "tickle" your smartwatch?
Not-so-good: It's another Kickstarter backed smartwatch, run for the hills!
Buy: Amazon
Okay, if you're feeling burned by Pebble because you backed a vaporware Pebble Time 2 or Core, then fair warning, you should probably avoid this one altogether. The Ticwatch is another Kickstarter-backed wearable effort. But, unlike those non-shipping Pebbles, you can find the Ticwatch 2 at retailers, like Amazon. Dig a little and there's a lot of positives here. How about tickling your smartwatch? Yes now you can. Rubbing your finger along the edge of the watch's right edge offers an interesting way to scroll through lists and navigate the user interface (some early reports, though, suggest it's not all that responsive). Like a mash-up of the best of Pebble and the best of Android Wear, the Ticwatch has voice search and control, palm for dimming, flip and knock (like Wear gesture controls), notifications (including third party), heart-rate monitoring, step counting, and saphire glass. In photos it may seem odd to see the crown button situated on the left side. My understanding, though, is that's reversible using a software setting. Based on what I've seen, the Ticwatch 2 faces look decent too, with a nice mix of date/time/weather/fitness options to chose from.
But… there's still your trusty Pebble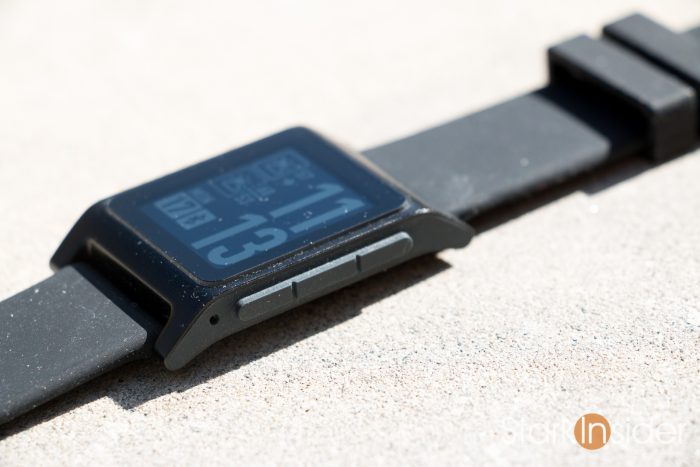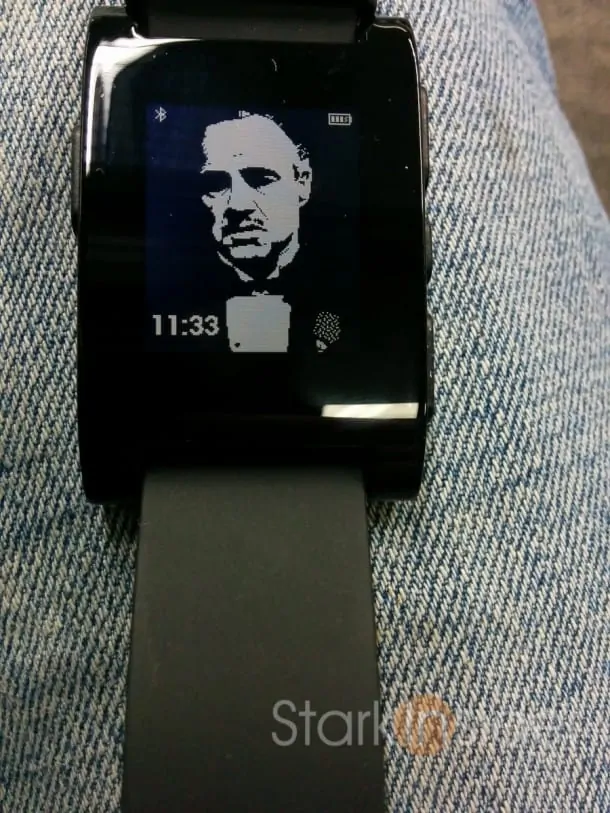 Pebble smartwatches still work. For now. So if you already have one why not keep wearing it until it breaks?
Tip: I wouldn't recommend buying a new Pebble as it will have no warranty. Nadda.
No doubt, soon enough an Android or iOS update will cause issues, and there won't be a development team (at least not an official one) to keep it going. Until then, why worry. Smile. Keep running your Pebble. Think of it as a 1990's Honda Civic that just keeps on rolling. Drive it to the ground. Meantime, other smartwatches will keep getting better and cheaper. By the time your Pebble kicks the bucket, there'll be plenty of decent choices on the market. Well, at least that's the theory.
Plus, who knows? Maybe Fitbit will surprise us and dig into its newly acquired Pebble IP and include that good stuff in a future model. Could we see a "Fitbit Pebble"? I'm an optimistic one, but I doubt it.
Push come to shove, if I had to choose one alternative from the above list it would be the Moto 360 Sport. Partly, because I own one I found at a fire sale. It's pretty decent, in spite of Android Wear (which needs a major makeover). The Xiaomi Amazfit looks really good on paper so I'm anxious to see how that one fares with reviewers.
I did receive my Kickstarter Pebble 2. It's really good. Contrast and legibility are the best yet. I do miss the color found on the Pebble Time even if a little washed out. Regardless, Pebbles do everything I need for now: control my music at the gym and while driving (without having to glance down from the road), provide extremely reliable notifications, tell time all the time at a glance (imagine that), last forever on a charge, track sleep automatically, and take a beating without falling apart. These are good times. Why complain? Drive your Pebble like you stole it. Worry about what's next later. Smile and Pebble on… at least for now.