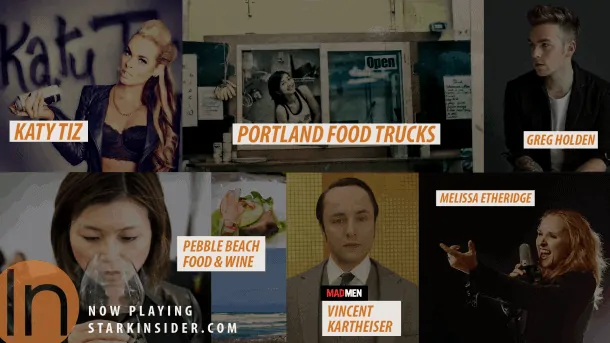 What a year!
Stark Insider continues to seek out the most interesting and creative people, places and scenes in and around San Francisco. And despite only being 3 months in to 2015, we've been going like gangbusters. Publish or perish. Or at least wear out your Vans trying in vain.
Here's a quick update on some of the latest videos we've produced covering West Coast adventures in music, film, the arts, and food and wine.
Or, as Loni and I occasionally like to describe the pursuit: "wanderlust."
That's a new term to me. I learned it's German and dates back to the early 1000s. It means, per Wikipedia, "a strong desire for or impulse to wander or travel and explore the world." Granted, we've co-opted that definition to fit our "world" which is here along the West Coast of California (with occasional jaunts to Vancouver, Oregon, and down to the Baja).
The idea of scratching that creative itch… to get out there, meet interesting people who are–as we also say from time to time–"making it happen", discover what's trending, and document the process along the way. Canon EOS 70D, will travel. And so goes the adventure on Stark Insider.
We recently spent three days filming at the Live in the Vineyard music festival. We've rolled out some of those SI video features so far, including most recently Greg Holden, Melissa Etheridge and MisterWives. Much more to come on that, including Priory (an amazing Portland band you absolutely need to see live), Lifehouse, Family of the Year, Oh Honey, and several others.
MELISSA ETHERIDGE
KATY TIZ
MISTERWIVES
GREG HOLDEN
On the travel front, Loni headed to Nong's famous food truck in Portland. Did her Khao Man Khai live up the hype. You can watch that episode (shot entirely on a Nexus smartphone no less… a first for me!) below to find out.
NONG'S PORTLAND FOOD TRUCK
With Mad Men season 7 underway, I re-cut an interview we did a few years back with Vincent Kartheiser, aka Pete Campbell. He was in town to play the lead in a new play at the (sadly, now defunct) San Jose Repertory Theatre. There he gave us what must assuredly be the quirkiest interview of all time on Stark Insider. It went on for over 30 minutes — an eternity by today's hyper-compressed schedules. I was never happy with my original edit(s) so I pulled up the archives and published a tighter cut, focused on his most poignant, perhaps even controversial insights ("I don't think self-expression is a form of entertainment" he says, speaking about Facebook and Twitter)
VINCENT KARTHEISER
With Pebble Beach Food & Wine coming up this week, we take a quick look at what to expect (hint: food, food, food… and, wine, wine wine) in old school "Gone in 60 Seconds" Stark Insider style, for better or worse:
GONE IN 60 SECONDS: PEBBLE BEACH FOOD & WINE
Best of Stark Insider: Pebble Beach Food & Wine from Stark Insider on Vimeo.
Meantime I continue to head on location–San Francisco, Napa, Sonoma, Silicon Valley–with my trusty Canon EOS 70D to see what  happens. There's much more to come.
I'm hoping you continue to stick around, perhaps overlook our occasional foibles, eclectic endeavors and attempts at arthouse stuff (we try!). As I've briefly mentioned recently, Stark Insider will soon make the leap to a Super 35 cinema camera. No small budget item that. So we're researching carefully. 4K is here. But is it really needed to deliver primarily to the Web? On my camera short-list: the new Sony FS7 and the recently announced Canon C100 Mark II. Both great. Both suitable for run-and-gun, and doc style shoots which are mainly what I'm aspiring to do for Stark Insider.