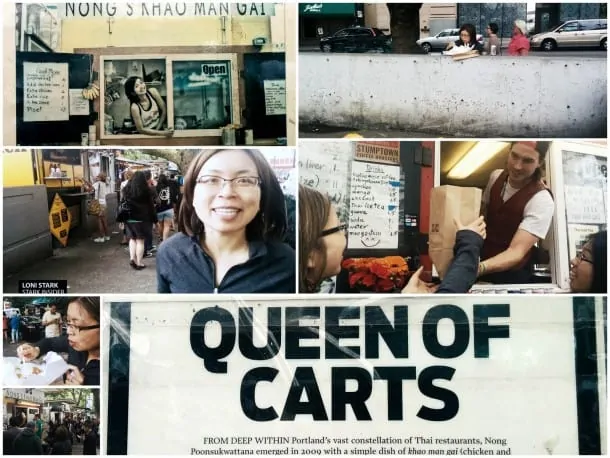 And here I was thinking that when it came to Food Trucks, the cat's meow, the bee's knees, was San Francisco. So I was very pleasantly surprised when I headed to Portland to check out Nong's famous Khao Man Gai, and discovered a veritable foodie paradise.
Quick tip: if you land in Portland, be sure to land hungry. Then, head to SW 10th and Alder Street. Stroll the food carts and trucks that line the city block, and go crazy. Locals and tourists alike mingle, hangout savoring culinary discoveries curbside, and eagerly share favorite recommendations.
On this visit (as you can see in the Stark Insider Wanderlust video below), I enjoyed scrumptious dumplings from The Dump Truck, noodles from Beijing House, a few sushi treats from Rolls Plus Grill and several "appetizers" from various Asian-fusion style carts.
Then it was time for the main event…
Nong's Khao Man Gai.
Famously, so goes the story, Nong arrived from Bangkok years back with little more than $70 to her name. Her laser focus on just a single dish, Thai chicken and rice, has resulted in a specialty that some travel across the country to try. Not bad for someone who could barely afford to bootstrap an 8×8 foot food cart.
Khao Man Gai is one of the most popular dishes  in China. Interestingly, you don't find it as frequently as you might, given its popularity in Asia. I like that the chicken is poached – it lends a clean, fresh flavor. Combined with a broth and "pungeon sauce" (a puree consisting of garlic, chilies, vinegar, ginger) and some rice cooked with herbs, and you quickly learn why this is favorite dish not to be missed.
"There's so much good Thai food that people haven't tried. Tourists in Bangkok are always choosing this Khao Man Gai dish so I felt I should bring this here to Portland," says Nong. " I wanted to do The best Khao Man Gai that I can in USA. I did a lot of homework to find all the ingredients."
In some ways you might even say Nong is the In-N-Out Burger of Thai food. There is only one thing on her menu. You can request extra chicken, select skin, and choose spiciness. But that's about it. Hey, if you're going to one thing do it well – so must go Nong's mantra.
All hail, the Queen of Carts!
WATCH: Portland Food Trucks – Nong's Khao Man Gai