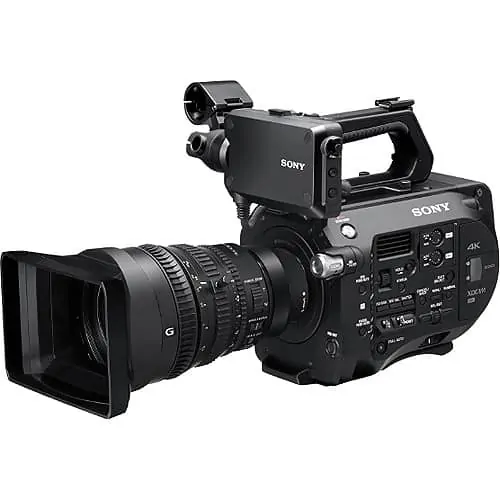 With the versatile, high performing Sony FS7 Super 35 cinema camera there has never been a better time to make the jump from DSLR to pro level gear.
I've been shooting on DSLR since I moved from a Vixia Camcorder to the (spectacular and still spectacular, especially with magic lantern firmware) Canon EOS T2i. After much deliberation–endless amounts of research–we've made the decision to go "Super 35."
But I'll get this out of the way right up-front: no question, equipment is not the most important thing when it comes to producing videos (or movies, or music videos, or anything that intends to inform, entertain).
There's so much more that we know is critical. From lighting and composition to the most important thing of all: story-telling. Ugh, my weak spot – okay one of my weak spots.
So while I get excited thinking about the prospects of shooting in higher resolutions, such as 4K, and having higher bit-rates in the resulting files, and all that great stuff that's coming out of this new generation of camera gear, I constantly remind myself that I really should be working on getting better on the basics. For me, that means practice, practice, practice. Unfortunately putting your stuff out there means that everyone can see your progress (or lack thereof). I cringe when I look at a video we made for Stark Insider a few years ago. And I cringe possibly even more when I watch one made even just last week. There's so many non gear-related things that will make the end result better than just having a higher quality sensor: pacing (or "beats" as we hear a lot in theater), composition, mood and atmosphere, a good storyboard, quality voiceover with proper cadence and tone, and on an on. And, yet, forgive me, I'm going to talk about gear for a bit here. Maybe, therapy?
I can make you look like you're in a film… or at least die trying!
In 2007 the prosumer and pro video markets were vastly different than they are today. Camcorders generally ruled the day on anything less than a full-scale television or film production. That changed dramatically the following year when Canon introduced the now historic 5D Mark II camera. For the first time we could shoot video using a DSLR with interchangeable lenses. It was glorious. You could get "filmic" like results for not a whole lot of money. Canon generally ruled the roost for the following years. Meanwhile I wasn't quite ready to drop thousands of dollars on gear for Stark Insider, so I put my little toe into the pond and came away with an EOS T2i (2010). I learned. I made many mistakes. Then I learned some more by shooting videos on location–theaters, wineries, concerts–as often as possible. Then it was on to an EOS 60D (2011) and,, finally, the EOS 70D a remarkable camera that I feel is a bit of a sleeper thanks to its stellar dual-pixel auto-focus and subject tracking. And it's only $1,100 USD for goodness sake.
ALSO SEE: 5 Tips for Shooting Video with the Canon 70D DSLR
ALONG CAME PANASONIC AND SONY
In 2014, the peaceful life that Canon was enjoying in the video market was upended. Panasonic released the micro four thirds GH4 which supported 4K resolution. And Sony introduced the full-frame alpha 7s (a7S). Priced at 1,700 and $2,4,98, not only did the prices undercut Canon's top talk, the 5D Mark III, it even put pressure on some of the camera giant's upper range products such as the Canon C100 and C300 cine cameras. The GH4 and a7S weren't just good, they were terrific. Game-changers no question. Many a filmmaker and videographer began to make "the jump," and move from Canon gear to those of what appears to be the next generation of video cameras coming from the likes of Panasonic and Sony.
ENTER THE SONY FS7 SUPER 35
Then Sony really upped its game when it announced the FS7 Super 35 camera at IBC in Q3 of last year. For $7,999 you got the world, and then some. It had internal UHD recording, ergonomically pleasing design with built-in handle and arm, the flexible e-mount which made it compatible with lots of lenses (using an adapter), a great LCD and EVF, and, better still for those of us that run-n-gun, it was fairly light and compact.
Sony really upped its game when it announced the FS7 Super 35 camera.
Though the camera is not widely available yet, those who have been fortunate to get early units have, for the most part, heaped on praise. Dive into the forums and you'll quickly discover that the FS7 is the talk of the town.
IS CANON MOVING TOO SLOWLY?
But where is Canon's response?
That's a common question you'll find circulating on the web. Canon had the lead, and it seems, is fading, even if only a bit. Sure the Canon C300 is a staple of the indie world, and even broadcast TV, but it coming up on its third birthday. It doesn't shoot 4K. Does that matter? I think so…
MY THOUGHTS ON 4K
Even though we deliver Stark Insider videos to the web at 1080p I'm quite convinced higher resolutions will become standard, and that will mean eventually everyone will want to watch the better quality videos. Sure, consumers are burnt out. The 3D hype was deafening and expensive. Many upgraded. And, now, just a few years later "they" are expecting us to refresh all over again? You can understand the gadget fatigue. My theory is that 4K (or maybe it will be 5K or 6K) will happen. Eventually. This cycle may take longer. The jump from 1080p to 4K, while significant, I don't think has the same impact as it did back when we went from 4:3 standard definition to 16:9 high definition. When in the history of television have we ever stopped progressing? Why, all of a sudden, would the march to next generation display technology halt?
But, you're not planning to shoot in 4K? Right, but it has 4K!
While I won't shoot 4K it is important for me. If you've watched any of my videos you'll quickly realize these aren't designed for the big screen. My latest one shot at Treebones in Big Sur has many (many!) issues related to auto-focus hunting, color grading, and audio (voiceover especially). If you call me a charlatan I will not necessarily disagree–but, please, don't call me a Charlie Nobody. However, 4K matters for a few reasons: (1) even if I ultimately scale down delivery to 1080p I have the option to reframe shots in post; (2) the footage will have more detail; (3) it's future proofing!
WHY SONY FS7?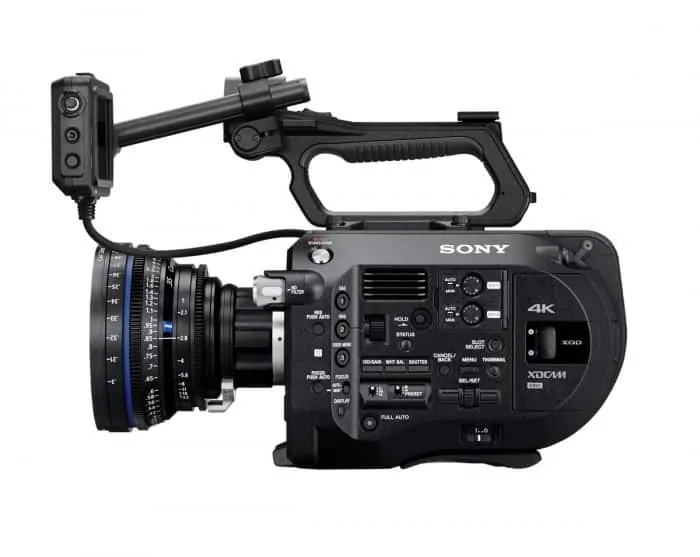 That's why the Sony FS7 speaks to me. It's expensive, yes. More expensive than any other camera I have ever bought by an order of magnitude. But remember, it's big brothers, the F5 and F55 used on shows like Anothony Bourdain's Parts Unknown and CNN's upcoming and gorgeous looking show The Wonder List go for about $17K and 30K respectively. For a small operation like ours, that impossibly rich, even if I can depreciate them as business assets. Since the FS7 utilizes much of that top range technology, the trickle down benefit is huge. Many suggest the sensor between the F5 and FS7 are the same. And if I'm going to spend between $10-15K (with accessories, lenses, and stuff I'll talk about in future posts) on a camera upgrade, I simply can't go 1080p knowing that in a few years it  might become the norm, and I'll be left with a heavily depreciated piece of gear. That's why I'm surprised Canon has introduced a C300 Mark II with 4K yet – it seems as if Sony has the early jump, at least for now.
Going FS7 and Super 35 means I need a new lens strategy. That's something I've never though of before. Over the course of the past few months, as I debated leaving the Canon fold, I gave that some thought. I even created a spreadsheet with an inventory of my current lenses. And then I thought about the "role" each lens would fulfill.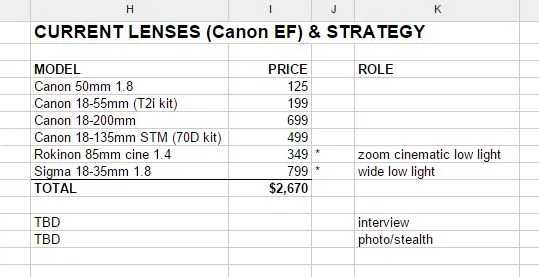 And the FS7 lens possibilities:

The most expensive lens I currently own is the terrific Sigma 18-35mm Art lens. I can't use it much, as it doesn't have stabilization, and since I'm running and gunning most of the time it much time on my 70D. Still, when it does WOW. I'll be using a metabones adapter so I can still use my Canon glass. I'll also be buying some native Sony e-mount lenses (though I've heard some concerns about their fly-by-wire focus systems), likely flexible telephotos. The significant jump in budget to accommodate better glass has taken some psychological adjustment, and re-framing of the idea of entry level. After all, this is still considered entry level in the professional world.
THE SUPER 35 ERA
Loni, my wife, is absolutely exhausted hearing about these things. $8,000!?!!! Yes, but you get 4K, ND filters, and that Super 35 look!!! Look at this test footage! Look at this other test footage! I can make you look like you're in a film… or at least die trying! But, you're not planning to shoot in 4K? Right, but it has 4K!! (and oh, I'm thinking more like $13,000…?)
This gorgeous Sony FS7 "test video" is perhaps the ultimate camera review of all-time and illustrates the point ever so poetically:
SONY FS7 TEST by Jon Cole
Sony FS7 Test from Jon Cole on Vimeo.
AND THE STEALTHY A7S TOO…
I'll also be getting a Sony a7S for Stark Insider videos. I think it'll be ideal for low light situations and is far more stealthy than my current 70D setup (which has a mount with an LED and XLR shotgun that make it anything but discrete). That filmmaker Philip Bloom is also using the mirrorless little brother to shoot The Wonder List for scenes where the F55 is just too obvious pretty much sealed the deal. When we shot at Treebones (which was a lark – we were on vacation and it was just Loni and I, and not managed with PR as we do on many of our videos for theater, film, wine, etc.).
MORE STARK INSIDER: 5 best lenses for shooting video with a Canon DSLR (with video examples)
When we shot at the sushi bar at Treebones using the 70D (see video below), and the tripod, and the lighting, and the microphones, we probably got a lesser result because everyone was very aware. We shot the video on our second dinner there. On the first night, without the gear, the staff were looser. Also, larger cameras are disruptive to other customers. I don't like that, and it was tricky to shots without feeling like… like, well, like a Charlie Nobody.
VIDEO: TREEBONES IN BIG SUR (Canon EOS 70D with – blasphemy I know – kit lens)
WHAT NEXT?
The FS7 is out of stock currently. So I'll likely invest in the stealth portion of the setup. That will be the A7s, some batteries, maybe small cheese plate, a native Sony Lens (probably the 24-70mm OSS). We'll be on location several times over the coming months so I'll be able to get my feet wet, make mistakes early and often, and hopefully come out feeling alright about everything.
Then again, who knows, if Canon does manage to do something shortly (C300 Mark II with dual pixel auto-focus and 4K for $10K?), I might just need to re-write this, and spend even more time pontificating about gear.