Word to the wise: Melissa Etheridge still knows how to rock the house.
Brimming with energy, the iconic singer-songwriter played an acoustic set yesterday during the Live in the Vineyard music festival in Napa. The Grammy-winner effortlessly performed classic hits such as "Come to My Window" and "I'm the Only One" as well as mixing in well-received material from her new album, This is M.E.
Set alongside the vineyards at Sutter Home Winery in St. Helena, the sunny outdoor setting was, as many were heard saying after the show, the "perfect pairing." Loni Stark was on location in Napa to catch all the action, and sat down pre-show with Melissa Etheridge to talk taking risks, music industry disruption, and, the secrets to longevity in a business known for a constant stream of one-hit wonders. You can see a preview of that interview plus concert highlights in the video below
WATCH: Melissa Etheridge – Live in the Vineyard Napa
MisterWives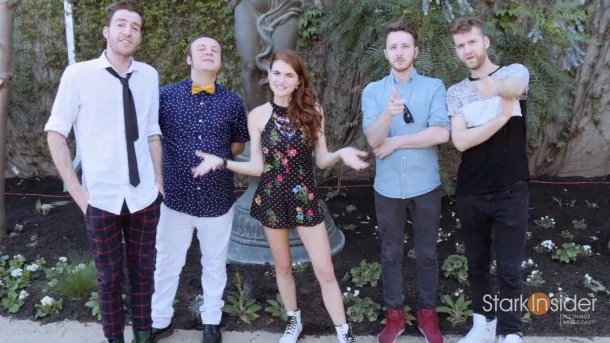 NY-based indie pop group MisterWives is one to watch. Eclectic. Dynamic. Fun. Just some of the words that were used to describe the group after they performed–dazzled!–at Frank Family Winery in Calistoga.
Kicking off the Live in the Vineyard festival on Thursday evening, MisterWives took to a small outdoor stage under a tent, and floored the crowd who surely weren't prepared for the spectacle of entertainment to follow. For 40 minutes, MisterWives ran the gamut: pop, folk, jazz, soul. Lead singer Mandy was a gymnastic bumblebee — hopping, skipping, dancing, and otherwise charming the audience to no end with infectious moves that are partially homage to their influence, No Doubt.
Stark Insider caught up with MisterWives and got to know the band a little better. Here's a quick look at the upcoming video segment:
Later, at the Uptown Theatre in downtown Napa, more acts thrilled LITV fans including Family of the Year, Oh Honey, Needtobreathe, The Ting Tings, and Florida Georgia Line.
Tonight's schedule features Greg Holden, Life of Dillon, The Veronicas, Priory and Lifehouse.
More soon from Live in the Vineyard on the SI YouTube channel.
(With Loni Stark on location in Napa Valley)