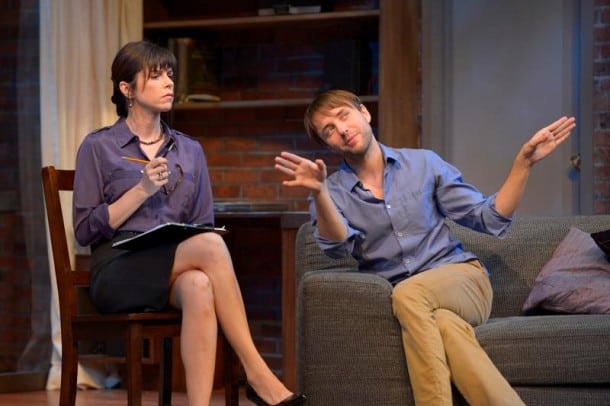 Doctors tell us that folie à deux is a psychotic disorder shared by two more people with close emotional ties. This curious disorder is just one of the elements at the heart of The Death of the Novel which opened at the San Jose Rep on September 6.
The play opens in a flat owned by writer Sebastian Justice (Vincent Kartheiser) who describes himself as "the most well-adjusted, depressed agoraphobic in Manhattan." Treated by psychologist Dr. Perry Cray (Amy Pietz), Justice is between novels, unable to leave his apartment or begin his second novel. He is a static, albeit peculiarly engaging, character until Sheba enters. Sheba (Vaishnavi Sharma), a "tsunami of experiential newness," infuses him with a new energy and simultaneously confirms his own rationalizations. Cray remains the reliable narrator, stepping on stage when needed to provide a counterbalance for Justice and Sheba.
Let's first get past the Vincent Kartheiser thing. Kartheiser is best known for playing Pete Campbell, ad exec on Mad Men. At heart, Pete Campbell and Sebastian Justice are not all that different. While Justice has an idiosyncratic, intelligent wit that Campbell lacks (which makes him far more entertaining), neither character gets beyond his own narcissism. Both cry for an effective foil, Campbell with Don Draper, and Justice with the electric Sheba.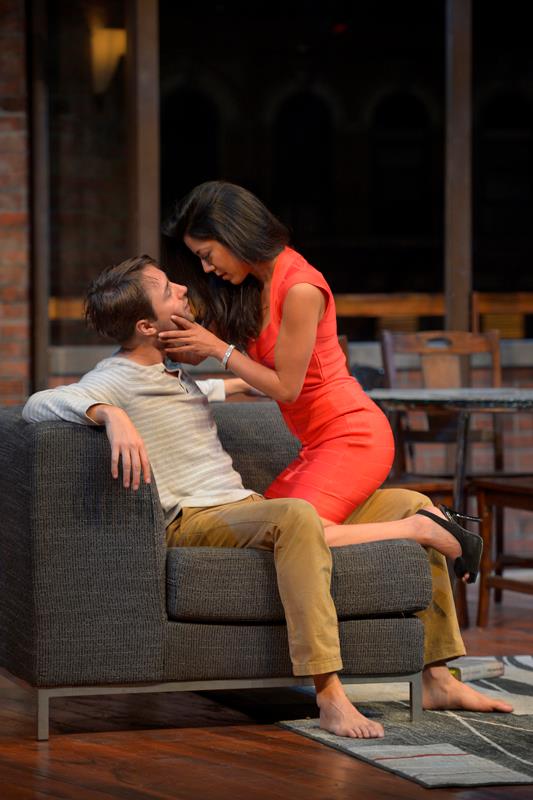 As actors, both Kartheiser and Sharma have a difficult task because the authenticity of their characters is masked. Justice deflects. Sheba is mercurial, hiding behind her beauty and effervescence. Neither character can be easily grasped. This uneasy falseness is a tease throughout the production, leaving the audience to weigh each state as to whether the falseness of any particular statement was intentional.
The first act of The Death of a Novel is compelling largely because of this ambiguity. Uncertainties abound. Will Justice begin his second novel? Will he leave his apartment? Who on earth is Sheba? Was she really from a fabulously wealthy Saudi family? What about this Harvard connection? Will she end up with Justice or with his friend? The suspense builds throughout this first act, until intermission abruptly starts, leaving the audience gasping.
WATCH: Vincent Kartheiser and Vaishnavi Sharma discuss Death of the Novel
The second act was less successful, in part because the tantalizing unreality of the first act was resolved with an emotional overload that rang false. Like almost every other outburst of male anger I've seen on stage over the past few years, Justice's outbursts lack authenticity.  This emotional intensity goes with spending too much time indoors – and it's hard to be patient with it.
This nit aside, The Death of a Novel is worth taking in. Watching Kartheiser work his craft and shape the character of Justice is worth the admission.