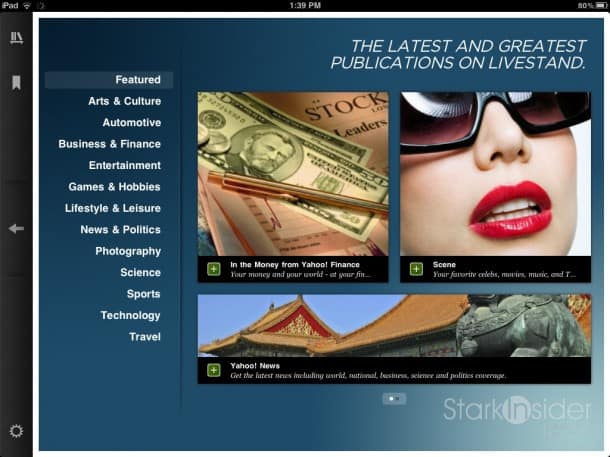 Livestand by Yahoo! was released today–on an interesting day in tech that included a botched Gmail iOS release from Google, AOL financials that were "less bad," and plenty of conjecture about Microsoft Courier and the tablet that might have been. Fortunately, as long as you don't care about custom RSS feeds,  it looks like Yahoo has nailed it, and cast a bright rainbow over the social magazine space. Not that the space is shy brightly cast competition. Recently I rounded-up the latest entrants in a review special that featured Flipboard, Zinio, Pulse News, News360, AOL Editions and Zite (and there are many more like News Republic, Evri, Taptu…). It's a crowded space, for good reason. The newspaper and magazine industry needs a savior, and the iPad, for better or worse, has been anointed Spartacus.
Looking Pretty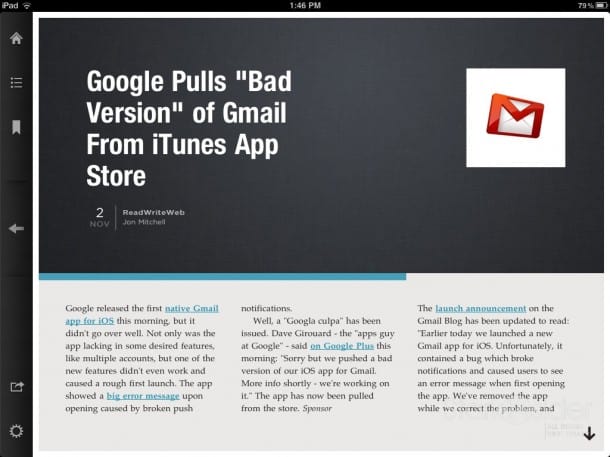 Livestand does what you'd expect from a magazine/RSS mash-up app: it aggregates content from across the web and presents it in a compelling fashion. I downloaded it on an iPad 2 and gave it a whirl for ten minutes. It's one pretty looking app. Graphics slide across tiles of various sizes. Touch gestures are all here, with a notable emphasis on up/down for articles. Unlike News360, AOL Editions and others, Livestand only works in landscape mode which may limit its appeal to those who like to hold their tablet like a magazine. Over time, surfing headlines with a tablet in landscape mode, be it the iPad or Samsung Galaxy Tab 10.1, has really grown on me. The tablet feels comfortable in this position, and my thumbs are at ease navigating quickly from story to the next.
Sharing is common practice in news apps. Oddly, though it includes Facebook and email, I could find no way to Tweet an article. It's a glaring omission from what I can tell… I heard that Twitter is sometimes slightly popular for sharing news stories, yes?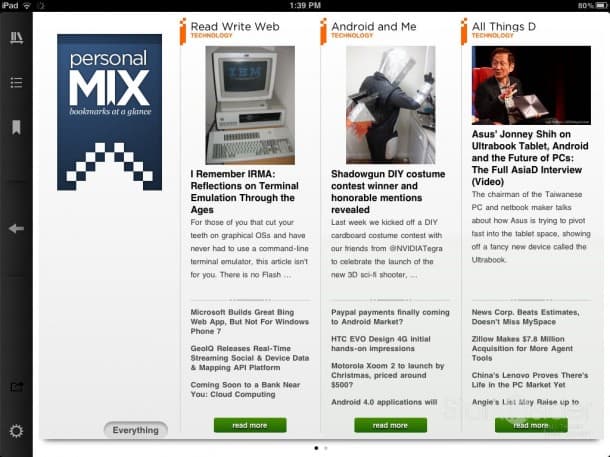 In addition there are some simple personalization features such as weather and a market watchlist, neither which have a lot of appeal to me in a news app.
A clever touch is the ability to support up to 4 users. Perfect for an iPad that changes hands multiple times a day in a busy household.
BUT…
… there is no way to add your own RSS feeds. That means I can't access spectacularly unheralded sources like Stark Insider. Same too for Facebook and Twitter feeds. So don't expect to be ditching Flipboard anytime (will that ever be possible?).
Compared
If Livestand were first to market it would be an amazing app. As it is, it's hard to figure where it will fit in my daily tablet news consumption routine. Flipboard is a must. It's the most comprehensive of all, and in a pinch can even function as a basic Twitter and Facebook client. Pulse is pretty sweet and a monster at quickly devouring RSS feeds- it's like Google Reader with Botox. Then there's News360 which is a well executed take on news aggregation; lumping stories together around topics of interest on any particular day. And though Livestand is billed as a magazine stand, it's really an aggregation play. It's not like Zinio, for example, that features digital editions of magazines such as Car & Driver, Vanity Fair, and Discover. Then again, maybe Zinio is a temporary bridge from the old  world of static magazines?
So here's how I use social news apps on the iPad (and Android, except for Flipboard of course):
Flipboard – for pure reading joy.
News360 – for getting a quick perspective on top stories of the day.
Zite – for an occasional change-up.
Livestand is pretty, but I'm not sure how it will slot in to the rotation. It doesn't bring anything new to the table, it lacks RSS feeds, can't function as a Twitter or Facebook client (in fact it doesn't even offer sharing via  the former!). One thing it does better than the others: Provide a magazine-like experience for a single site. For example, Mashable looks awesome on Livestand. If I wanted to go deep on one site, I'd give Livestand a shot.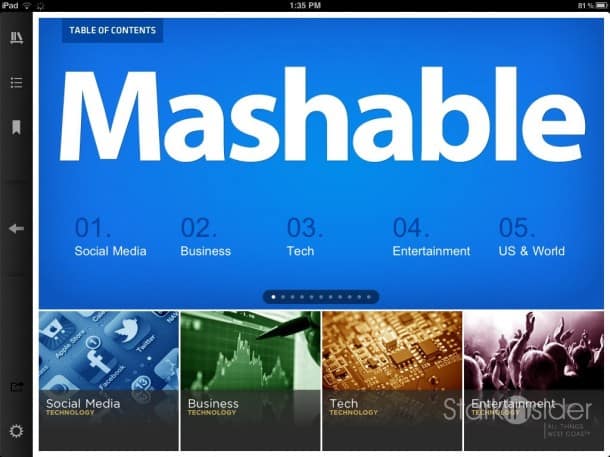 Those are my initial impressions, and daily use can rapidly color opinion over time. Meanwhile these are assuredly the glory days of content consumption.
Recouping development costs: Where's the $$$?
From a business model and monetization perspective, I'm not clear yet on how Yahoo will make money. If the idea is to get more eyeballs, pageviews, and then charge advertisers to place ads in-app or instream I'd suggest that's a difficult goal to achieve when most (almost all) content is free. The marginal cost of creating content has decreased to the point where I have to wonder if there is any money in publishing? Short-term, likely no, but long-term I expect we will emerge from this disruption cycle with at least a few winners. I believe there is still value in quality- that's why people subscribe to Maxim… uh… I mean Businessweek, and The Atlantic.
Now, the real question:
Will AOL go purple on us? (clue: they're not so fond of $green$).