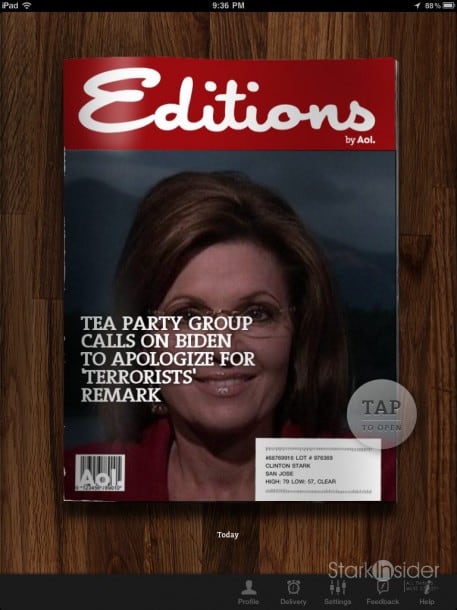 AOL (NYSE:AOL) today released an iPad app called 'Editions' that joins the ranks of news aggregators such as Flipboard, Pulse and Zite – services all vying for our ever expanding thirst for 7/24 news.
A self-admitted news junkie and fan of social media, I immediately downloaded the app on an iPad 2.
Editions is not all all like The Daily (by News Corp) which is an original daily with editorial oversight – in the tradition of print "dailies" of yore. Instead, the AOL app is similar to Flipboard in that it aggregates various newsfeeds and presents them in a swipe-friendly form. It's a design mantra that Flipboard pioneered and is unlikely to cede anytime soon.
Most articles merely end up referencing the original web page, while a few — AOL owned! — such as those sourced from Patch, Huffington Post and Sporting News are embedded within the app itself resulting in faster loads, and better aesthetics. Content and syndication rights could be this app's eventual choke point. Flipboard, for example, has the edge as a neutral, non-publishing entity, not to mention its first mover advantage.
The usual social media tricks are here. When you first launch Editions you can connect to your Twitter and Facebook accounts. I'd suggest AOL ditch that third option, AOL Messenger, and replace it with G+, but I suspect that would not go over well at HQ.
On the surface, Editions looks cool. It's got a retro vibe. A clever little mailing label on the lower right of the cover is personalized with local information including a weather forecast. It feels comfortable. Even its digital spine is slightly worn, giving it an undeserved archival feeling. But dig a little deeper and it seems this is nothing but a glorified RSS reader, albeit a good one at that.
So far I prefer this to Pulse, which is too geometrical for my taste. However, Flipboard and Zite are more compelling, especially the former which in my books is the gold standard. And The Daily, a wholly original digital publication, is growing on me; I find myself reading it, well… daily. So I wonder is there room for Editions in my daily routine?
Don't judge this digital magazine by its cover.
When I launched Editions the cover story was about the Tea Party accompanied by a large (unsettling?) photo of Sarah Palin. This is deceptive (on oh-so-many levels). The Newsweek feel quickly dissolved once I realized this "edition" was merely an aggregation of stories — there is not a thread or theme that runs through Editions. Still, one differentiator that shows promise is the ability to personalize content. At the top of articles you can check things you want to see more of, or "X" things you don't. It's too early to tell how effective this algorithm is in returning relevant results over time.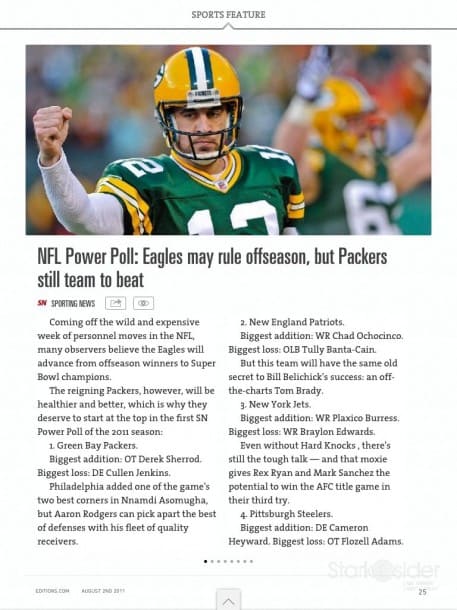 I discovered at least one bug so far in early testing. The screen flickers on the iPad slightly at section breaks containing full screen images. Nothing major, but jarring nonetheless.
As far as I can tell, unlike with Flipboard, there is no way to add custom RSS feeds. So adding Stark Insider is out — queue the violins. Ditto for social media feeds like Twitter and Facebook. Perhaps this is indicative of AOL's goal of having Editions read once (like The Daily), instead of on-the-fly. If so, it seems to be at odds with its distinct lack of editorial oversight. If it's merely RSS feeds, than should it not be dynamic?
Sadly, the trend continues for us fans of Android, and Honeycomb: this is an iPad-only release. Owners of the Samsung Galaxy Tab 10.1 (first look), Motorola Xoom, and other tablets should look to the aforementioned Pulse, and also News360 for their news fixes.
AOL continues to unify all of its online brands — HuffPo, TechCrunch, Engadget, et. al. — and this app is one more step in an effort to reinvent itself as a digital powerhouse. The company has its fair share of detractors who don't like its emphasis on page views over quality. Consumers, meanwhile, can rejoice in this new media revolution.
AOL Editions Sign-up Email

I'm Sol, one of the proud members of the Editions team, and I'm here to make sure that your experience with Editions is fantastic.

To begin, put your feet up, grab a cup of coffee and start reading. Editions will automatically start learning which topics you gravitate toward. The more you read, the better it'll get at delivering the latest news and info it knows you'll like.

To really fine-tune your Editions, use the article keywords to tell it which topics and sources you'd like to see more or less of in the future. Plus, you can connect your Facebook and Twitter accounts (if you haven't already) to let Editions learn even more about your interests.

We really want to know what you think so help us make Editions even better by sending us your feedback (use the button at the bottom of the app). Also, people who give lots helpful feedback will earn stickers, t-shirts and hugs (if you're comfortable with that).

Thanks for downloading Editions by AOL. Happy Reading!