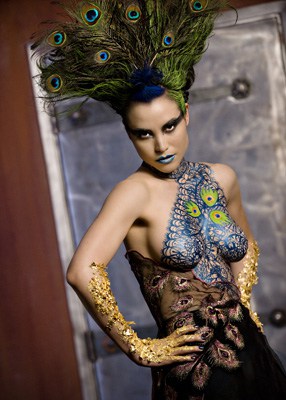 Spring is around the corner, and the weather is warmer: time for another edition of the Bay Area Wire. Or perhaps this is the first? We continue to try to come up with the right name. Calendar of events. Happenings. On stage. Choose your poison folks, but this is the low-down on what's happening around Bay Area stages — and in this case, screens too.
Cinequest Film Festival organizers are holding a media launch today so soon we will have more to report on the 21st edition of the ever popular indie film fest. Stay tuned for that!
First, here's the quote for today's listings:
"I believe that in a great city, or even in a small city or a village, a great theater is the outward and visible sign of an inward and probable culture," once said the great Sir Laurence Olivier.
Here, here. But note the careful use of "probable" as in probable cause.
Speaking of theater, in case you hadn't heard, a reminder that the San Francisco Bay Area Theater Critics Circle (SFBATCC) will celebrate the best in Bay Area theater with its annual awards gala in April: San Francisco Bay Area Theatre Critics Circle to host 35th annual awards ceremony.
Now onto some of the events, shows, and causes you might be interested in this week.

Cinequest Media Launch
A media only event is scheduled this week – stay tuned for details about 21st edition of San Jose's very own independent film festival! Stark Insider will be there, and once again on the scene to bring you the latest in independent film festival news, stories, reviews and interviews.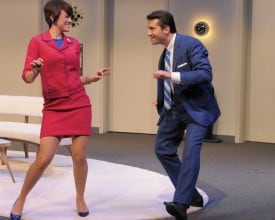 Boeing – Boeing
Center Rep, Walnut Creek
Opens: February 1
Living in a posh Paris apartment with three flight attendant fiancees, Bernard's life suddenly hits turbulence when they all change their fail-safe flight schedules and he must maintain the illusion that he is faithful to each one. What unfolds is the high-flying Tony Award-winning comedy that had Broadway audiences airborne with laughter.
The Dresser
San Jose Repertory Theatre
Opens: February 2
A Love Letter to Theatre – It's 1942 in Britain and the smell of death is in the air. The sirens howl, signaling another air raid, but inside the crumbling walls of a regional theatre in the provinces the aging actor, Sir, prepares to give his 227th performance as King Lear. Norman, Sir's devoted, fuss-budget dresser, is barely able to take care of himself but faithfully assists Sir in near feudal servitude, massaging his ego, pampering his intellect and even creating sound effects for the Shakespearean production by Sir's struggling troupe. This touching and poignant tribute to theatre, friendship and the human spirit in the face of great strife – be it war or one's own debilitating mortality – proves that "the show must go on."
Preview: Interview: Rick Lombardo – 'The Dresser' at San Jose Rep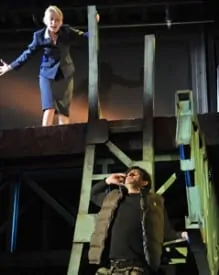 Collapse
Aurora Theatre Company, Berkeley
Opens: February 3
Hannah is trying desperately to hold the façade of her perfect life together, even as her husband mysteriously calls in sick to work day after day, they struggle with infertility, and Hannah herself is on the verge of being laid off. When Hannah's sister appears on their doorstep, she brings with her a feisty, renegade attitude and an illicit package that sends the family on an odyssey into some of the quirkier corners of Minneapolis, and into the heart of their deepest fears. Jessica Heidt directs this comedy about surviving and transcending, inspired by the 2007 collapse of the Mississippi River Bridge in Minneapolis.
Preview: Playwright Allison Moore on 'Collapse'
Art Walk San Jose
Downtown San Jose
Friday, February 4
An eclectic evening of Arts & Culture in downtown San Jose's SoFA district every First Friday of the month
The next South First Fridays art walk is this Friday, February 4.
7pm 'til 11pm — Art Walk venues are free and open to the public.
SoFA District (So. First Street between San Carlos and E. Reed streets).
Now Playing