There are a few choice words used in the second act of Clybourne Park that you rarely hear used anywhere, let alone on the majestic A.C.T. stage in San Francisco. But, man, do they ever bring the house down! Playwright and provocateur Bruce Norris has carefully constructed an escalating play on words that eventually strips away political correctness and the superficial in an edgy comedy that examines race, community and never-ending home owner association meetings. Squirminess never felt so entertaining.
Set in a middle class Chicago neighborhood, a "colored" family is about to purchase a home from a grieving couple (René Augesen, Anthony Fusco) against the wishes of some neighbors including a minister (Manoel Felciano). One particularly vocal couple, Karl (Richard Thieriot) and his deaf wife (Emily Kitchens), want to nix the deal. Where will this new family buy their food, they argue — surely not from their own local grocery store!
The second act jumps ahead 50 years leaving behind the Rabbit Hole vibe of the earlier scene. Gentrification is the order of the day. The same home is now being purchased by a white family, but not before they try to remodel, much to the protestation of a black couple. At the home owners meeting, conversation regarding issues of building codes and construction guidelines goes in circles. Eventually, though, the debate turns to race. At this point the play hits full boil in a tennis match of words; the slow build-up pays off in spades with some exceptional performances, essentially paired with Norris's cutting dialog.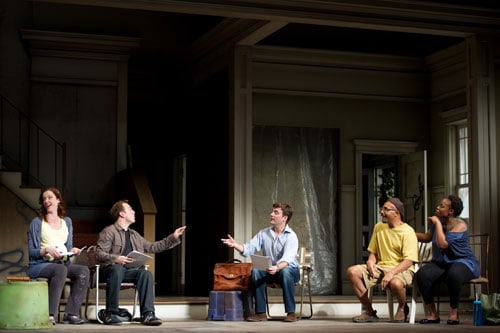 Surprisingly there is quite a poignant ending that is even more remarkable given the events that precede it. It involves human emotions that bond all of us: tragedy, love, belonging. And a buried trunk.
As the lights dimmed on that final scene I was enthralled. There was no escaping it. This wasn't the first time we've seen racial uproar on the stage, but its pervasive presentation is so subtle and unnerving that we can't help but face the ugly truth.
In the past I've felt Anthony Fusco's range has not always suited his characters that well — his measured, low voice might be a tuning fork for the Golden Gate bridge. He's a great actor, however, and his work as the despondent husband, grieving father in the first act is spot on.
Equally impressive are Omozé Idehenre and Gregory Wallace who's timing and delivery bring each line to life.
Richard Thieriot, who plays dual roles, but essentially the same character, delivers a remarkable performance that feels utterly natural and authentic. It anchors the entire production. Wow.
This is the finest comedy I've seen in quite some time at A.C.T., a place I'm accustomed to enjoying well constructed dramas, period pieces, and classic theater presentations. Risque suits Geary Street just fine, however, and I'm glad that artistic director Carey Perloff decided to include such a contemporary production in the season's schedule.
Sometimes people ask us why we do theater on Stark Insider — why not just pander to the masses and cover Apple products full-time for instance? See Clybourne Park. That's your answer.
Clybourne Park
by Bruce Norris
4.5 out of 5 stars
Directed by Jonathan Moscone
Starring René Augesen, Manoel Felciano, Anthony Fusco, Omoze Idehenre, Emily Kitchens, Richard Thieriot, Gregory Wallace
Scenery by Ralph Funicello
Costumes by Katherine Roth
Lighting by Alexander V. Nichols
Sound Design by Jeff Mockus
Dramaturg: Beatrice Basso
Assistant to the Director: Jonathan Carpenter
Fight Director: Jonathan Rider
Through February 20, 2011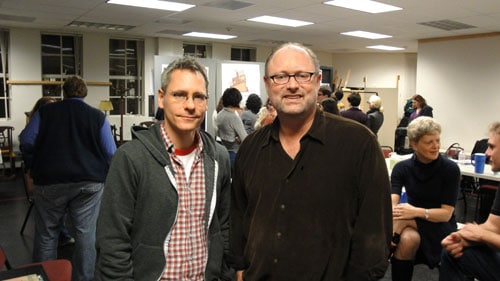 Noteworthy

How'd they do that?! From 1959 to 2009 in 20 minutes, a behind-the-scenes video (more information on the A.C.T. Blog) – my favorite song in the mix, Ray of Light by Madonna: