Over the weekend the New Century Chamber Orchestra played one last concert to their hometown crowd before embarking on their winter tour. This was the first time the tour program was performed. With a complex program that highlights the strengths of the group, this is sure to be well received on tour.
The first two pieces are short. The first of these, Italian Serenade, was a song by Hugo Wolf. Wolf died relatively young at forty three in 1903, after composing over 300 lieder. His works had a small audience, largely because his harsh criticism of other composers won him few friends. If the piece played by New Century is any indication, this is unfortunate. The piece opens with the display of a striking bowing technique which seemed almost as if bows were quietly bouncing off the strings to create a very quiet, penetrating tension before erupting into a pizzicato passage. This piece was a great start because it highlighted the entire orchestra rather than the commanding talents of Ms. Salerno-Sonnenberg.
The Wolf lieder was followed by Romanian Folk Dances by Bela Bartok.
These dances opened with a lush, stately intro in which Salerno-Sonnenberg traded riffs with cellist Susan Babini before launching into the folk tunes that make up the body of this piece. At various points, it seemed as if the entire orchestra was breathing together. This accessible piece balanced the Wolf well, trading the melodic folk tunes for the Wagnerian serenade.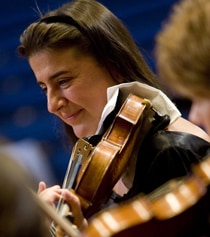 These first two songs were a warm-up for the heart of the program, Astor Piazzolla's The Four Seasons of Buenos Aires. Piazzolla was new to me and the complexity of this smoky music sprinkled with musical jokes and highlighted with novel techniques such as fingers stroking the length of the string to create a spooky, alien sound was immediately gripping. Salerno-Sonnenberg took center stage here and dazzled the audience with the versatility of her playing. At some moments she was a complete power house, fingers flying with breathtaking speed. At others, like the Verano Porteño and Otoño Porteño,  she lingered on the deliciously  smoky urbane passages. Small snippets of Vivaldi crop up at unlikely moments, more to tease the listener than anything else.  I hope New Century records this extraordinary piece.
The intermission that followed gave the listener a chance to regroup before the Tchaikovsky Serenade for Strings in C major. Peter Laki's program notes were appreciated here — his notes on the structure of the first sonatina and the fourth finale helped the listener appreciate the construction of this piece.
One wishes New Century a successful tour -– and hopes they return quickly to the Bay Area. Fans can look forward to the updates that will be posted to their web site.
New Century Chamber Orchestra – February Tour
4 out of 5 stars
Wolf (arr. Drew): Italian Serenade
Bartók: Romanian Folk Dances
Piazzolla (arr. Desyatnikov):The Four Seasons of Buenos Aires
Tchaikovsky: Serenade for Strings in C major, op. 48
January 30 at 3pm, Oakmont Concert Series, Santa Rosa, CA (Private event)
February 2 at 7:30pm, Cleveland Museum of Art, Cleveland, OH
February 3 at 7pm, Denison University Vail Series, Granville, OH
February 4 at 8pm, University Musical Society, Ann Arbor, MI
February 7 at 7:30pm, Northwestern University Pick-Staiger Hall, Evanston, IL
February 9 at 7:30pm, The Broad Stage, Santa Monica, CA
February 11 at 8pm, UC San Diego Art Power! San Diego, CA
February 12 at 8pm, UC Davis Mondavi Center, Davis, CA