Guest post by Pat Reardon.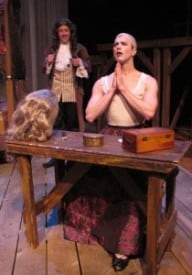 In seventeenth century England women were prohibited by law from performing on stage. This restrictive era of approved gender discrimination gave rise to a unique workforce segment; men who specialized in playing female roles. Ned Kynaston (Thomas Gorrebeeck) is the toast of London's Broadway with his acclaimed him-as-her performances. His stardom is undisputed until King Charles II changes the law which will allow women on stage and permanently altering Ned's job security.
Compleat Female Stage Beauty is a campy romp through Shakespeare's London where men weren't always men and women become powerful by exercising a significant lack of womanly virtues.
Jeffrey Hatcher's gender-bending period piece is skillfully delivered by a large talented cast. Foremost is Gorrebeeck's powerful turn as Ned who transforms from adored star to unemployed has-been and back again as he searches for his inner man. His clever bit as the Bard's Rosalind (a man acting as a woman who is pretending to be a man) is a real treat. Originally famous for his Desdemona, Ned's reinvention is complete when he coaches his female rival to successfully deliver his signature piece while he shines as Othello.
Therese Schneck as the scene-stealing king's mistress Nell is priceless as she skillfully delivers some of the funniest lines of the evening.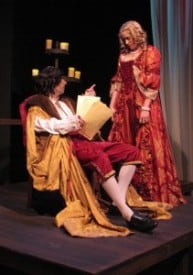 Not to be outdone, Robyn Winslow is terrific as the glass proscenium-shattering actress Margaret Hughes. George Psarras as the foppish but randy Charles II and Tom Gough's impresario/actor Thomas Betterton add terrific depth to the evening. The skilled cast is rounded out by Dale Albright's devilish Lord Sedley, Jonathan Shue's energetic Pepys and Kate McGrath as the endearing and lovelorn Maria.
Kudos to director Amanda Folena for staging this excellent production so successfully. It is a complicated bit of theater. The cast is large and there are a significant number of scene changes. Folena uses the minimalist stage set well and the characters move effortlessly from one virtual venue to another. The presentation is beautifully lit and the accompanying music is a perfect complement to the evening.
This must-see production is a terrific addition to the local theater season. It is funny, poignant and vastly entertaining. Three cheers to City Lights for giving us this delightful tour of theater history.
Compleat Female Stage Beauty
4.5 out of 5 stars
Where: City Lights Theater Company of San Jose
Directed by: Amanda Folena
Written by: Jeffrey Hatcher
Starring: Dale Albright, Anthony Frederick Aranda, Beth Boulay, Robert Campbell, Jenine Giusto, Thomas Gorrebeeck, Tom Gough, Martin Gutfeldt, Adam Magill, Kate McGrath, Geroge Psarras, Jonathan Shue, Therese Schneck, Robyn Winslow
Runs through February 20, 2011

Photo credit to: Kit Wilder