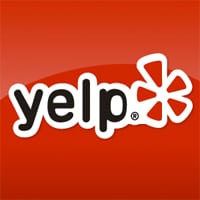 I was standing near Union Square on Geary Street in San Francisco. My stomach was singing the blues, big time. Fortunately there was an hour to go before curtain at the historic American Conservatory Theatre, one of our favorite theater houses to cover here on SSC. But there was no way I'd make it through without a quick meal.
So I pull out trusty Moto Droid, and, of course, punch up the gold standard of restaurant and venue guides: Yelp.
Moments later the program had identified a handful of spots in walking distance. I was in the mood for a noodle house, greasy spoon style. Why not? With the sprinkling rain, it might even make for a Harrison Ford Blade Runner homage—without the bizarre off-world advertising.
Yelp took me to the King of Thai Noodle House. The average rating was only 3.5 stars, but users can be tough, and that's yet one more thing to like and respect about Yelp.
It's like having the most knowledgeable foodie in the world in your pocket 24 hours a day. It's that good.
It was clear that Yelp had crossed the chasm when businesses started to advertise their score, like the Michelin Guide, or Zagat.
Further, venues started to encourage patrons to write reviews and add a rating. A tipping point indeed. With masses of users generating content, and the very businesses they were writing about essentially advertising, an unassailable foodie social network was born. And like Google, but to a smaller degree, the name of the company has become synonymous with its industry.
That's a long lead in to today's Android App of the Day. Write about something you love and sometimes that will happen. You just want to share the good news, beat the drum!
Although its pedigree is restaurants, Yelp now is about a lot more. The very first screen you see on the Android app allows you to browse a nearby listing of venues organized by category including: Restaurants, Bars, Coffee & Tea, Drugstores, Banks, Gas & Service Stations. In addition you can search for stuff that is Hot on Yelp and for  Sales & Special Offers.
Pulling up a listing is easy. Just tap and up comes all the particulars including business hours, phone number, address and user reviews. Tap the phone number to be connected, or scroll through the comments to learn more.
A few things you can't do with Yelp yet on trusty Moto Droid: enter reviews and check-in. That's like a sucker punch to the abdomen. Those are two reasons why people engage so well with it, so that they can share their knowledge on duck soup, and then, like Foursquare, leave a digital paper trail of where they've eaten.
Ironically Foursquare offers check-in, but doesn't have the depth of content yet.
Yelp has the content, but not the check-in (at least not on Android).
I suspect the functionality is coming, but why is it taking so long, especially when iPhone users already have it?
Surfing the sales and special offers category is a quick reminder of where loyalty marketing and geo-based promotions are headed: into the palm of your hand. The here and now.
Yelp for Android is very good, but a few finishing touches away from greatness. It's like excellent Sushi without wasabi. Oh-so-close!
Hungry for more Android apps? Check out: Seesmic, SportsTap, Squeeze Commander, NewsRoom, SlideScreen.
Plus: Top 3 Twitter client apps for Android and Droid, 5 Android apps that deliver the wow factor (and might even be practical too!), 10 cool things about Moto Droid and Android 2.0 – Part 1, Motorola Droid: 3 of my favorite apps.