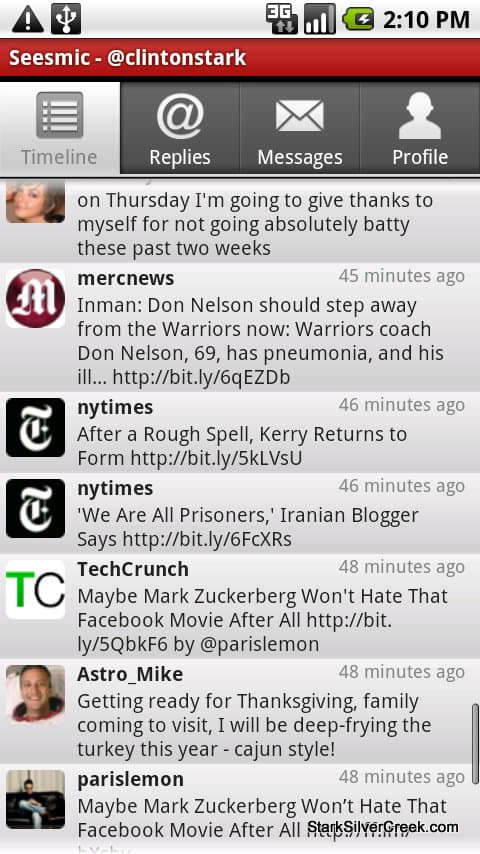 One of the most popular apps for any mobile device is Twitter. For better or worse, people love it.
Although it's been referred to as a real-time narcissistic spam engine on SSC before, I find it equally: amusing, informative, and annoying. Still, I use it every day. There is no better source for what's happening right now in the world.
So when I picked up a Droid a few weeks back at an uneventful launch at a local Verizon store in San Jose, one of the first apps I installed was TwiDroid, a popular Twitter client built for Android phones. I had heard rumblings that the Twitter clients did not rival those available on iPhone. Well, don't despair. I found at least three (and I'm sure there are more, and more to come) apps that will satisfy your inner desire to connect with strangers, 140-characters at a time.
But which one is tops?
3. Seesmic (free)
A rival to TweetDeck on the desktop, I've been a long-time fan of Seesmic. Just released on the Android market, this v1.0 app has a lot to like, and although a little buggy it shows plenty of promise. The interface employs their trademark red, black and grey color scheme which is pleasant and readable. One caveat though: the font size is tiny and, unlike Twidroid I could not find a way to increase it. Still, with the high resolution Droid screen I could still read it, just with more eye strain then I'd prefer.
There are a few bugs in this 1.0 release which is to be expected. For example, for some reason, someone else's profile photo appeared next to my Tweets. How dare he take credit for my savvy wit and insight! Given the Seesmic team's responsiveness and track record I expect frequent updates though.
Like the other apps, notifications can be customized or turned off completely. You can have Seesmic monitor for tweets, replies and/or direct messages. An icon appears in the Android notification bar at the top.
All the requisite services are here including photo sharing and URL shortening. One unique advantage with Seesmic is the ability to upload videos using yFrog, Twitvid or YouTube.
To compose a message you need to hit the menu button then select compose. A full screen editor pops up. I found no issues here. All-in-all a strong Twitter client. Like I mentioned, a little buggy and lacking some of the advanced features found in TwiDroid, but worth a look, especially considering it's free.
2. TwitterRide (free)
By Satoshi Tanimoto out of San Francisco TwitterRide is fast, and easy to use. I did encounter some rendering issues during testing. For example, sometimes the background would not display the right theme or color, even after using refresh, or restarting the app.
The compose icon at bottom screen is only one click away for tapping a way a quick weather update or letting others know about that meeting or budget you're working on.
Each of the icons at top (timeline, mentions, directs) display a tiny yellow marker to indicate updates. Notifications are easy to configure and also use the Android notification bar, and depending on what you select, also enable vibration, LED flash and a ringtone.
TwitterRide worked well with no bugs aside from the screen rendering issue I mentioned, but it lacks the heavyweight features of Twidroid. However, if you're looking for a simple app that does the trick, it should be on your shortlist.
1. Twidroid (free and paid)
The winner and still reining Android Twitter app champion is Twidroid. The clean blue interface is easy to use, and features an adjustable font size (Google, please add this to Gmail!). An arrow next to each Tweet provides all the requisite services such as Retweet (with native support), Reply, Favorite, Direct, etc. In addition you can pull up profiles with a single tap.
Icons along the bottom enable you to access direct messages, replies and perform searches. All of this works well and I've never encountered a bug using Twidroid.
A few nice features really make Twidroid stand out against the competition. The Trends button enables you to see all the trending topics in the crazy world of Twitter. Also you can see what's hot on twittersphere.com – The Muppets Bohemian Rhapsody!
In addition, Twidroid supports the new lists features.
Although the free version offers plenty of juice, those wanting even more can upgrade to Pro for $4.89 US. It includes some nice whiz-bang stuff such as support for multiple Twitter accounts, themes, video posting, widgets and more.
All of these Twitter clients are good, with Twidroid ultimately standing out thanks to its stability and robust feature set. It's the one I'd recommend.