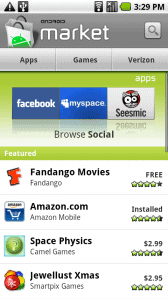 Even though the Android Market doesn't yet have the vast number of apps that iTunes does (16,000 vs. 80,000), there is plenty of good stuff out there. The best part: most are free. And, further, playing around with new apps—like the iPhone—is virtually risk free, and a snap to install and uninstall. If only Windows were this easy.
Since launch day—or almost two months now—I've been using the Droid every day, including trips to Baja and, now, Canada.
I use it to stay in touch, to run our business (using Google apps), to keep up on the social networking scene (Facebook, Twitter, Foursquare) and, of course, on occasion to play around with some of the innovative and often mind blowing apps hitting Android Market.
Calling the Droid (or iPhone) a smartphone is quickly becoming an understatement; they are remarkable, full-blown handheld computers.
So… all that to say, here are my picks for the top 5 Android apps that deliver the "wow factor."
They may be practical, or not. But each is an app I've downloaded and been impressed enough to use daily, or at least show off to anyone willing to tolerate my never ending affection for this little square glass and metal beast known as Moto Droid. And, no, Loni has yet to run it over with her car as she has now threatened to on at least four occasions. Ah, jealousy…
1. Home++ – Home Replacement (free)
Android is infinitely customizable. It's one of the key advantages over iPhone, thanks to the open platform that is Android. Don't like the stock desktop layout? Change the icons. Change the wallpaper. Change the screens. Change the widgets. Or go even further, and install a home screen replacement.
These apps open a Pandora's box of customization and personalization.
So instead of bland (but perfectly functional) Android home screen you can have more than 3 screens, multiple themes (for example, your favorite NBA team), custom icons, and extended menu functionality and menu shortcuts.
The current market leaders for home replacement include: GDE, Panda Home, Home++, Open Home.
My pick: Home++
Home++ is fast, allows up to 7 home screens.
Also a nice touch, it places a small shortcut menu strip along the bottom which is available on every screen; classy icons provide one-touch access to the phone, contacts, browser, favorites, and more. All can be customized of course.
Compared to the other home replacements which are also feature-rich, Home++ appears to be the most stable and speedy. I am able to swipe across a screen of business apps (CRM web shortcuts, calendar, email, docs, etc.), to a separate screen I dedicate to social networking (Twidroid, Facebook, Foursquare, Yelp).
2. Aldiko – eBook Reader (free)
Okay, so eBooks are not exactly wow-type apps. But Aldiko, a free eReader, is impressive considering: (1) it's free, (2) it provides access to a library full of free, and good, book titles, (3) it displays pages on the Droid in a crisp, highly readable font.
Also, you can import books in ePub format into the application as long as they are not DRM-protected (but that's so 2005, right?).
The interface is aesthetically pleasing, with a simple bookshelf displaying titles including recent reads. Push "download books" and you are taken to the Aldiko Online Catalog where you can download free public domain books (The Curious Case of Benjamin Button, The Art of War, Moby-Dick).
A nice feature here are reading lists. Like science fiction? Simply click on the "Creative Commons Science-Fiction" reading list for an assortment of titles. Other reading lists include: high school reading, the Oz Books, Harvard Classics, Banned Books, Fantasy, Time Travel, and a whole lot more.
O'Reilly has a decent section of eBooks as well, although many are for purchase only. For example, The Social Media Marketing eBook published in November 2009 can be downloaded for $15.99.
I found reading books on the Droid to be better than I expected. The font is crisp, clean and offers high contrast, in both light and dark conditions. Shortcuts allow you to quickly jump to the table of contents, add bookmarks, adjust settings (including font size), search, and adjust day/night mode.
It may not be a Kindle, but Aldiko gives Android smartphones an impressive, free application for reading on the go.
3. Layar – Reality Browser (Free)
This is a new so-called "Reality Browser." You know, for times when reality is not real enough for you. This one definitely falls into the wow factor category.
Like the name implies, it overlays layers of additional information on top of a real view of your surroundings using the built-in camera. For example, want to know where the nearest Tim Hortons is? Click on the Tim Hortons locator, then pan around using the Droid, and you'll see locations layered on top of a real-time view, including distance and address information.
Other layers include Tweeps Around which lets you see twitter users near you and post geotagged tweets. Foursquare ties into the social networking game to see updates around you. The list continues: In-N-Out Locations, Apartments by forRent.com, Golf USA, Yellowpages.com, Flu Shot Funder, WorldPeaks.
I think this is an app that really demonstrates the power of the Android platform, but is also useful.
4. Qik – Video Streaming (free)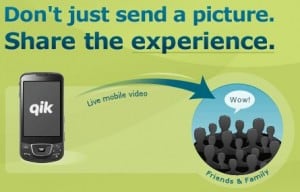 TV news vans, and satellite uplinks are so passe. Now all you need to "go live" is an Android phone such as the Droid, and a new beta application called Qik. After you create a free account, you can hit a record button to start recording live, DVD-quality video that is streamed to the Qik website.
Video can be embedded and is automatically recorded so you can replay that piano-playing cat concert over-and-over. Yes, the laughs will never end.
In my tests, the software worked great. I suspect this will be great for breaking news, conferences, and college dorm rooms everywhere.
5. Mother TED – Innovative Inspiration (free)
This application is based on the famous ted.com and its feeds. It delivers the wow factor, not just for the ease with which this application brings the much-loved TED videos to Android, but also for the very nature of the content itself. TED is tops when it comes to innovative and inspirational talks centered around tech, and society at large.
You could probably access these videos using the included Android browser, but you may have problems navigating all the choices. Playing them too can be challenge given the lack of flash support in the browser. So Mother TED (built using MotherApp in 2 days) to the rescue.
The main interface enables you to navigate across 5 sections including themes, talks, tags, search and favorites. Want to see our man Al Gore in action yet again, one animated PowerPoint at a time? Click on Tags, then Global Issues. Scroll down to "Al Gore on averting climate crisis" and tap the screen. Up comes a short synopsis of the talk, including a brief bio about the presented. To watch it click again and after a short loading screen the video begins to stream flawlessly.