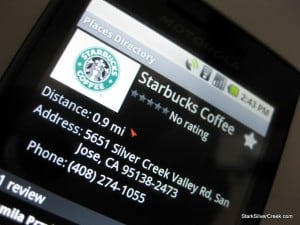 So far so good. I think I'm sticking with the Droid. After hearing about some of the battery life horror stories with Eris and Hero, the Moto seems like a workhorse.
Yesterday, in San Francisco, I used Internet, GPS, email, social networking widgets for a few hours, and again later before Fat Pig at Aurora Theatre in Berkeley.
When I arrived home, I did a quick battery check: 40%. Not bad at all!
I still wish Motorola would add some type of slick, sexy front end to stock Android, the equivalent of a no frills department store. By comparison, the Sense UI, for example, by HTC and shipping with the Eris and Hero, is the Nordstrom (maybe even Neiman Marcus) of Android user interface design.
Side note to Palm: it's debatable you can compete long-term in either software or hardware. And I know it's not sustainable to do both. You don't have Google, or Apple level resources. I say ditch the hardware (your build quality is dubious at best), and focus on software. Here's an even better idea. Take your WebOS and reskin it for Android and license it to other handset manufacturers. Think widgets don't matter? Check out the Android forums. It's all about customization, user experience, design, themes, etc. Ask Apple. It matters. But I digress… that is an editorial for another day.
Now, on to my top 3 apps so far for the Android (I'm not much of a games guy, in fact I haven't downloaded any yet… I do need to stay in touch with email, social networks, Web, etc. for our businesses).
Places Directory by Google (free)
This simple directory uses the GPS to pinpoint your location. You can then search for nearby places using categorized lists. For example, hit Coffee, then the closest Peet's Coffee and up pops directions. You can use Google Maps or even the awesome Navigation feature to get there. Basic information is included such as address, phone number. There are reviews too. But by comparison, Yelp has far more in that regard, although I could not find a Yelp app on the Market.
Twidroid (free)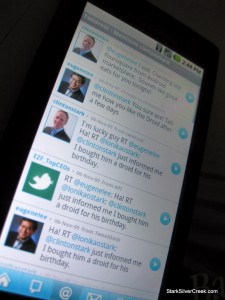 Yes I know Twitter is a narcissistic spam engine. I've said it before. But I use it a lot. It's one of the most useful places to get breaking news, tech information, and to connect with folks. So, like Facebook and Gmail, it's a must have.
Twidroid is the best I could find so far.
And I'm very pleased with it. Attractive design. Easy button strip along bottom to access directs, mentions, search, refresh.
Upgrading to Pro version gives you multi-account access and other features.
The New York Times (free)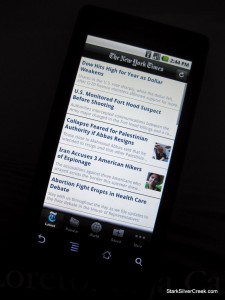 There are plenty of other apps for news like USA Today and Reuters, but, after StarkSilverCreek, I usually go to NYT first. This app again looks aesthetically pleasing, which, for some reason, really matters to me. Headlines are easy to read. Thumbnail photos are included where applicable, and, of course, the writing is exemplary.
One thing to be wary of when downloading from Android Market: just because an app is called "Wall Street Journal" does not mean it is official, nor does it mean that WSJ, for example, has anything to do with it. Fortunately, Google has added a security warning before you download an app which gives you a preview of what information that particular app can access on the Droid. Excellent privacy option.
That's about it for now. Oh, one more clever thing. When I arrive home, the Droid automatically picks up wi-fi and turns off 3G. Convenient, and seamless!